WASHINGTON — "Stop being a crybaby, man up!"
These are some of the phrases three D.C. teens said young boys hear every day.
When they were given the opportunity to publish a book, they decided they would address the tough topic of toxic masculinity through a book called "Man Up!"
Eleventh grader Riley Campbell said to her, toxic masculinity is "forcing male-dominated gender roles onto other people, because you feel like that's the way they should act."
Dictionary.com defines it as "a cultural concept of manliness that glorifies stoicism, strength, virility, and dominance, and that is socially maladaptive or harmful to mental health."
Campbell and her co-authors, 10th grader London Jones and 11th grader Shirelle Hurt, said they all had witnessed examples in their daily lives.
"Every day in school, if you're crying -- if you're a boy and you're crying -- then you're either gay or a girl," Campbell said. "I always thought that that was unfair, because I have a younger brother…and he can't do something as simple as cry?"
The three DCPS students met as student tutors through the nonprofit Reach Incorporated, which connects older student mentors with younger kids who need help in school.
A spokesman for Reach Incorporated said every summer since 2013, their organization has partnered with Shout Mouse Press to produce four student-written books. Shout Mouse Press works closely with the students as they go through the entire process, from writing to publishing.
He said the goal is to empower these tutors to inspire their students. So far, Reach and Shout Mouse Press have helped produce 29 books by 73 teen authors.
Campbell, Jones and Hurt published the book "Man Up!" centered around a "compassionate, outgoing and funny" boy named Aaron, who keeps getting called a crybaby by his friends when he shows his emotions.
The young authors, who showcased real-life D.C. references throughout their story, wanted to teach kids that gender or age shouldn't dictate emotions.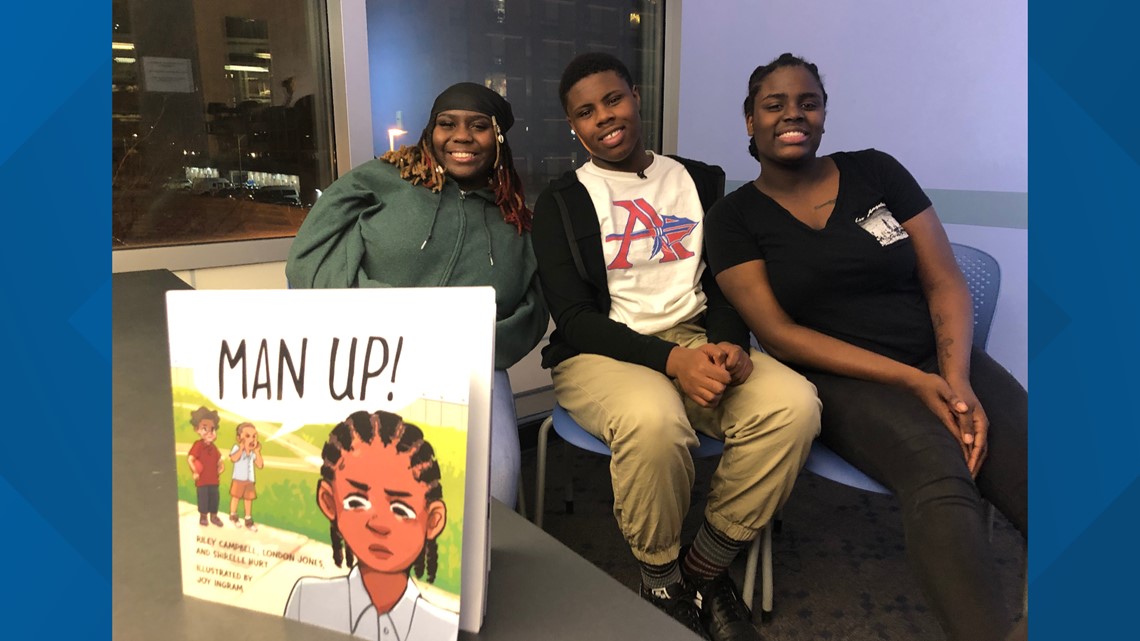 The teens also wanted to give their classmates a picture book they typically don't get to see.
"We want to showcase diversity," Campbell said. "A lot of the books we see every day are either white children or animals. We have a boy with vitiligo (a disease that causes the loss of skin color in blotches), and Aaron's older brother has a prosthetic leg. We also have a single father…so we felt like that was an important thing to talk about."
As kids flip through the pages, the authors said they want kids to see themselves, so they feel comfortable being themselves.
"You shouldn't think about how other people would feel, about you expressing how you feel," Jones said. "It's okay to express any emotion, and there's no such thing as girlish or boyish emotions. You should just be free."
In its first month, "Man Up!" has sold a few hundred copies.