BOWIE, Md. — The CEO of Prince George's County Public Schools changed course Tuesday after parents fought back against the proposed re-zoning of Whitehall Elementary.
The district had proposed shifting more than 200 students to four other nearby schools in 2020 to solve the long-standing overcrowding problem at Whitehall.
After multiple parents complained, the CEO announced Tuesday that she would be withdrawing the proposal at Thursday's school board meeting in favor of creating a task force.
"My son would have ended up going from one of the best performing schools in Prince George's County to one of the worst, and my wife and I were not going to do that," said RiShawn Biddle, the father of a kindergartner who just started at Whitehall.
In his mind, Whitehall is the best and Northview is the worst.
"The way that they rolled out this proposal is just in poor taste," Emebet Booker, parent of three, said. "People made a big investment. I mean, we're paying a premium to live in the school zone that we're in."
Booker has children in fourth and first grade at Whitehall, and one in pre-school. She said if the changes would have gone through, she would have had to take her kids to three different schools.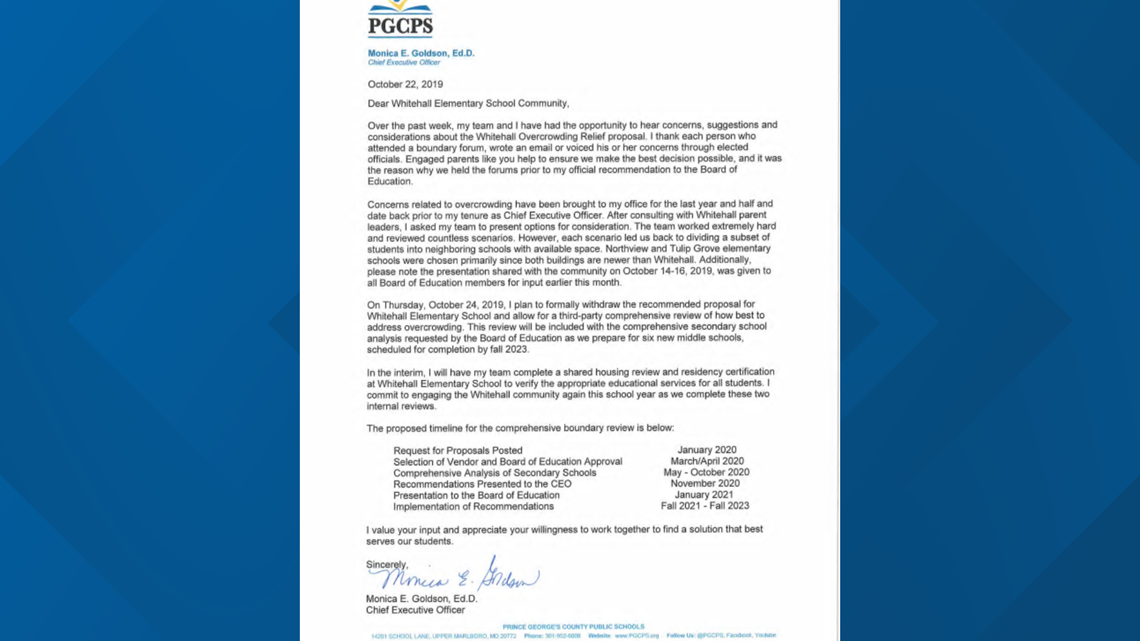 Another parent, Ericka Moten, said she and her husband closed on their new house last Thursday because of it feeding into Whitehall.
She has a four-year-old child, who would be starting kindergarten there in 2020.
"We were strategic in our decisions in fact-finding for our house," she said. "We picked the house—we love the house—but also because it's zoned for Whitehall."
Parents said Whitehall Elementary consistently outperforms other schools in the district. It earned five out of five stars on the Maryland State Department of Education's 2018 report card.
The proposal would have redirected students to one of four other elementary schools:
Northview Elementary
Rockledge Elementary
Tulip Grove Elementary
Yorktown Elementary
Parents said they agree that overcrowding is a problem that needs to be addressed, but some are unhappy with the pace at which the district is addressing it.
"I'm for addressing that issue, but there needs to be a task force," Booker said.
The school board representative for her district, Raaheela Ahmed, will be spearheading the task force after requesting it in a letter to the CEO.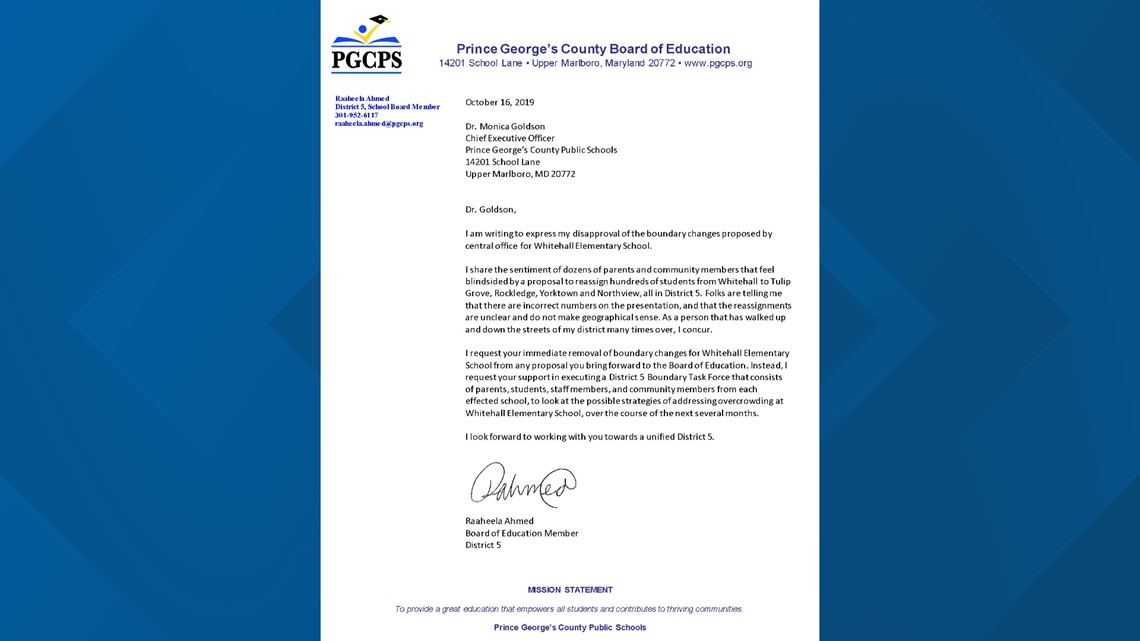 "I think there's a sense of urgency around this, because it's such a permanent decision that needs to be made," said Ahmed. "What does it mean for a student to feel like they are in an environment that is conducive to learning? I think this task force has the ability to touch upon all those different things that underlie overcrowding."
According to the CEO's letter, the proposal will be formally withdrawn at the school board meeting on October 24.
Parents said they plan to be there to hold her accountable.