The 14-year old girl killed and mutilated by alleged MS-13 gang members and dumped in a Prince George's County stream had been reported missing from a "therapeutic" group home for girls in Anne Arundel County that specializes in taking placements from the Maryland Department of Juvenile Services and social services agencies, according to two law enforcement sources.
The home, Marys Mount Manor is described as being "located in a semi-rural community setting in Anne Arundel County" with a "therapeutic, structured program" and "a nurturing, home-like atmosphere where residents have the opportunity to learn appropriate coping techniques and essential life skills," according to the website of the home operator Hearts and Homes Inc.
"Youth in our care are referred by the Department of Juvenile Services as an alternative to detention or by the Department of Social Services to remove them from an unsafe environment," according to the company's website.
Hearts and Homes Inc. did not respond to requests for more information.
Authorities continue to look for a fourth suspect Friday in connection with the death the 14-year-old whose body was found mutilated earlier this week, dumped in a creek near the Baltimore-Washington Parkway in Riverdale.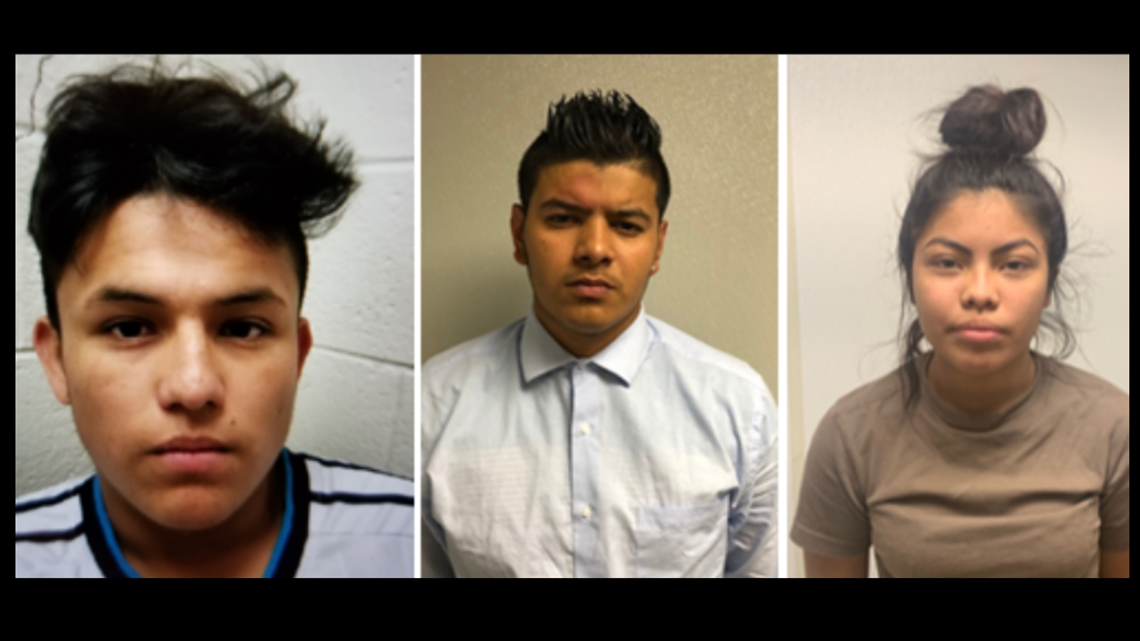 Thursday, police announced the arrest of three teens with ties to a Prince George's County-based clique of the notorious MS-13 gang.
Police said the victim had participated in a gang-related kidnapping and robbery with the other teens on April 17.
She was murdered when the group started to worry she would tell authorities what she knew, Prince George's County police said Thursday.
Police believe the April kidnapping and robbery began in the area of the Benning Road Metro station in Northeast Washington D.C.The group is suspected of grabbing the victim, bringing them to an abandoned home and robbing them.
Evidence showed Funes-Diaz had been attacked with a bat and a machete, then died from her injuries.

So far this year, MS-13 members have been tied to at least four other homicides in the Washington metro area:
• Earlier this month, D.C. police said the death of Eberson Guerra Sanchez, 16, of Frederick, Md., whose mutilated body was believed to have been found beneath the Chain Bridge, was likely the work of MS-13. Family had reported Guerra Sanchez missing April 26, and a final confirmation of the teen's identity is pending from the District's Office of the Chief Medical Examiner.
• In March, six MS-13 gang members were arrested in connection with the death of Jacson Pineda Chicas, 16, of Falls Church, Va., after a sheriff's deputy found the teen's body in a wooded area near Fredericksburg, Va. Pineda Chicas, also a member of MS-13, was stabbed more than 100 times inside the home of a suspected gang leader in Landover Hills, Md., police said.
• In February, 11 MS-13 members were indicted in connection with the kidnapping and killing of Sergio Triminio, 14, and Edvin Mendez, 17, whose bodies were found in 2016 buried in Holmes Run Park in the Falls Church area of Fairfax County, according to the U.S. Attorney's Office in Alexandria, Va.
"Consistently what we've seen when we deal with cases involving MS-13 is violence that's disturbing," Maj. Brian Riley said Thursday. "And they're not afraid to use it on their own, to send a message in some cases."
When asked about a rise in gang-related crimes in his area, the Prince George's County police major demurred.
"We have not noticed a recent uptick," Riley said. "It [seems like] an uptick because of some recent cases, but consistently, it's been the same type of activity we've had in the past."
Anyone with information relevant to this investigation is asked to call Prince George's County detectives at 301-772-4925.
Contributing: Linda Dono and Samantha Kubota, WUSA-TV