WASHINGTON — The National Weather Service (NWS) is expecting moderate to major coastal flooding in the DMV and has issued Coastal Flood Warnings and Advisories for D.C. and surrounding areas.
The flood event is forecast to last the next several high tides along the tidal portion of the Potomac River and the western side of the Chesapeake Bay.
"This is expected to be one of the worst tidal flooding events of the past 10-20 years," according to Christopher Strong, Warning Coordination Meteorologist at the Baltimore Washington NWS Office.
Chief Meteorologist Topper Shutt says the flooding could potentially be the worst since Hurricane Isabel in 2003.
Flooding reached historic highest levels at at Dahlgren with 5.64 feet, Straits Point 4.9 feet, and Solom's Island at 4.82 feet.


Timing
For D.C., Alexandria and Arlington counties the Coastal Flood Warning goes into effect now until Sunday at 8 a.m. Most of the rest of the area remains under the warning through Saturday afternoon or Sunday morning.
During high tide, expect two to three feet of inundation above ground level.
Areas especially prone to flooding include the Georgetown Waterfront, Southwest Waterfront, and Hains Point in D.C. Additionally, water is forecast to approach buildings near King and Union Streets in Alexandria, Va. Portions of King Street are closed in Alexandria. Other shoreline areas in Alexandria, Fairfax and Arlington Counties should expect flooding.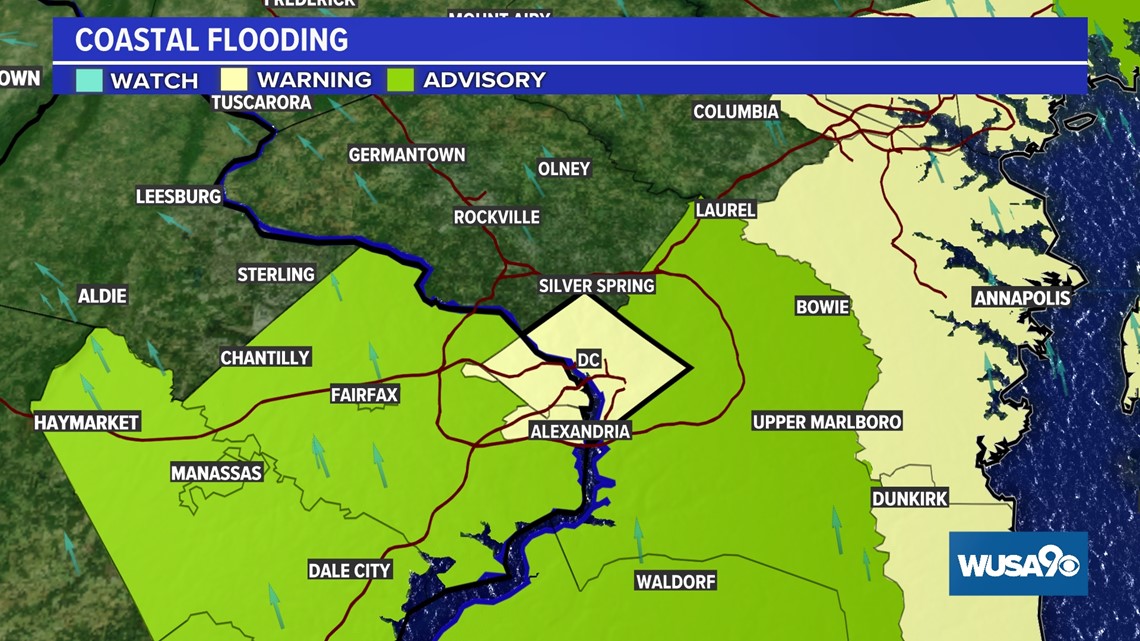 In addition to D.C. and the immediate area, other areas included in Coastal Flood Warnings are:
Anne Arundel County
Arlington, Falls Church, Alexandria
Other areas such as Fairfax, Dale City, Waldorf, Upper Marlboro are under Coastal Flood Advisories.
High and Low Tide Times
Washington Channel (SW waterfront)
High Low High Low High Low
Fri- 3:18 p.m. 9:40 p.m Sat- 3:22 a.m. 10:42 a.m. 4:18 p.m. 10:49 p.m.
Annapolis at Naval Academy
High Low High Low High Low
Fri-11:56 a.m. 6:14 p.m. Sat- 1:02 a.m. 7:37 p.m. 1:06 p.m. 7:17 a.m.
Low High Low High Low High
Fri- 3:28 p.m. 9:45 p.m. Sat- 4:23 a.m. 10:04 a.m. 4:26 p.m. 10:39 a.m.
High Low High Low High Low
Fri- 3:36 p.m. 9:49 p.m. Sat- 3:40 a.m. 10:31 a.m. 4:36 p.m. 10:38 p.m.
Impact
Expect shorelines in the warning areas to see moderate to major flooding during high tide periods. Especially vulnerable will be the U.S. Naval Academy, portions of Annapolis, Cobb Island, North Beach, and Dahlgren. Significant flooding is expected on Saint George Island.

Inundation is when water covers normally dry land. A storm system moving across the Mid-Atlantic on Friday along with a departing Nor'easter is causing higher than usual tides in the Chesapeake Bay region.

Remember, never drive, walk or swim into floodwaters. During flooding, it's important to evacuate when told to do so or move to higher ground during sudden flooding. You can find more information on flood preparation here.