WASHINGTON — A few stray showers are possible Sunday evening, but everyone will not get a shower. Monday will be warmer with highs near 70 in some areas.
Quick Forecast:
Sunday Night: Mostly cloudy. Low: 50.
Monday: Morning clouds. High: 70.
Tuesday: Mostly sunny. High: 76.
Forecast Discussion:
Expect a cloudy rest of the afternoon with continued mild temperatures. Afternoon showers will develop south and west of metro Washington on Sunday, with a slight chance for a shower in the evening. The most likely time to see a shower is between 5 p.m. and 9 p.m.
Monday starts with clouds and rain showers south of metro Washington. Warmer 70s are in the forecast for Monday afternoon under a sunny sky.
Much warmer weather is on the way Tuesday. In fact, Tuesday will be our warmest day of the week with highs into the lower to mid-70s.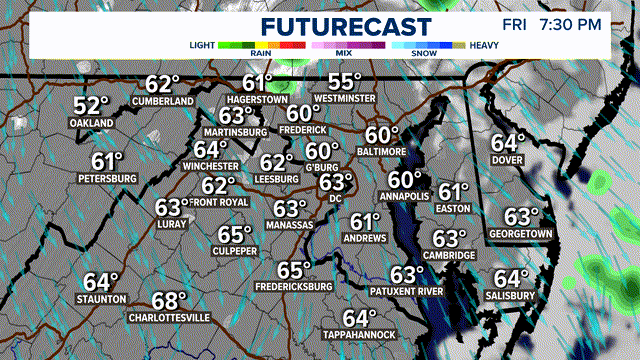 Detailed Forecast:
Sunday Night: A few evening showers. Mostly cloudy otherwise. Lows: 41-50. Winds: SW 5-10.
Monday: Cloudy morning and a few showers south of D.C., afternoon sun. Highs: 66-70. Winds: WNW 5-10.
Monday Night: Mostly clear. Lows: 42-51. Winds: W 5-10.
Tuesday: Mostly sunny, quite warm, highs: 72-76. Winds: SW 5-15.


Extended Forecast:
Clouds will increase Tuesday night and Wednesday morning, with showers likely Wednesday midday. Those showers, along with a few thunderstorms, will be caused by a cold front. Ahead of the front, temperatures will top out in the 60s on Wednesday. By Thursday, it's much colder with widespread 50s for the DMV. Temperatures rebound quickly to the 60s by Friday and for the upcoming weekend.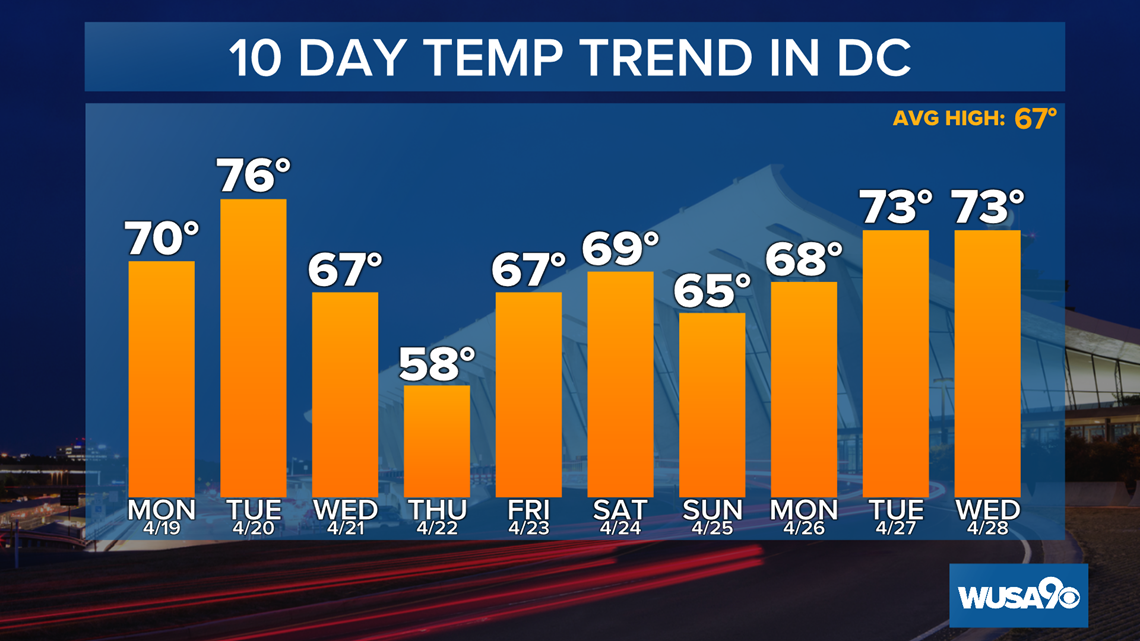 Wednesday: Partly cloudy, scattered afternoon rain and showers. Windy. Highs: 64-71.
Thursday: Partly cloudy, blustery and chilly. Highs: 52-59.
Friday: Mostly sunny, warm again. Highs: 65-69.
Saturday: Afternoon showers. Highs in the 60s.
Does a baseball travel farther in warm or cool air?
Do northwesterly winds make it easier or more difficult to hit home runs in Nationals Park?