WASHINGTON — We'll need our shades Friday and a jacket. The weekend looks cool and cloudier.
Quick Forecast:
Friday: Mostly sunny and chilly. High: 50.
Saturday: Early a.m. mix possible west of DC, mostly cloudy. High: 48.
With clear skies in the morning, today starts off colder. Expect widespread 30s across the DMV, with a morning temperature around 40 downtown.
Mostly sunny skies will prevail today, with seasonable high temperatures in the upper 40s and low 50s. The sky is clear for most of the night. We stay dry and just cold for your Friday night plans.

A few flakes could fly early Saturday morning, mainly across western Maryland and West Virginia. Otherwise, Saturday is cloudy and a bit cooler.
Detailed Forecast:
Friday: Mostly sunny and chilly. Highs: 47– 52. Winds: N – 10.
Friday Night: Some clouds and colder. Lows: 26– 36. Winds: NNE – 10.
Saturday: A light wintry mix west of I-81 in the morning, mostly cloudy elsewhere. Highs: 45– 50. Winds: NE 5–10.
Expect scattered light rain showers on Sunday morning into the early afternoon. We will dry out Sunday afternoon but remain cloudy and cold. Plan on a chilly and dry start to the week with highs in the 40s on Monday and Tuesday.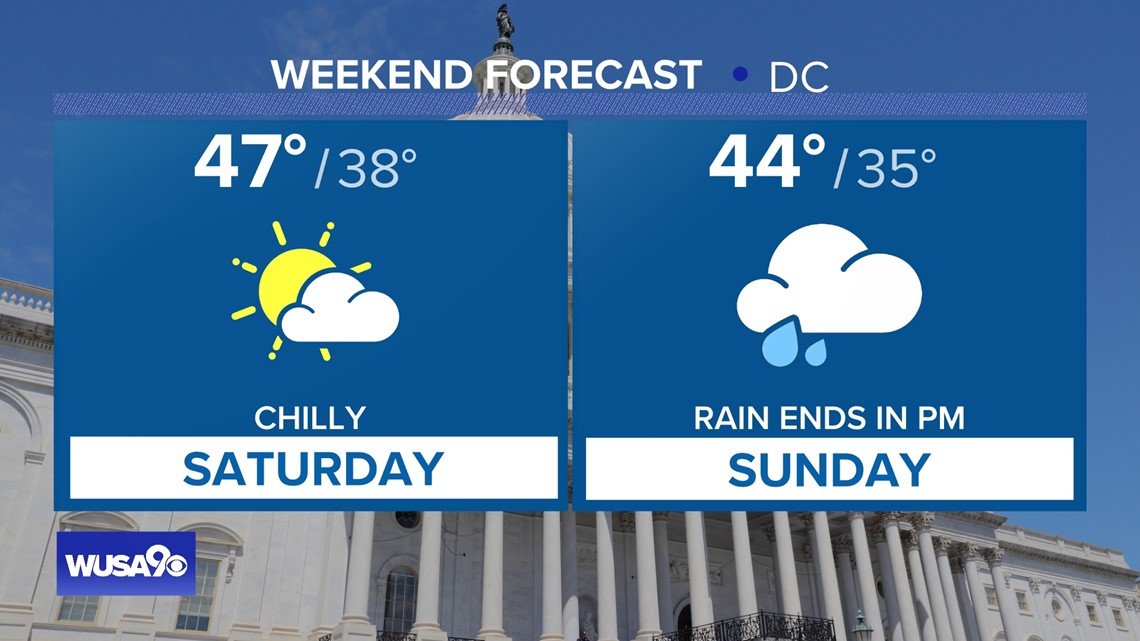 Extended Outlook:
Sunday: Cloudy and cold with rain ending in the afternoon. Highs: 41– 46.
Monday: Partly cloudy with near average temps. Highs: 45 – 50.
Tuesday: Partly cloudy and a bit cold. Highs: 42 – 47.