WASHINGTON — We have a relatively quiet weather pattern for Monday and Tuesday, with dry and blustery weather. Colder weather moves in for Inauguration Day.
Quick Forecast:
Monday: Partly sunny, blustery. High: 47.
Monday Night: Partly cloudy and cold. Low: 32.
Tuesday: Mostly sunny to partly cloudy, milder. High: 49.

FORECAST DISCUSSION:
No major storms are forecast this week. However, several cold fronts will bring gusty winds and occasional cooldowns.

Heading into the week, we'll see some clouds during the Martin Luther King, Jr. holiday, with a dry forecast. Seasonably chilly 40s are forecast, but wind chills will stay in the 30s most of the day.

Tuesday is a little brighter and slightly milder. High temperatures will approach 50 inside of the Beltway. Expect 40s elsewhere.
Detailed Forecast:
Martin Luther King Day: Partly sunny and breezy. Highs 41-48. Winds: W 10-20.
Monday Night: Partly cloudy and cold. Lows: 22-32. Winds: W 5 - 10
Tuesday: Partly cloudy, with clouds increasing late. Highs 46-52. Winds: WSW 10-15.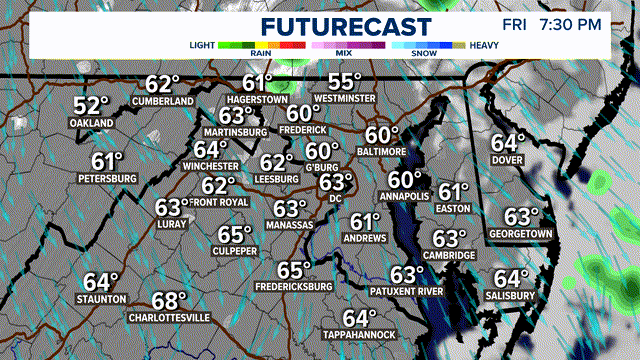 Extended Forecast:
Inauguration Day looks cold and windy, but dry with highs in the upper 30s to low 40s. Temperatures will bounce back toward 50 on Thursday before a couple more cold fronts move through the region. This will lead to cooler temperatures on Friday, followed by a chilly weekend for the DMV.

Wednesday (Inauguration Day): Partly sunny, windy and cold. Highs 33-41.
Thursday: Mostly cloudy and milder. Highs 45-50.
Friday: Partly to mostly cloudy. Highs 42-48.
Saturday: Mostly sunny, blustery, colder. Highs 35 - 40.
APP USERS: Click here to see the radar loop