WASHINGTON — The weekend will be dry but cold Saturday and chilly Sunday. Yellow Weather Alerts will be needed next week as rain and showers become likely.
QUICK FORECAST:
Saturday: Mostly sunny and cold. High: 46.
Saturday Night: Clear and cold. Low: 30.
Sunday: Mostly sunny to partly cloudy and chilly. High: 48.
FORECAST DISCUSSION:
A reinforcing shot of cold air arrives for the weekend. It will be a chilly weekend, but a dry one. Great for hanging up holiday decorations, finishing raking the leaves, or 5K's.
Saturday will be sunny but cold. Morning temps start in the 30s with some 20s in the suburbs. With mostly sunny skies, temps top out in the mid 40s.
For Sunday, temps hold in the upper 40s to near 50. High clouds move in late Sunday which is a harbinger of rain for Monday and Tuesday of next week.
wusa9 weather
Click here to see the animated Futurecast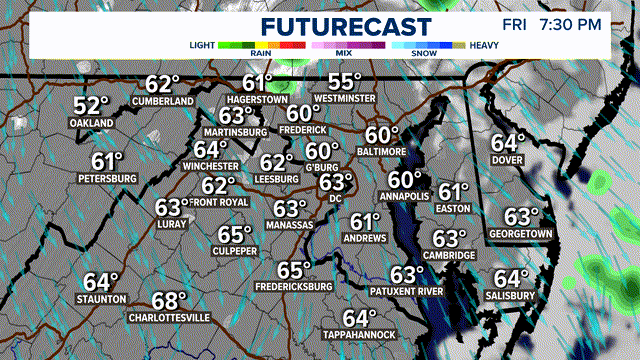 DETAILED FORECAST:
Saturday: Mostly sunny and cold. Highs: 43 - 48. Winds: NW/NE - 10.
Saturday Night: Clear and cold. Lows: 22 - 32. Winds: ESE - 10.
Sunday: Sunshine early. Turning partly cloudy and chilly. Highs: 45 - 50. Winds: S - 10.
Extended Forecast:
Plan for a wet Monday and Tuesday but temps will soar into the 50s and low 60s. Colder air moves in overnight Tuesday into Wednesday. We could see the rain change to snow before ending Wednesday morning. It is possible we could have five wet consecutive commutes next week. Can you say Yellow Weather Alerts?

Monday: Milder with rain and showers. Highs: 50s.
Tuesday: Mostly cloudy with more light rain and showers. High: Around 60.
Wednesday: Morning snow showers possible then partly cloudy, windy and colder. Highs: Upper 30s.
Click here to see the animated radar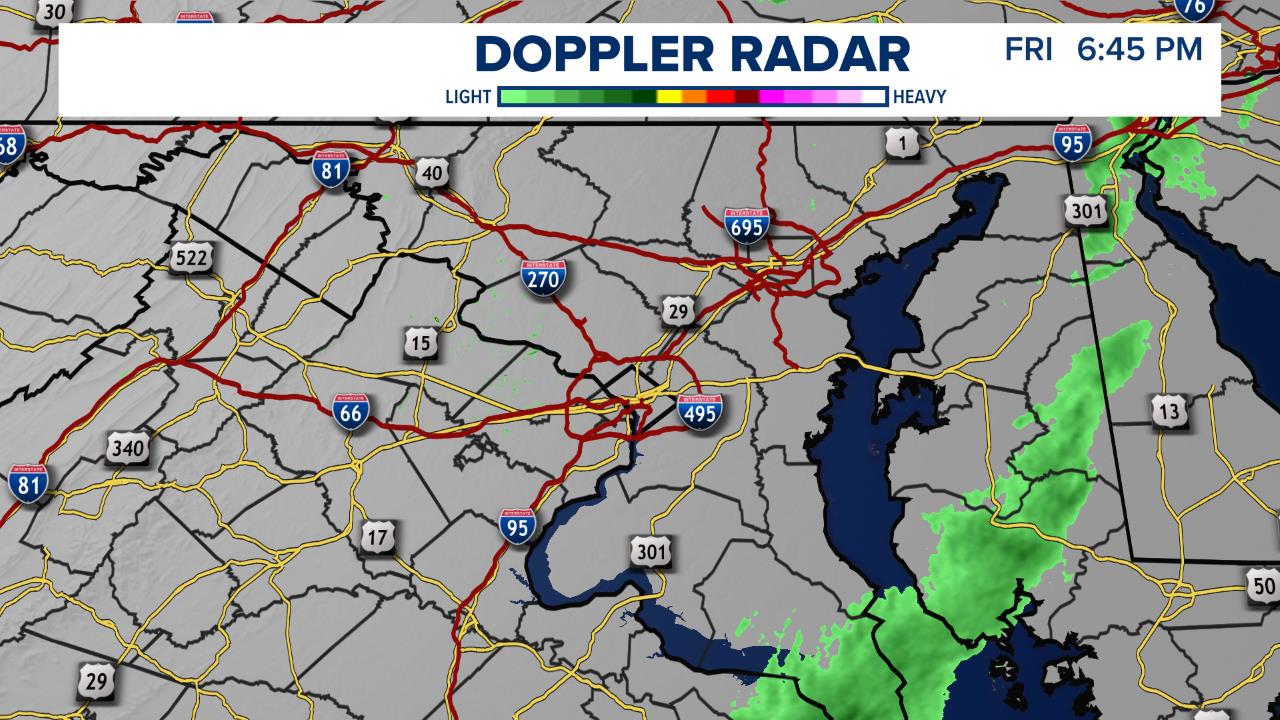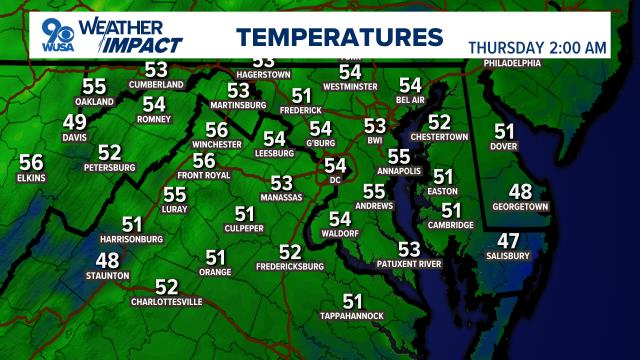 RELATED: Here's how 2019 in DC matches up against its wettest year on record
RELATED: How to customize the stories and alerts you get from WUSA9
Twitter Feeds:
Topper Shutt: @TenaciousTopper
Melissa Nord: @MelissaNordWx
Howard Bernstein: @hbwx
Miri Marshall: @MiriWeather
Download the brand new WUSA9 app here.
Sign up for the Get Up DC newsletter: Your forecast. Your commute. Your news.