WASHINGTON — Dress for wind chills in the 20s and 30s Tuesday as winds remain a factor through the morning. Winds will slacken during the afternoon. Tuesday night is cold again but without the wind.

Wednesday will be warmer ahead of the next cold front with highs near 60.

The rest of the week features up and down temperatures but a decent stretch of dry weather.
A look at our snowfall predictions and current stats are at the bottom of this page.
Quick Forecast:
Tuesday: Sunny, breezy and cold. High: 47.
Tuesday Night: Clear and cold. Low: 33.
Wednesday: Sunny and warmer. High: 59.
Forecast Discussion:
Wind chills will be in the teens Tuesday morning and stay mostly in the 30s Warmer air moves in Wednesday with highs well into the 50s to near 60. Another cold front arrives Wednesday night and we cool off again Thursday.
Detailed Forecast:
Tuesday: Mostly sunny, breezy and cold. Highs: 44-48. Winds: NW 10-20 in the a.m., SW - 10 in the p.m.
Tuesday Night: Clear and cold. Lows: 26-34. Winds: S - 5.
Wednesday: Sunny and warmer. Highs: 56-61. Winds: WSW 5 - 10.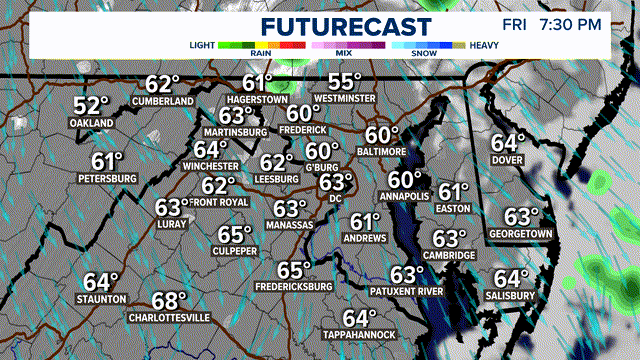 Extended Forecast:
Cooler Thursday with highs in around 50 and still dry. A bit cold again Friday with highs holding in the 40s. Saturday looks a bit cool but pleasant.

Thursday: Partly cloudy, breezy and chilly. Highs: 46 - 51.
Friday: Sunny & cold. Highs: 43 - 48.
Saturday: Partly cloudy and chilly. Highs: 46 - 52.

March means that we are in Meteorological Spring with an increase of an hour and 13 minutes of daylight by March 31. We'll also see Daylight Saving Time begin on Sunday the 14 followed by the start of Astronomical Spring on Saturday the 20.

How our winter snow prediction is doing so far.
Predicted seasonal snowfall for winter 2020 - 2021.

We are doing well at National and Dulles. The total snowfall for Winchester is 19.7", Hagerstown's total is 26.1" and Cumberland coming in with 25.9". All are still verifying well but we must still make it through March.