WASHINGTON — Highs will climb to the 90s Thursday and Friday. Some afternoon storms are possible Friday.
Quick Forecast:
Thursday: Mostly sunny and hot. High: 92.
Thursday Night: Clear sky. Low: 74.
Friday: Afternoon clouds, isolated storms. High: 94.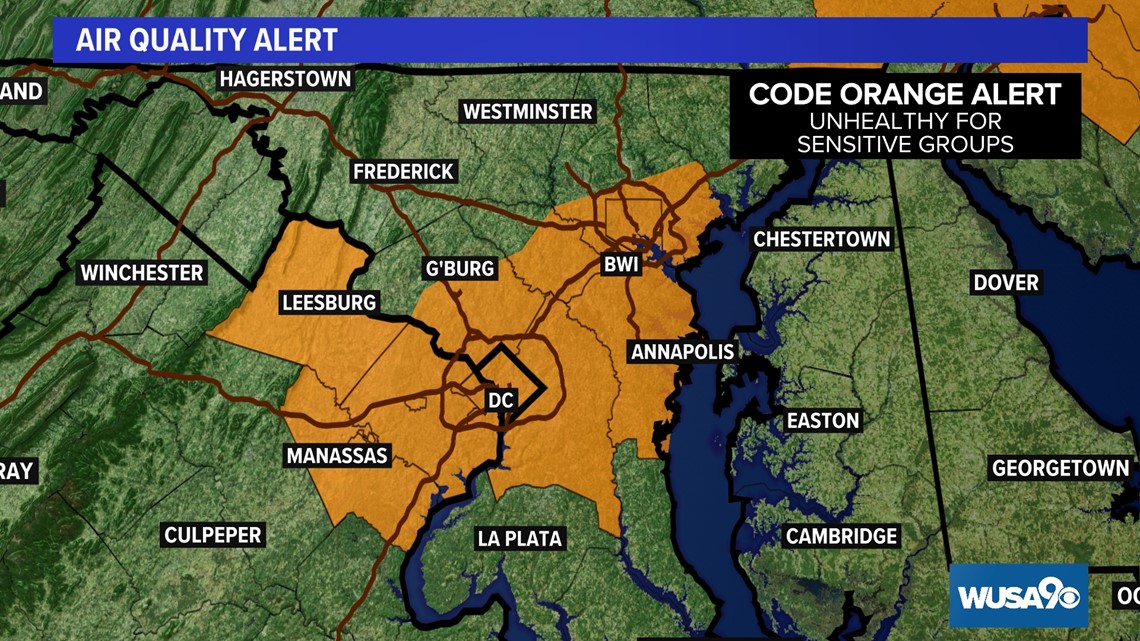 Tonight is warmer, and clear with lows in the 60s and 70s.

On Friday, expect even hotter low to mid-90s and isolated thunderstorms. Friday is the hottest day of the week. An isolated shower or storm is possible as well, but most areas will remain dry. The best chance of storms Friday will be west of D.C.
We're keeping a close eye on the 4th of July holiday weekend forecast. Right now...it doesn't look great.
Saturday looks wet with showers and storms at anytime of the day bit more numerous by the afternoon through the evening.
Detailed Forecast:
Thursday: Mostly sunny and hot again, hazy. Highs: 87-92. Winds: S 5-10.
Thursday Night: Mainly clear, warmer. Lows: 68-74. Winds: S 5-10.
Friday: Partly cloudy and hot, more humid, some p.m. storms. Highs: 90-95. Winds: S 10-20.
Friday Night: Partly cloudy and mild with an isolated shower or storm. Lows: 69-75. Winds: SW 5.
Saturday: Mostly cloudy and muggy, scattered showers and storms. Highs: 86-91.


While temperatures get warmer day by day, it will still feel pretty comfortable thanks to low humidity. By Friday it will be very hot and noticeably more humid before uncomfortable dew points are back for the weekend.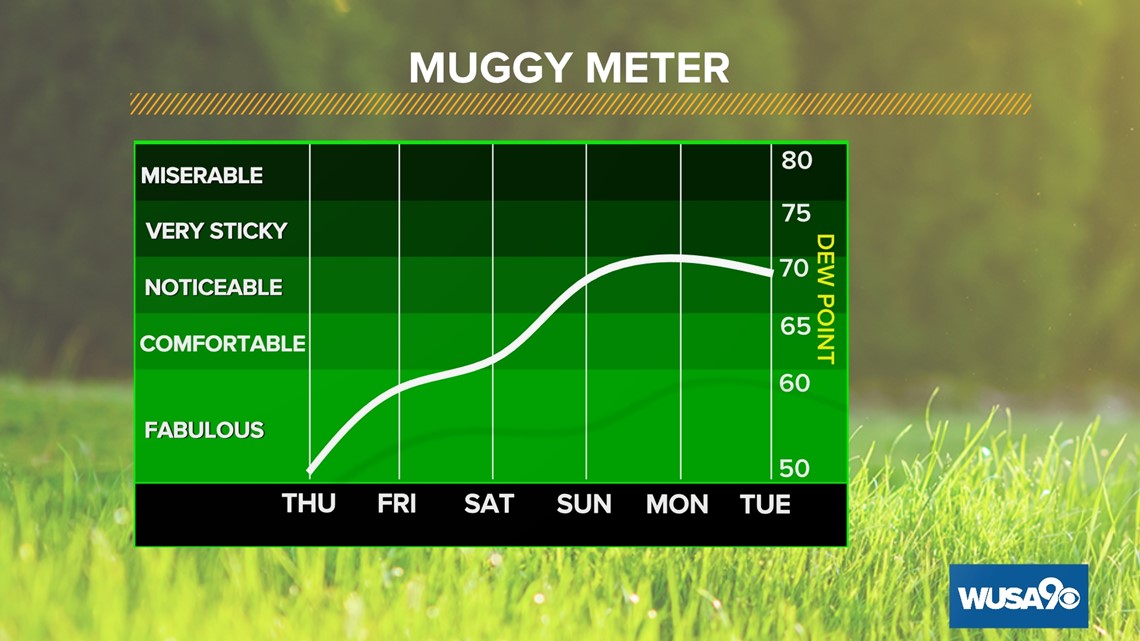 Sunday looks like isolated showers and storms, with mainly dry weather otherwise. The 4th of July on Monday looks safe now, with mostly cloudy skies and a storm system nearby. If that storm system shifts north...we could be in for more showers. For Monday night during the fireworks displays, there will be a few clouds but likely rain-free. Check back throughout the week for our latest thinking!
Showere and storm chances stick around Tuesday and Wednesday with highs in the upper 80s to near 90.
Extended Outlook:

Monday (July Fourth:) Partly cloudy and warm, a stray storm possible, mainly south. Highs: 87-91.
Tuesday: Isolated storms. Highs: 87-90.
Wednesday: Cloudy with a chance for showers and storms. Highs: 84-89.