WASHINGTON — Moderate to heavy rain is falling across the area. 'Ophelia' will bring heavy rain and strong winds to the DMV Saturday. Here's what to note:
*It will rain all day and night
*Most of the rain will fall between now and 12 P.M. Sunday
*Severe storms are not in the forecast for Metro D.C., but flooding is possible
Quick Forecast:
Saturday Night: Cloudy, windy and cool with rain. Low: 60.
Sunday: A few showers, mostly cloudy and cool. High: 68.
Monday: Partly cloudy with a few showers. High: 70.
RAIN: Rain has moved into the region and we will be in it for the long haul. Most of the rain will be light to moderate but it could become heavy at times with an isolated storm.
WIND: Winds will gust up to 25 - 25 mph Sunday. Winds whipped up to 13 to 23 miles per hour, with gusts upwards of 38 miles per hour on Saturday.
IMPACTS: Impacts include wet roads, isolated street flooding, power outages, falling trees, and coastal flooding around area waterways. Most the immediate D.C. Metro area will not experience a severe storm, but rather hazardous weather will impact outdoor plans and may cause difficulties on the roads. A Flood Watch has been issued for Washington, DC Arlington, Fairfax, King George, Spotsylvania, Stafford, Fairfax City, Charles, Montgomery, and Prince Georges until 8:00 a.m. Sunday.
The rain will continue Saturday night and begin to lighten up after 12 P.M. Sunday. Sunday afternoon will have lingering showers, but they will be much lighter and quite scattered in coverage. A few areas will gradually dry out.

The Commanders game may have an occasional passing shower, especially at the beginning of the game on Sunday. It will still be mostly cloudy and breezy with temperatures holding in the 60s for the 1:00 p.m. kickoff vs. Buffalo, so don't forget a sweatshirt! Overall, Sunday's weather will be an improvement over Saturday's rain.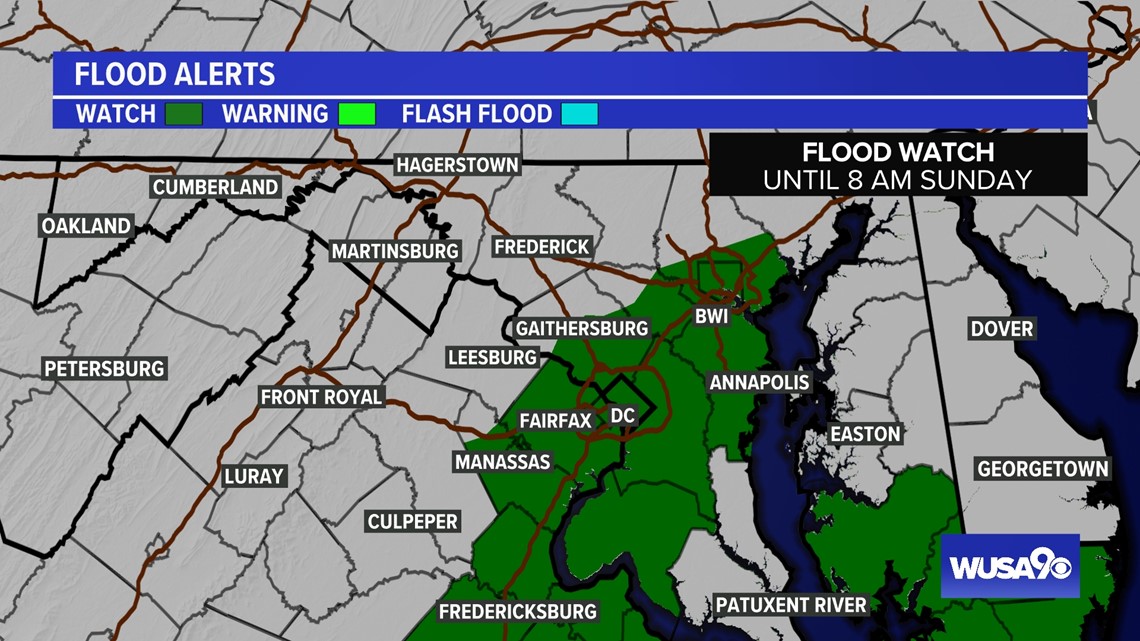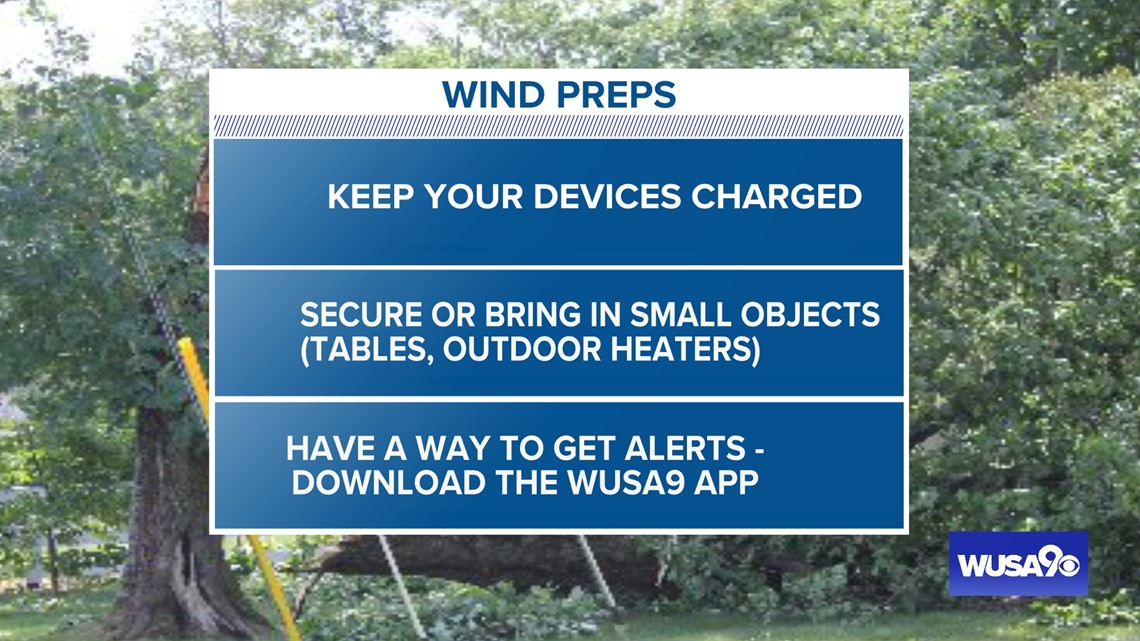 Detailed Forecast:
Saturday Night: Rain winding down. Lows: 52 - 60. Winds: N 15 - 20 +.
Sunday: Morning showers, mostly cloudy and cool. Highs: 65 - 70. Winds: NW 10 - 15.
Sunday Night: Cloudy. Mostly dry with only an isolated shower, mainly east. Lows: 57-62. Winds: NW 5-10.
Monday: Partly sunny and pleasant with some showers. Highs: 67-74 .


The latest allergy report shows trees are low, grasses and weeds as moderate and mold as high.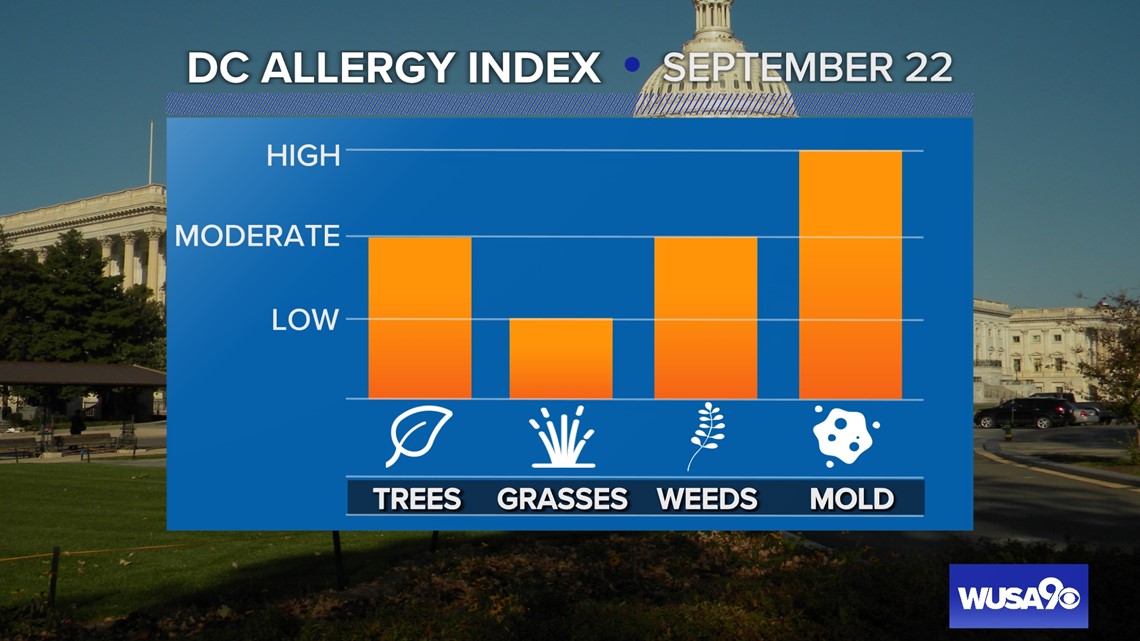 Looking ahead to next week, showers are in the forecast Monday, Tuesday and Wednesday and unseasonably cool. Thursday looks like the pick of the week right now.
Extended Forecast:

Tuesday: Partly sunny with more showers. Highs: 63 - 68.
Wednesday: Partly cloudy with a.m. showers possible. Highs: 65 - 70.
Thursday: Mostly sunny and mild. Highs: 67 - 72.
Friday: Partly sunny and nice. Highs: 66 - 71.