WASHINGTON — As the rain pushes out, expect clearing skies tonight and very nice weather for Monday with low humidity and sunshine.
Quick Forecast:
Tonight: Clearing skies. Showers ending. Low: 66.
Monday: Sunny. High: 84.
Tuesday: Partly to mostly cloudy. High: 80.
Low humidity will dominate the forecast on Monday with mild highs in the low 80s under a sunny sky. Get out and enjoy it! The humidity remains low on Tuesday, but clouds are expected to move back into the area, but it should stay dry. Highs on Tuesday will be around 80.
Detailed Forecast:
Tonight: Showers ending. Partly cloudy, then clearing. Lows: 65-69. SE 5.
Monday: Sunny skies. Highs: 80-84. Winds: NW 5-10.
Tuesday: Partly to mostly cloudy. Highs: 79-83. Winds: E 5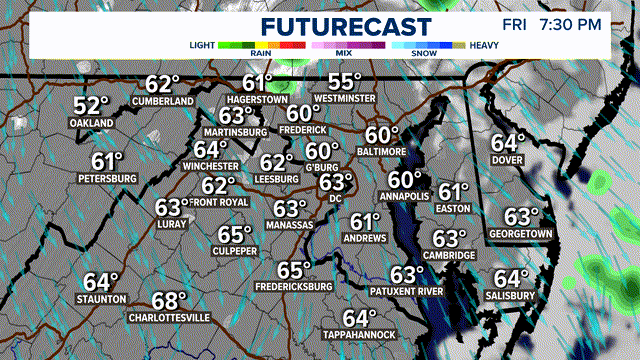 Extended Forecast:
Clouds will increase on Tuesday, followed by a stray shower on Wednesday. Highs will stay in the 80s and a little below average for the rest of the week. There's a small chance for a stray shower each day, but there will be plenty of dry hours. The humidity looks to stay relatively low until the end of the week. Then we heat up again with higher humidity by the weekend and next week. Stay tuned.

Wednesday: Partly sunny with a stray shower. Highs: 79-84.
Thursday: Partly to mostly cloudy. Showers possible. Highs: 77-82.
Friday: Partly sunny with a chance for a few showers. Highs: 82-87.
Saturday: Partly sunny with an isolated afternoon storm. Highs: 84-89