WASHINGTON — It's a mild start to our week for the DC region. While showers will be a small threat for Monday in DC, the highest odds for rain are south and southeast of D.C. Tuesday will be the "Pick Of The Week."
Quick Forecast:
Monday: Cloudy early in the afternoon, some afternoon/evening sun. High: 66.
Monday Night: Partly cloudy, chilly. Low: 51.
Tuesday: Mostly sunny and warmer. High: 75.
Forecast Discussion:
Expect a cloudy sky early in the afternoon, followed by some late afternoon and evening sunshine. Temperatures will warm to the lower to mid-60s in metro Washington.

Baseball weather looks cool but dry overall as the Cardinals come to town to play at Nats Park.

Much warmer weather is on the way Tuesday. In fact, Tuesday will be our warmest day of the week with highs into the lower to mid-70s. Expect a beautiful and mostly sunny sky Tuesday.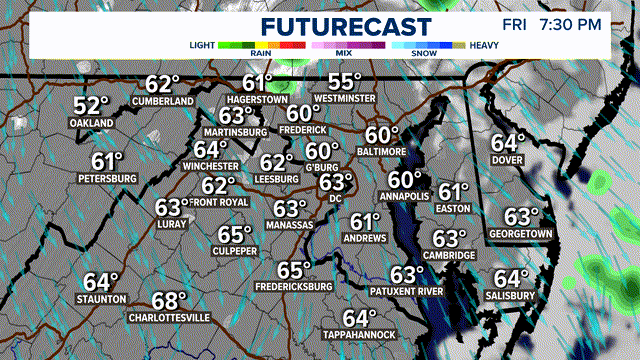 Detailed Forecast:
Monday: Cloudy early in the afternoon, some late afternoon and evening sunshine. Highs: 62-68. Winds: W 5-10.
Monday Night: Mostly clear and chilly. Lows: 43-51. Winds: SW - 5
Tuesday: Mostly sunny, warmer. Highs: 71-76. Winds: SW - 10.


Extended Forecast:
Clouds will increase Tuesday night and Wednesday morning, with showers likely Wednesday midday with a strong cold front. There may even be a few thunderstorms with the cold front. Ahead of the front, temperatures will top out in the 60s on Wednesday but fall into the 50s in the afternoon. By Thursday, it's much colder with widespread 50s for the DMV. Temperatures rebound quickly to the 60s by Friday and for the upcoming weekend.

Wednesday: Partly cloudy, scattered showers/storms, mainly in the morning and midday. Windy, colder by late afternoon. Highs: 58-66.
Thursday: Partly cloudy, blustery and chilly. Highs: 52-58.
Friday: Mostly sunny, seasonable. Highs: 62-67.
Saturday: Morning sun, increasing clouds, showers possible late. Highs in the 60s.
Does a baseball travel farther in warm or cool air?
Do northwesterly winds make it easier or more difficult to hit home runs in Nationals Park?