WASHINGTON — The week ahead starts off cool, with clouds and a few sprinkles. Temperatures will again hit the 70s on Monday.
Summer temperatures move into our region for the upcoming week.
Quick Forecast:
Sunday Night: Mostly cloudy. Low: 55.
Monday: Mostly cloudy. An isolated shower southwest of D.C. High: 74.
Tuesday: Heating up, partly cloudy. High: 80.
Forecast Discussion:
Overnight we'll see dry weather, with patchy fog, and mostly cloudy skies. Low temperatures will bottom out in the upper 40s to around 50 inside of the Beltway.

Metro Washington, DC is dry for Monday, with a few more showers are forecast south and west of metro D.C. Expect more clouds than sunshine to start the week, with high temperatures in the 70s.
Tuesday is warmer, with more sun. High temperatures will hit 80 in Washington, D.C.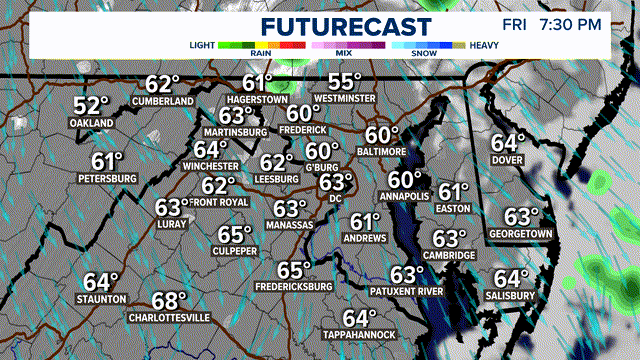 Detailed Forecast:
Sunday Night: Mostly cloudy, patchy fog. Lows: 46-55. Winds: E 5.
Monday: Mostly cloudy, an isolated showers south and west of D.C. Highs: 70-75. Winds: ESE 5-10.
Monday Night: Partly cloudy. Lows: 49-57. Winds: ESE 5-10.
Tuesday: Partly cloudy and warm. Highs 75-80. Winds: S 5-10.


Extended Forecast:
Get ready for a summer-like feel by the end of the week. We rise up to the lower and middle 80s on Wednesday. Even hotter beyond mid-week, as afternoon highs soar to the upper 80s Thursday and we flirt with 90 degrees on Friday and Saturday.
Wednesday: Partly cloudy and warm. Highs: 83-86.
Thursday: Partly cloudy, very warm. Highs: 87-90.
Friday: Partly cloudy and hot. Highs: 86-90.
Saturday: Partly to mostly cloudy and hot. A stray storm possible. Highs: 88-92.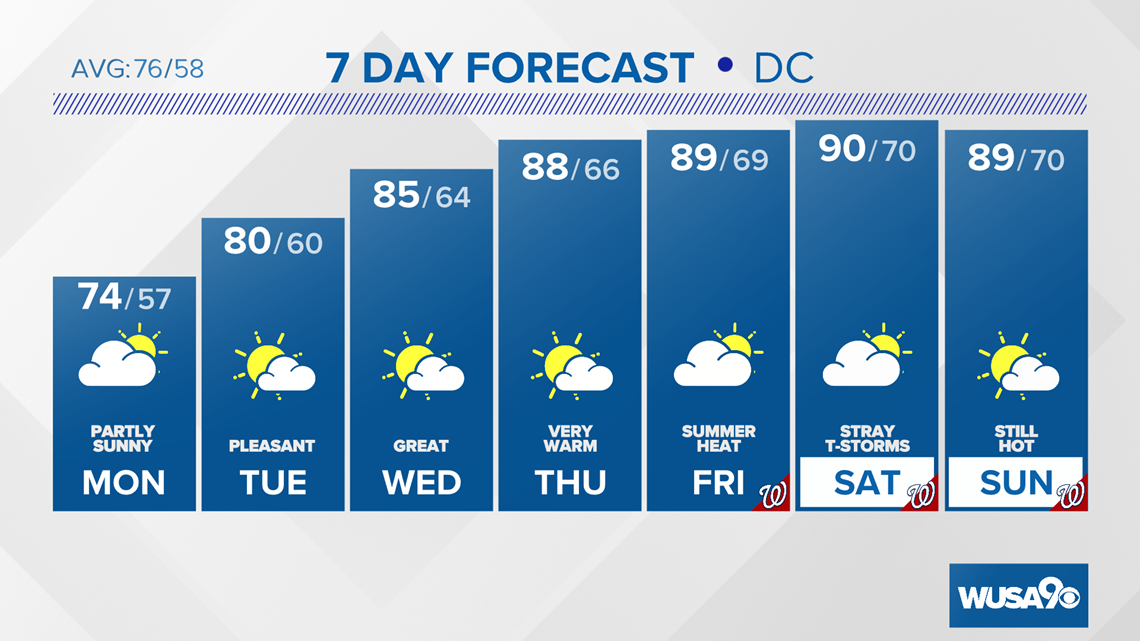 Does a baseball travel farther in warm or cool air?
Do northwesterly winds make it easier or more difficult to hit home runs in Nationals Park?