WASHINGTON — A cold front is passing through this evening and as a result wind is really picking up. We have a wind advisory in effect until midnight for DC, Maryland and northern Virginia for winds gusting up to 35 mph. By the time you wake up Tuesday we'll have partly cloudy skies and much colder temperatures in the 30s. High temperature tomorrow stay in the low 40s.
Quick Forecast:
Tonight: Evening showers, then clearing skies. Low: 37.
Tuesday: Partly sunny, chilly. High: 44.
Tuesday Night: Increasing clouds. Low: 34.
The cold air moving in later tonight will stick around through the middle part of the week and help set us up for snow mixing with rain Wednesday. Light snow will develop Wednesday morning and last into the afternoon. We'll mix light rain in with the snow from time to time, especially for areas south of DC. We are not expecting much if anything in terms of accumulation. The surface temperatures will be above freezing so snow will melt as it falls. Grassy surfaces, cars, etc. may get a light coating or dusting.
Detailed Forecast:
Tonight: Clearing overnight. Windy and cold. Lows: 32-40. Winds: NW 10-20.
Tuesday: Partly cloudy and a bit chilly with afternoon/evening clouds. Highs: 41-46. Winds: ENE 10.
Tuesday Night: Increasing clouds and cold. Light snow by morning. Lows: 28-34. Winds: E 10.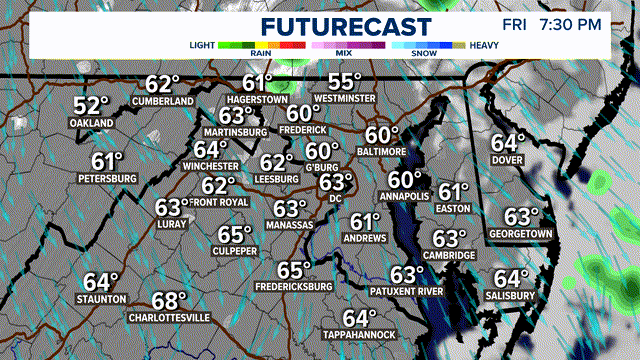 Long Range Forecast:

Continued cold weather is forecast for Thursday, followed by another drastic warm-up for the region. Friday will feature mainly cloudy skies and a small chance for scattered showers in the evening with temperatures back in the mid 50s. The real warm air arrives over the weekend when temperatures are forecast to climb into the upper 60s on Saturday! We're watching another round of rain, heavy at times, over the weekend. The timing looks to be late Saturday night into Sunday morning right now. We'll keep you posted!
Extended Outlook:
Wednesday: Snow and rain. Colder. Highs: 36-41.
Thursday: Partly cloudy to mostly cloudy. Highs: 44-48.
Friday: Mostly cloudy. Showers possible at night. Highs: 51-56.
Saturday: Partly cloudy. Rain late. Highs: 60s.