WASHINGTON — Slightly cooler temperatures are in store for Sunday. Expect another sunny day with a little less wind Sunday. Clouds will increase Sunday afternoon and evening, followed by rain and thunderstorms on Monday.
Quick Forecast:
Sunday: Some late afternoon clouds. Rain overnight. High: 57.
Sunday Night: Cloudy with rain after midnight. Low: 49.
Monday: Heavy thunderstorms, windy. High: 65.
A few clouds are likely Sunday, especially by evening ahead of our next disturbance. This system will bring rain after midnight Sunday. High temperatures will top out in the 50s to near 60 on Sunday afternoon.
A significant storm system will approach the region to start the next week. Rain arrives by early Monday morning, with downpours possible. Thunderstorms are likely too, with a few strong storms possible. A couple of storms may produce damaging winds and possibly an isolated tornado or two. A cold front will cross our region with gusty winds, clearing the rain by late Monday afternoon. Rain totals will top 1-inch for the region, with a few places close to 2-inches.
The key timing is 5 a.m. - 2 p.m. Here's a detailed look at the timeline below.
2 a.m. - Rain starts. Mostly light showers.
5 a.m. - Rain becomes moderate. Heavy in a few spots.
6 a.m. - 12 p.m. Showers with moderate to heavy rain. Winds pick up with gusts 20 mph, but at times could gust up to 30 to 40 mph.
12 p.m - 2 p.m. Pockets of heavy rain. A few storms, some strong. Gusty winds.
After 2 p.m. - Winds remain breezy, but not as strong as earlier. Showers get lighter and most showers end around 4 p.m.

Colder air blows in behind Monday's front, with chilly 40s forecast for Tuesday.
Detailed Forecast:
Sunday: Sunny in the morning, some afternoon high clouds, seasonably cool. Highs 56-60. Winds: SSW 5-10.
Sunday Night: Cloudy. Some showers well after midnight. Lows 42-48. Winds: SE 5-10.
Monday: Rain and thunderstorms likely, possibly strong. Cloudy, with gusty winds. Some heavy rain in the morning, with rain easing by evening. Highs 63-66. Winds: SSE 10-20, gusts to 30.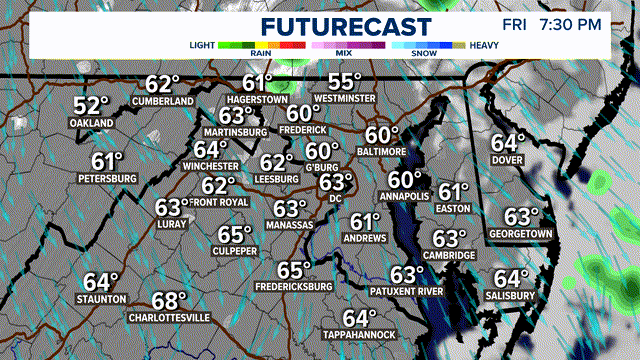 Extended Forecast:
After seeing high temperatures reach the 60s Monday, our temperatures tumble to the 40s for Tuesday. Cooler-than-average weather continues into Wednesday, with highs once again only in the 40s. Highs return to the 50s Thursday and Friday. Expect a dry Thursday, followed by isolated showers for Friday. More rain is likely on the weekend.

Tuesday: Breezy, partly sunny. Highs 43-48.
Wednesday: Mostly sunny, still breezy. Highs 46-49.
Thursday: A few clouds, warmer. Highs 50-55.
Friday: Mostly cloudy, isolated showers. Highs in the 50s.
APP USERS: Click here to see the radar loop