WASHINGTON — Chilly again tonight with lows mainly in the 50s. Clouds increase overnight and linger most of Tuesday. A stray shower is possible Tuesday but it remains comfortable with highs in the 70s.
Our first 90-degree day of the year is Wednesday with highs in the low to mid 90s.
Quick Forecast:
Monday Night: Mostly clear start, clouds late and chilly. Low: 57.
Tuesday: Mostly cloudy, a stray shower/storm. High: 77.
Wednesday: Partly cloudy, breezy and hot. High: 93.
FORECAST DISCUSSION:
Our first real stretch of summer weather comes this week.
A warm front lifts through the region on Tuesday. Clouds increase, temperatures rise slightly, and a stray shower is possible. However, you'll still be able to get outside with comfortable humidity and temperatures. Wednesday we spike into the 90s. We remain hot and humid Thursday with showers and storms. We will monitor Thursday for our next Yellow Weather Alert.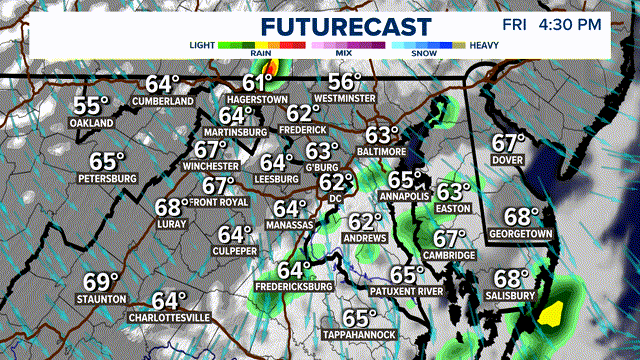 Detailed Forecast:
Tonight: Partly cloudy, becoming cloudy late. Lows: 49 - 59. Winds: SW 5-10.
Tuesday: Mostly cloudy. A stray afternoon or evening shower/storm. Highs: 74 - 79. Winds: SSW - 10.
Wednesday: Partly cloudy, breezy and hot. Highs: 90 - 95. Winds: WSW 10 - 15.
Extended Forecast:
The DMV gets a dose of summer heat and humidity for the back half of the week.
The weather remains hot into Saturday as isolated to scattered thunderstorms move back into the region. Shower chances look highest on Thursday with a cold front but more thunderstorms are possible Friday and Saturday.

Thursday: Mostly cloudy, hot and humid with showers and storms: 85 - 90.
Friday: Partly cloudy and hot with more showers and storms. Highs: 85 - 90.
Saturday: Partly cloudy, scattered afternoon/evening storms. Highs: 85 - 90.
APP USERS: Click here to see the animated radar loop