WASHINGTON — Two wintry storms are headed our way this week. One brings a chance for rain and possibly some ice. The second storm has a threat for snow in metro Washington.
Quick Forecast:
Overnight: Scattered clouds, blustery. Low: 26.
Sunday: Clouds increasing. High: 41.
Monday: Afternoon rain, with a wintry mix possible. High: 41.

FORECAST DISCUSSION:
Sunday is a little warmer but still dry. The next weather system moves in for Monday and Tuesday, bringing rain and possibly a wintry mix to the DMV.

Sunday is dry and cold to start, with increasing clouds ahead of Monday's storm system.
Some snow is possible over the mountains Sunday evening and Sunday night. A stray flurry could make its way east, but most areas will remain dry.
The weather system on Monday looks like cold rain, with some ice and snow possibly mixing in north and northwest of DC.
The rain will likely start after 3 p.m. Monday. By 6 p.m. some areas north and west of D.C. will notice snow, sleet and rain mixing in. Overnight Monday heading into Tuesday morning, mixing will continue north and west, including some freezing rain. In D.C. and areas south expect mostly rain.
Towns north of D.C. near the Maryland and Pennsylvania border such as Frederick, Hagerstown, could see a brief period of all snow resulting in small accumulations.
The system should wrap up sometime Tuesday afternoon. Highs will top out right around 40 degrees for Tuesday.

Detailed Forecast:
Saturday Night: Partly cloudy and colder. Lows 20-26. Winds: NW 5-15.
Sunday: Clouds increasing, not as cold. Highs 38-43. Winds: WNW 5-10.
Monday: Rain likely, some ice and/or snow snow at times north and northwest of metro DC. Highs 38-42.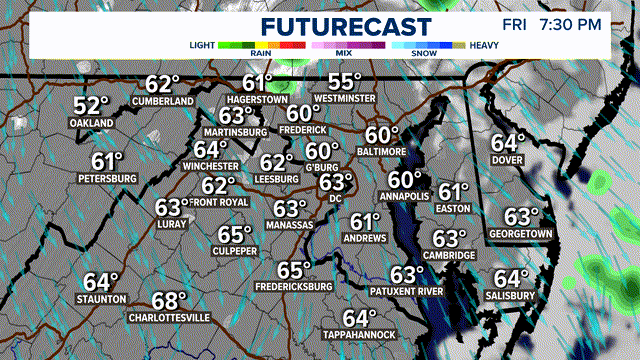 Extended Forecast:
Cold air sticks around for most of the week and will likely be in place when our next chance for snow arrives Wednesday night and Thursday. A storm system moves across the East Coast in this period, bringing a burst of rain and/or snow late on Wednesday night, ending as light snow on Thursday. Gusty winds are forecast with the storm. Dry weather returns for Friday.

Tuesday: Morning rain showers, cloudy in the afternoon. Highs 40-49.
Wednesday: Mostly cloudy. Not as cold. Highs 45-51.
Thursday: A chance for snow, mainly in the morning. Windy. Highs 35-39.
Friday: Becoming sunny, chilly. Highs low to mid-30s.
APP USERS: Click here to see the radar loop