Quick Forecast:
Tonight: Partly cloudy and warm. Low: 75.
Saturday: Partly cloudy. Hot and humid. High: 96.
Saturday Night: A few clouds. Low: 75.
Sunday: Still hot, humid too. Afternoon and evening storms likely. Some strong. High: 90.
The big story this weekend is the heat and humidity. We already had a taste of summer today with muggy conditions and even a few severe thunderstorms north and west of DC, but the real heat builds tomorrow.
Expect high temperatures in the mid to low 90s Saturday. We very well may break the current record of DCA that sits at 95 degrees. We are forecasting 96 degrees.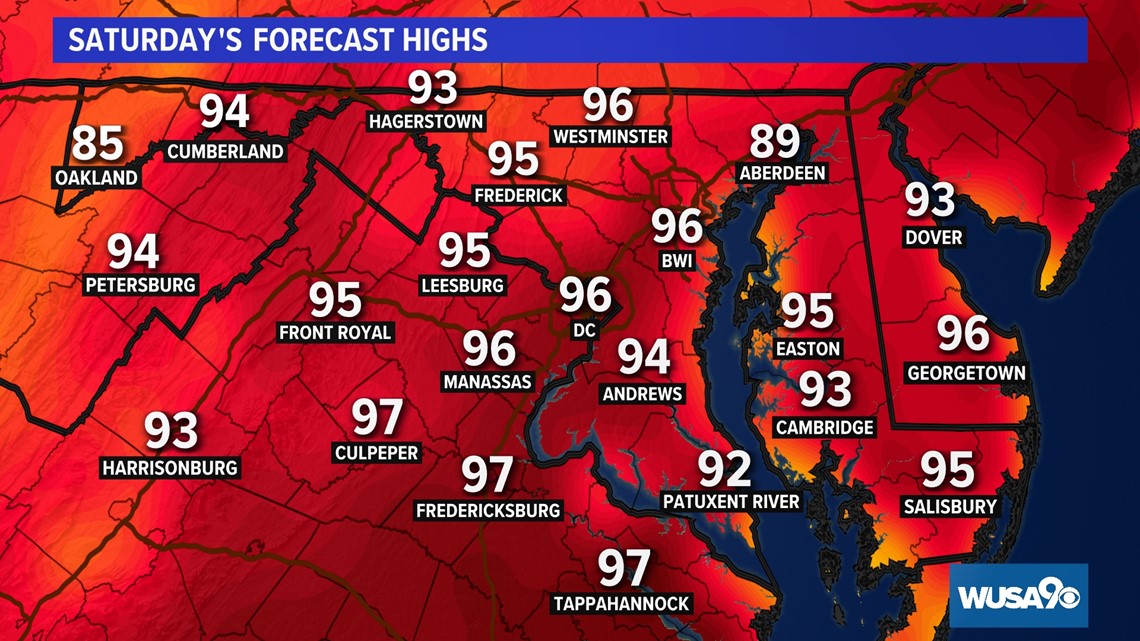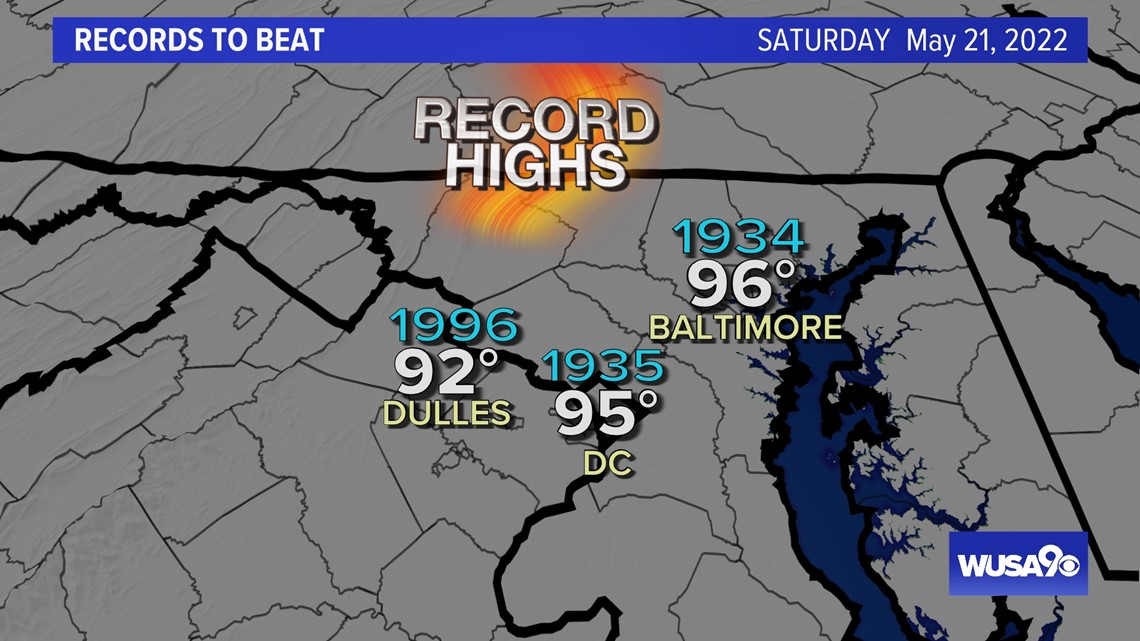 This is the type of heat where you have to make sure you're staying safe: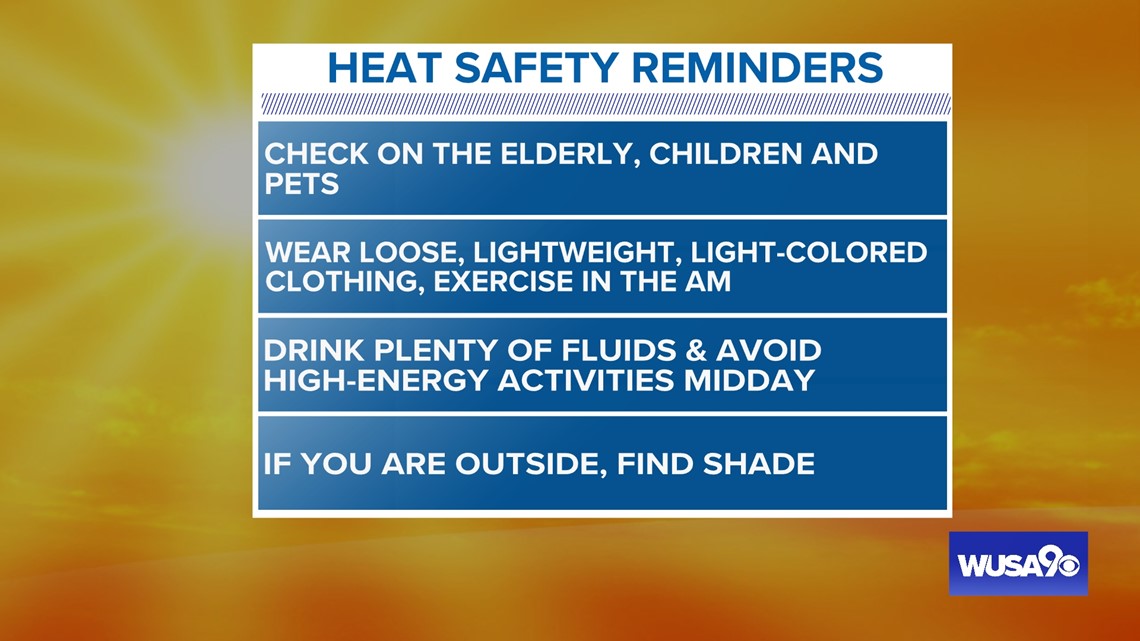 Don't forget to join us at our environmental clean up day Saturday morning before it gets too hot! We'll be at 5 locations all across the DMV. Check out all of the information: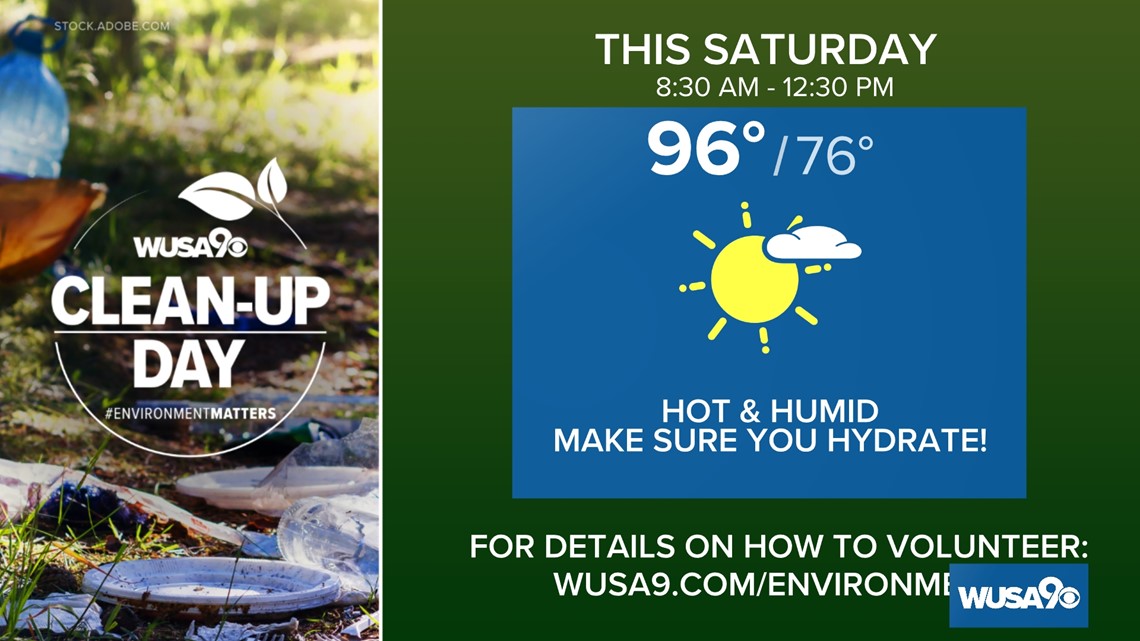 Detailed Forecast:
Tonight: Clear to partly cloudy. Lows: 66 - 74. Winds: SW 10.
Saturday: Partly cloudy and hot. A stray PM storm. Highs: 93 - 98. Winds: SSW 10.
Saturday Night: Partly cloudy. Lows: 68 - 75. Winds: SW 10.
Sunday: Still hot, humid too. Afternoon and evening storms likely. Some strong. Highs: 86 - 91.
The heat wave should continue Sunday with temperatures expected in the low 90s. Most of Sunday will be dry, but ahead of a cold front later in the day we'll see showers and thunderstorms develop. Given the amount of heat, humidity and instability in the atmosphere, a few storms could become strong and possibly severe.
Some showers will linger into Monday with otherwise cloudy skies and MUCH cooler temperatures. We'll drop about 20 degrees into the low 70s for high temperatures Monday.
Extended Outlook:

Monday: Much cooler, mostly cloudy. Highs: 70 - 75.
Tuesday: Mostly cloudy, an isolated shower. Highs: 70 - 75.
Wednesday: Increasing clouds. Highs: 70s.