WASHINGTON — This May finished among the top ten driest Mays on record in the nation's capital.
That is significant because May is typically D.C.'s third rainiest month of the year, according to NOAA.
This month's dry weather has only compounded the drier than average conditions in the Mid-Atlantic Region, that date back to last August.
Eight out of nine months since August 2022 have been drier than average.
May was the driest month yet in that stretch. We ended up with only 1.34" sliding us down to ninth place.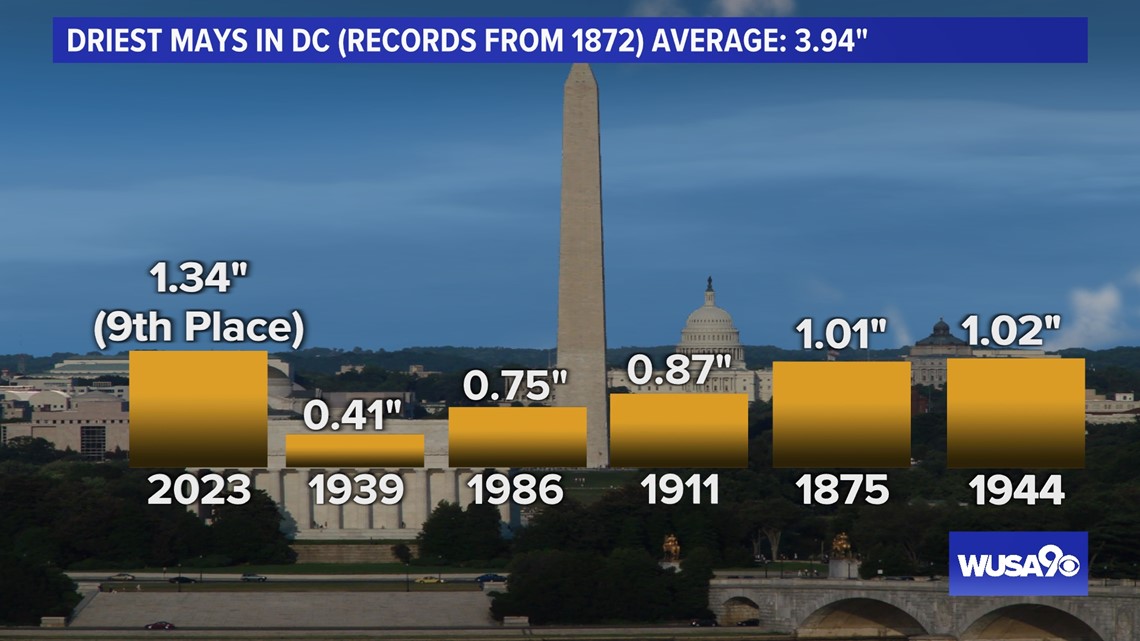 The scattered showers on Monday added just enough to our monthly total for May 2023 to end up in ninth place.
There are two significant things to note when looking at the existing top 10 driest Mays in Washington, D.C.
Only two of D.C.'s driest Mays have occurred in the last 40 years, most recently in 1999.
Also, D.C.'s second and ninth driest Mays, in 1986 and 1957, respectively, occurred in what were unusually dry years as a whole. That's important because having an unusually dry month or two doesn't mean the entire year will be drier than average.

The latest Drought Monitor Index shows widespread "abnormally dry" conditions across the D.C. metro area.
DC's 10 Driest May's (Source: NOAA)
1. 0.41" (1939)
2. 0.75" (1986)
3. 0.87" (1911)
4. 1.01" (1875)
5. 1.02" (1944)
6. 1.06" (1963)
7. 1.20" (1969)
8. 1.28" (1999)
9) 1.34" (2023)
10 1.40" (1957)
Driest May's at Dulles Airport (Source: NOAA)
1. 0.34" (2007)
2. 0.80" (1964)
3. 0.99" (1969)
4. 1.19" (1986)
5. 1.48" (2023)