WASHINGTON — Metro Washington is experiencing its coldest stretch of September weather since 2000.

A blast of cool autumn air has some of the DMV worried about frost and turning on their furnace.

Temperatures at Washington National Airport fell to 46 degrees on Sunday morning, after falling to 49 on Saturday. It hasn't been that chilly in September since 2001. On September 26, 2001, National Airport also dropped to 46 degrees.

More cold weather is forecast for several more mornings, with a forecast low of 48 for D.C. for Monday morning, and yet more cool 40s are likely Tuesday morning.
Many areas in metro Washington will plummet to near 40 degrees on Monday morning, and perhaps even in the upper 30s in sheltered locations.
Additionally, there is a freeze warning west of the Blue Ridge Mountains for Monday morning. There are frost advisories surrounding the Shenandoah Valley, including parts of western metro Washington.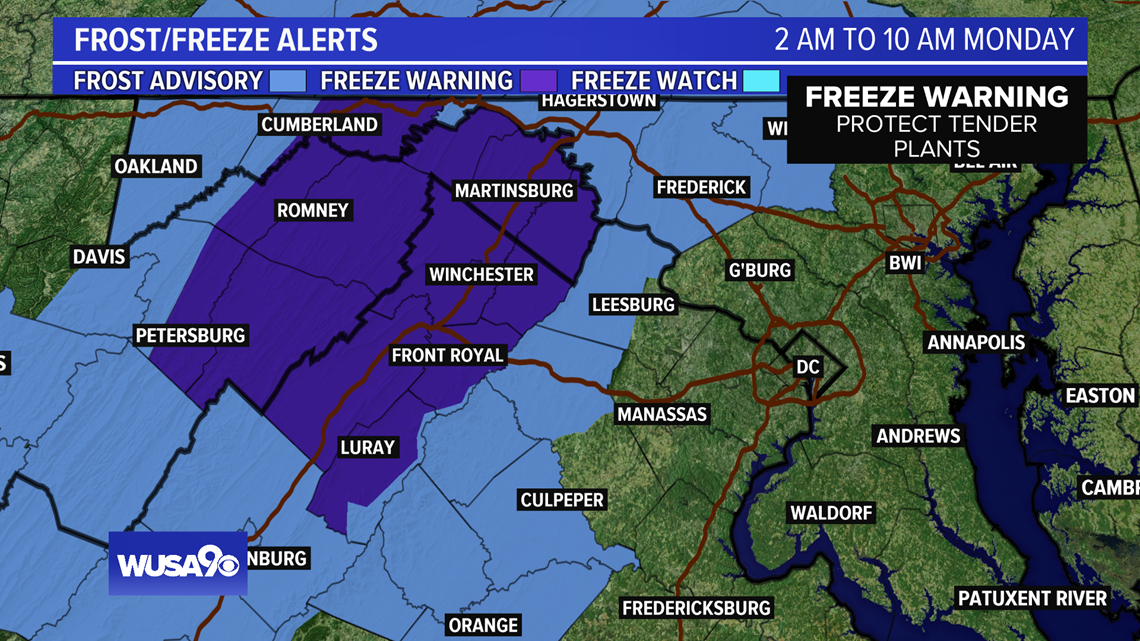 Is this record breaking cold?

Not by any stretch of the imagination. The record low temperature for September 19 is 45 degrees, while the record for the 20th and 21st of September is a bone-chilling 41.

What is unusual is a possible stretch of 3 days in a row where D.C. will fail to crack 70. That hasn't happened since 2011!

Also unusual, the stretch of mornings in the 40s for D.C. We haven't logged back-to-back sub 50 degree morning lows in September since the year 2000.

The current forecast has at least two more nights in-a-row of 40s for D.C.

Summer isn't exactly over.

The forecast for sunshine continues for the week ahead, along with a warming trend.
Our cool high pressure will give way a more summerlike lower 80s by Wednesday or Thursday.
Remember, just last year we logged a record shattering 98 degrees on the 2nd day of October.
So those who already miss summer, there is still hope for some warmer beach and pool weather before we close out September.