Tropical Storm Cristina formed late Monday night local time in the Eastern Pacific Ocean and is on its way to becoming the first hurricane of the 2020 season in any of the ocean basins in the Western Hemisphere.
As of early Tuesday, the storm was located well away from land, about 535 miles south-southeast of Manzanillo, Mexico. It was moving at a speed of 13 mph and featured maximum sustained winds of 40 mph.
Thus far there have been three tropical storms and one tropical depression in the Eastern Pacific basin this year.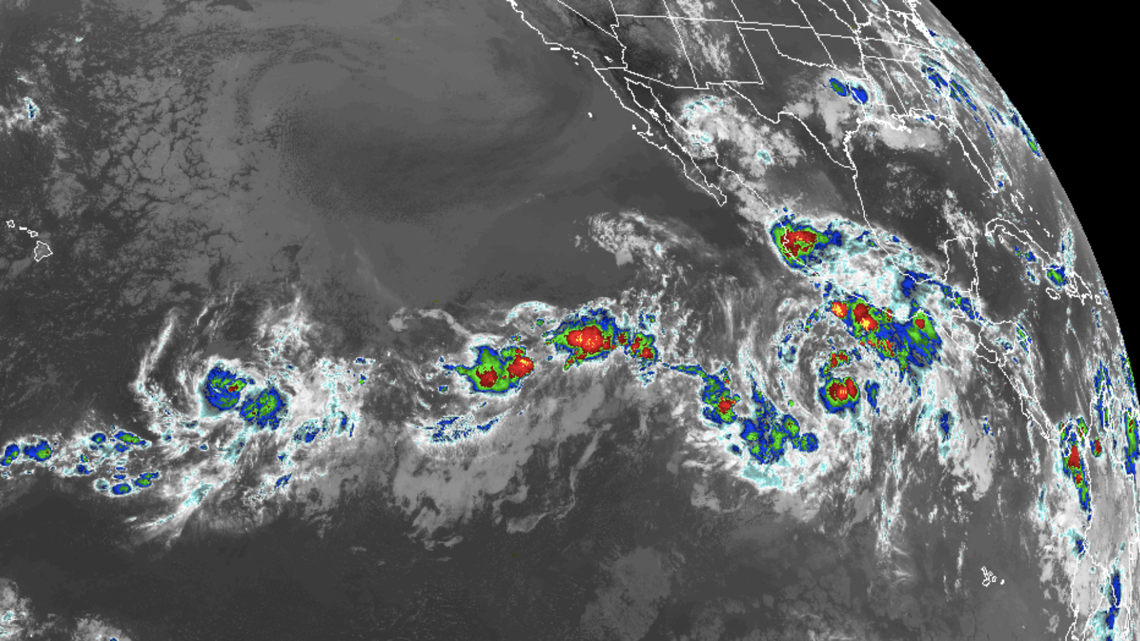 Meanwhile the Atlantic has had five tropical storms, and could be on the verge of a sixth-named storm this week.
Neither basin has yet spawned a hurricane, but that is about to change.
AccuWeather meteorologists expect Cristina to become not only the first hurricane of the North and Central American waters, but perhaps the first Category 2 hurricane with maximum sustained winds of at least 96 mph.
"Now that Cristina has caught on, favorable conditions should allow the system to spend several days as a hurricane later this week to this weekend," said AccuWeather Hurricane Expert Dan Kottlowski.
Cristina is projected to become a hurricane around the middle of the week.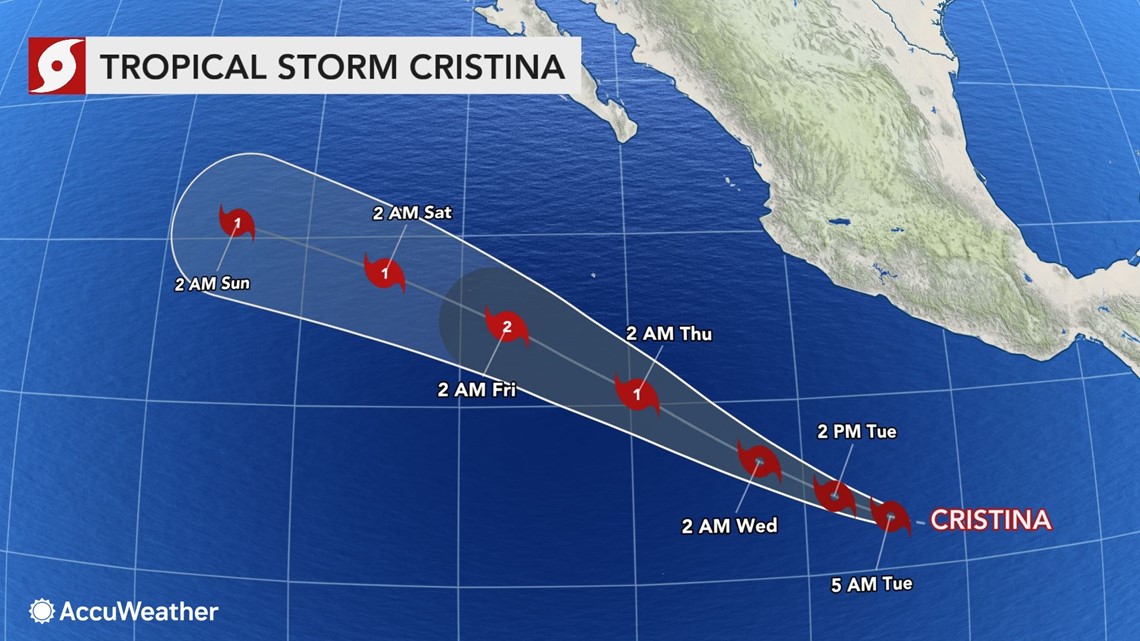 "Waters are sufficiently warm and wind shear is relatively low in the zone where Cristina is going much of this week," Kottlowski explained.
Wind shear is the change in the flow of air at different levels of the atmosphere and the change in direction of the flow of air in the horizontal above the sea surface. Strong wind shear can prevent a tropical storm or hurricane from strengthening.
"During the weekend, Cristina is forecast to move into an area that is more hostile for its existence and it should begin to weaken," Kottlowski said.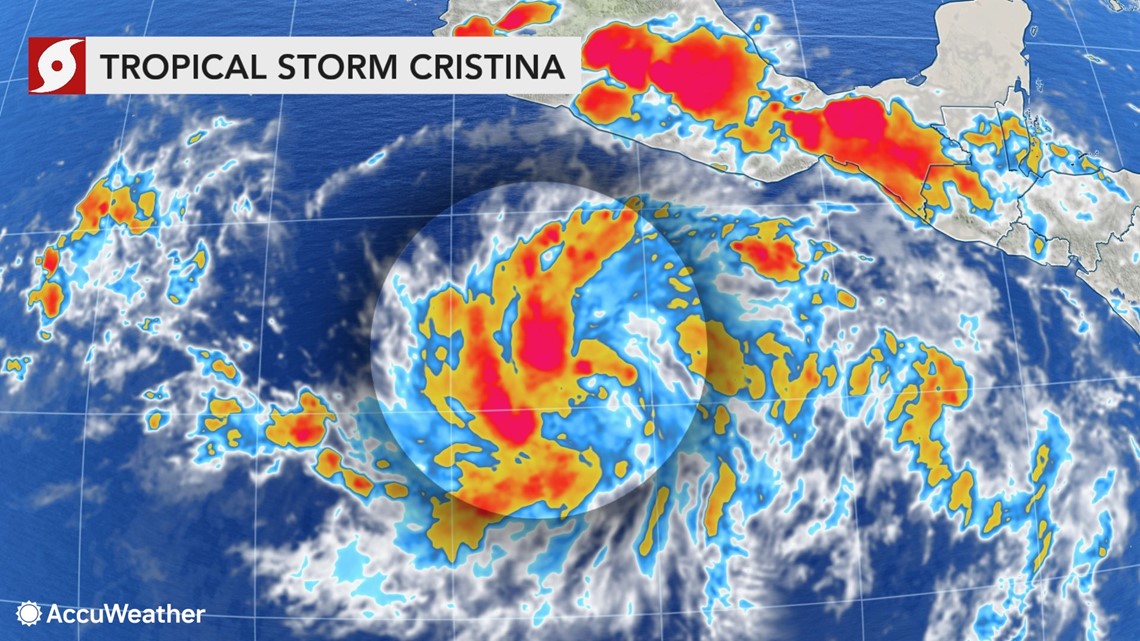 The skill level at predicting peak intensity of hurricanes is still in its infancy, even with the aid of satellites that can peer into the storm without sending in aircraft as there at many minute variables that can affect sensitive storms, such as hurricanes.
"At least for this particular storm, the projected path is one that does not allow the storm to close in on Central America and Mexico while the storm strengthens this week," Kottlowski said.
The forecast path keeps Cristina out to sea.
Winds generated by the strengthening Cristina will cause waves to propagate outward from the center. These waves can create rough surf and strong rip currents along the coasts of Central America and southwestern Mexico as the week progresses.
There are a few other tropical disturbances drifting on the west-northwest path over the Eastern Pacific.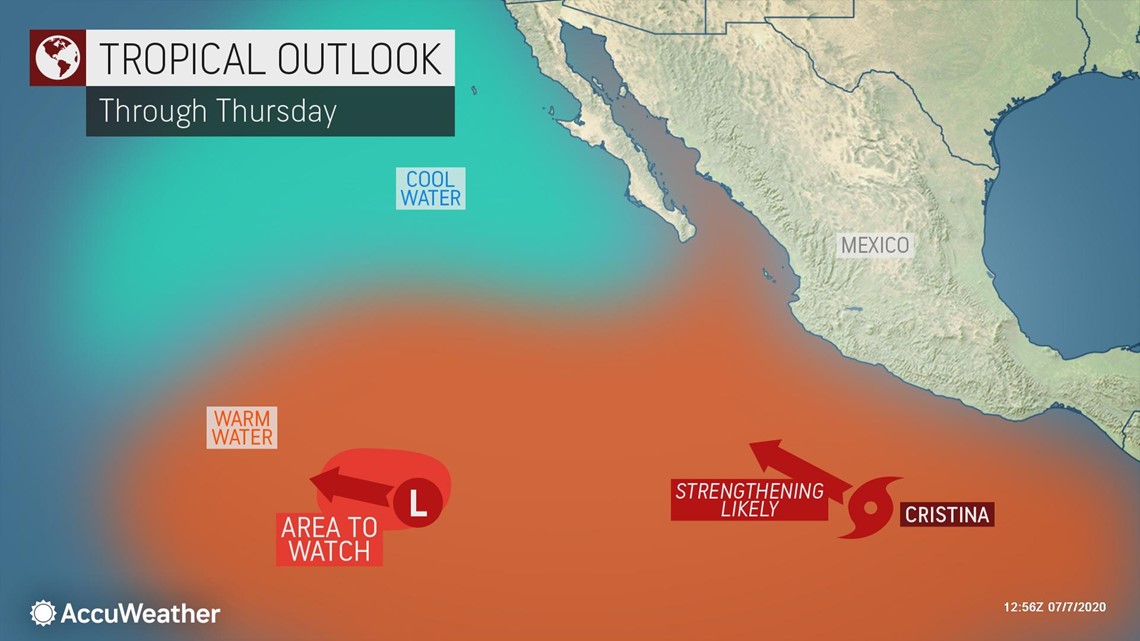 One system about 1,000 miles to the southwest of the southern tip of Baja California has about a 25% chance of evolving into a tropical depression over the next several days.
Disturbances will continue to move westward from Central America through the season.
"There will be another disturbance that moves offshore from Central America in several days that could also ramp up," Kottlowski said.
None of these other disturbance appear to be a threat to Central America and Mexico at this time.
Once in a while these features can hold together for thousands of miles or long enough to bring showers, thunderstorms and rough seas in Hawaii.
"The waters east of Hawaii are cooler than waters south and west of Central America and this tends to cause most tropical systems to weaken and/or fall apart before reaching Hawaii," Kottlowski stated.
"Generally we start to look for significant impacts by tropical systems on Hawaii around August or so, when waters have warmed up and less wind shear is present," he explained.
While it is too early to suggest that Cristina or some other system that moves off of Central America in a few days will definitely reach the waters near Hawaii, these systems will be monitored for track and longevity as July progresses.
As of Tuesday morning, another disturbance already located 1,050 miles to the southeast of the Big Island of Hawaii is projected to move westward within a favorable environment for tropical development.
"If this Central Pacific feature fails to develop by the end of the week, it will start to move into a more hostile environment," Kottlowski said. "Regardless of development, this system is projected to remain well south of Hawaii and therefore is no threat to the islands."
During July 2019, Hurricane Barbara passed about 120 miles south of Hawaii on the 8th. In August 2019, Erick passed just south of the Big Island on the 4th as a tropical storm, while Flossie passed just north of the islands as a depression on the 6th.