Paul March, a resident of Lake Anna, describes the area as a Garden of Eden, or "a little slice of heaven right here on earth."
March made a pact with his brothers that they would return to Lake Anna, the picturesque part of Virginia where their grandfather is from. His brothers have since passed, but Paul calls this piece of paradise home.
"The peace and quiet. The serenity, the nature is magnificent," explains March. "We have egrets we have eagles, we have the herrings and even ospreys."
But now toxic algae blooms are threatening the residents and visitors of Lake Anna, as well as six other bodies of water in Virginia that have been listed on the Virginia Department of Environmental Qualities "dirty waters list". This is the fifth summer in a row Lake Anna has been deemed unsafe to swim in.
"They pulled the lifeguards and posted signs so the visitors to the state park can swim at their own risk, but it's not recommended of course," explained Ron Skinner, a member of the Lake Anna Civic Association.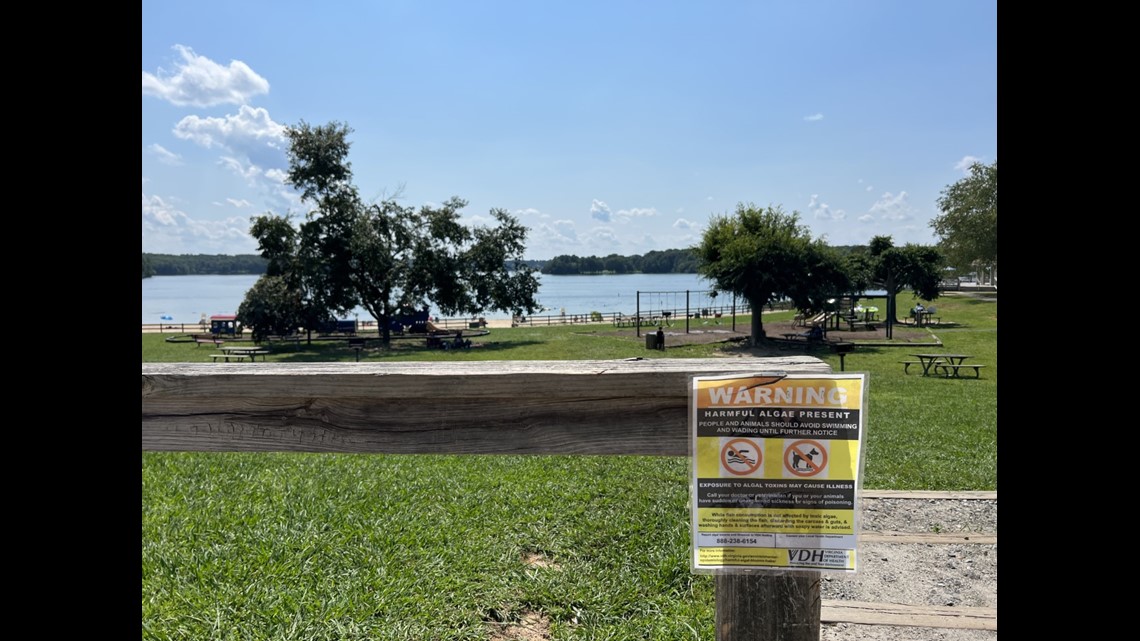 Still, a concerning number of people are swimming in the contaminated waters.
"We have an excessive amount of algae blooms that cause problems for the resource," said Joe Wood, a Senior Scientist with the Chesapeake Bay Foundation. "[In] this specific situation, we have a bloom of something known as cyanobacteria. Which is a harmful algal bloom that can cause lots of problems."
These algae blooms can be toxic to humans and animals. The health effects can range from a skin rash to fever-like symptoms, respiratory and gastrointestinal distress and in severe cases cancer and death.
While hot temperatures help fuel algae blooms, it's the heavy, excessive rainfall we have become all too familiar with that carries excessive loads of nutrients into bodies of water in the form of stormwater runoff.
"Sources of nutrients are found throughout our landscape, whether it's fertilizer from your lawn, from a sewage treatment plant or potentially from agricultural sources," said Wood.
As global temperatures continue to rise and the atmosphere holds more moisture as a result, the Chesapeake Bay Foundation is working hard to combat the threat of algae blooms.
"As we look forward, all the signs point to from a climate change perspective that we're going to have problems with this in the future really hot temperatures fuels the growth of the harmful algal blooms that drive these problems."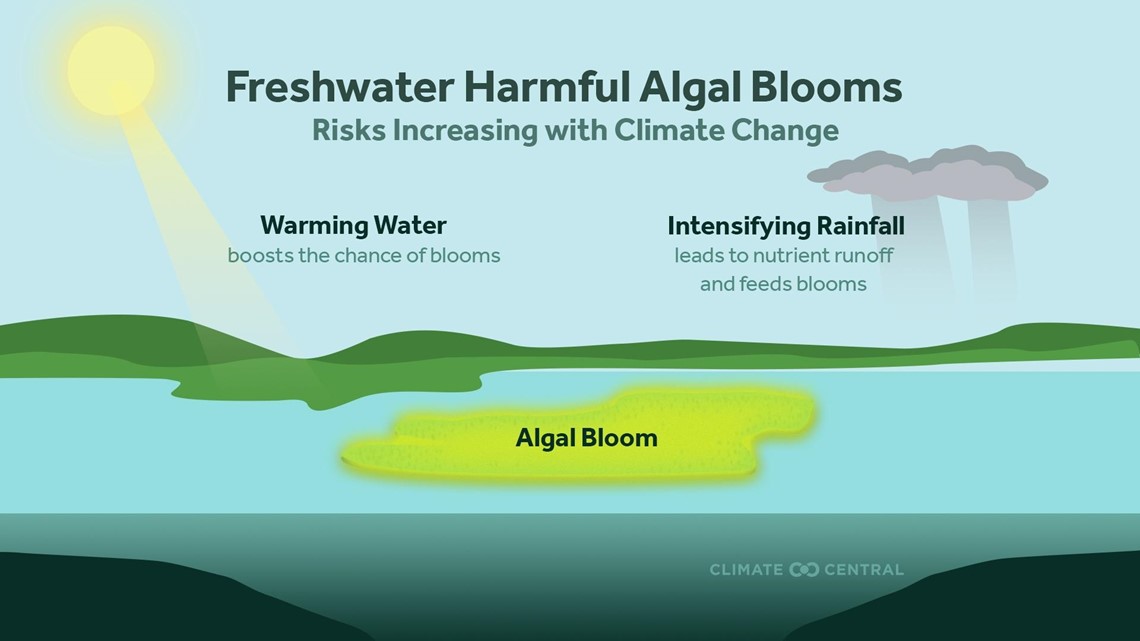 The Lake Anna Civic Association Water Quality group monitors the lake throughout the summer and has increased the frequency in which they check water given the presence of algae blooms. They're also funding a treatment applied to parts of the lake by a licensed herbicide and algaecide applicator.
"When it hits the water it turns into hydrogen peroxide," explains Skinner. "Interestingly, it only attacks cyanobacteria. It doesn't affect the other plant life. It doesn't affect the other algae for that matter."
After the first treatment, the algae chemical went down 96%. It has since returned a bit but remains down 50-70%.
And Paul March has noticed.
"It seems to be working quite well actually. It's having a good effect. I see it less this year after their treatment," he said.
Buffer strips, or planted vegetation along the shoreline, will also help prevent stormwater runoff from contaminating the water.
"This is a problem that we have a solution to," says Wood. "And if we protect these systems hopefully we'll be able to enjoy them more frequently."
It's worth repeating that this is not just an issue on Lake Anna, there are six other bodies of water throughout Virginia that have been deemed unsafe to swim in. For the full list, just click here.