WASHINGTON — From the thoughtfulness put into the theme, to the execution of thousands of native plants and festive evergreens. It's not only a gorgeous display to see, it's also educational and fun for the entire family.
"My son is two, almost three, and he's a huge fan of trains. So we came here last year, the first year they put it up, and it was such a fun thing so it's great to be here again."
Anne Pusey and her son Wyatt are among a small group of people who got an early look at this year's holiday display. The outdoor train exhibit features 13 farms from all across the world.
"Since we get national and international guests, we wanted something everyone could connect with," explains Amy Bolton, the Learning and Engagement Manager at the United States Botanic Garden.
Each intricate display teaches visitors about the crop being represented.
"One of the things that everyone does is sit down to have a meal together," says Bolton. "And so this is an experience everyone can relate to at the holiday time when you're thinking about the food that you eat and your celebrating family."
Bolton adds, "So farming around the world connects you not only to the holiday celebrations but also the food you eat every day."
Step inside the Botanic Garden, and you're brought into a much larger exhibit that teaches visitors about food we eat everyday, new technology being adapted by farmers and what the future of growing food looks like.
"As our world changes we need to adapt and we're talking about the stories of how people who are working to make those adaptations work around the world," explains Bolton. "So it's really about people and plants and how we're adapting to a changing world."
Also inside the Botanic Garden are more than 3,000 different poinsettias and a whole lot of innovative holiday spirit.
As soon as you walk in the conservancy you're greeted by this beautiful model of the U.S. Capitol. It stands 6 feet tall, took 600 hours to make, but what you might not know is that it's made entirely of plants.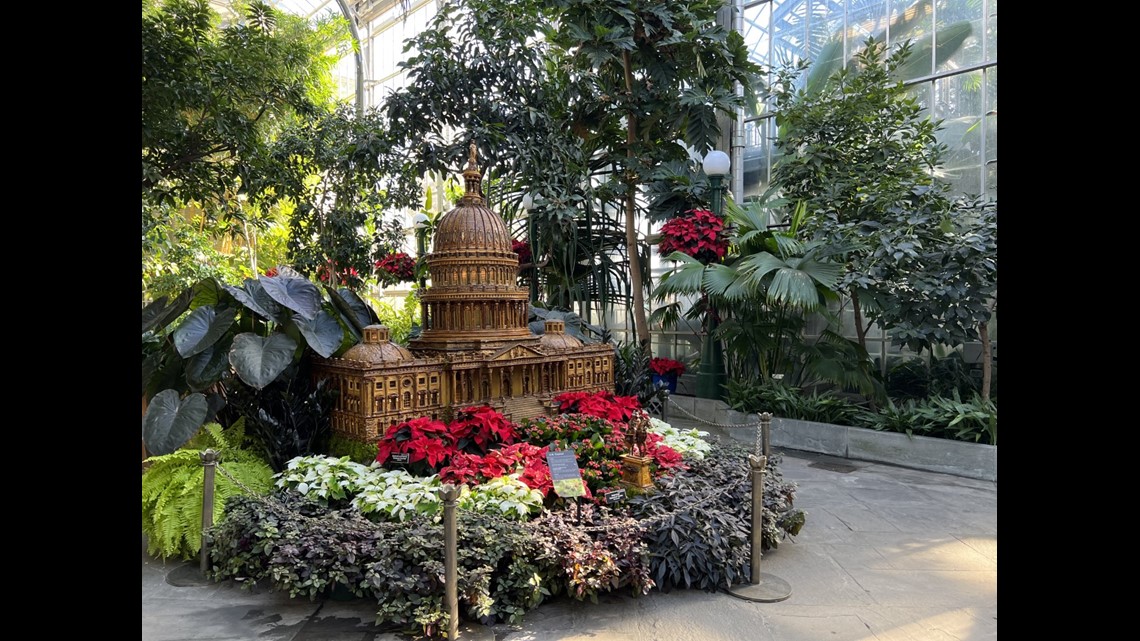 There are 13 monuments in total made out of plants.
"Plants are the foundation of everything we do every day. The things we're eating, the things we're drinking, the clothes we're wearing, the buildings we're living in the medicines we're using," explains Devin Dotson, the Public Affairs Specialist for the United States Botanic Garden. "Plants are so much a foundation of life so being able to talk about those and why conserving them and having a sustainable earth is important is something we do lots of different ways."
And something the Botanic Garden hopes to teach their guests along the way.
Dotson says, "We want visitors to come and have a wonderful beautiful experience and we hope maybe have an educational experience to learn about a plant they didn't know."
You can check out the Botanic Garden holiday display starting November 24 through January 2. They're open every day, except Christmas from 10 a.m. – 5 p.m., but on Tuesdays starting in December they're open until 8 p.m. For more information just visit the United States Botanic Garden website.