WASHINGTON — To celebrate the 50th anniversary of Apollo 11, the National Air and Space museum will be projecting a full-size 363-foot Saturn V rocket on the Washington Monument.
The rocket will be projected onto the east facing side of the monument on July 16-18 from 9:30 p.m. until 11:30 p.m.
On July 19-20, there will be a special 17-minute show titled "Apollo 50: Go for the Moon." The museum said the show will celebrate the exact moment the first steps were taken on the moon.
But that's not the only thing happening this week in celebration of the lunar landing! Below is a list of events and exhibits you can check out around the DMV, organized by outside and inside due to extreme heat.
INSIDE
Check out Neil Armstrong's Apollo 11 spacesuit -- You can see the digs Neil Armstrong rocked on the moon, newly restored, at the Smithsonian National Air and Space Museum starting July 16.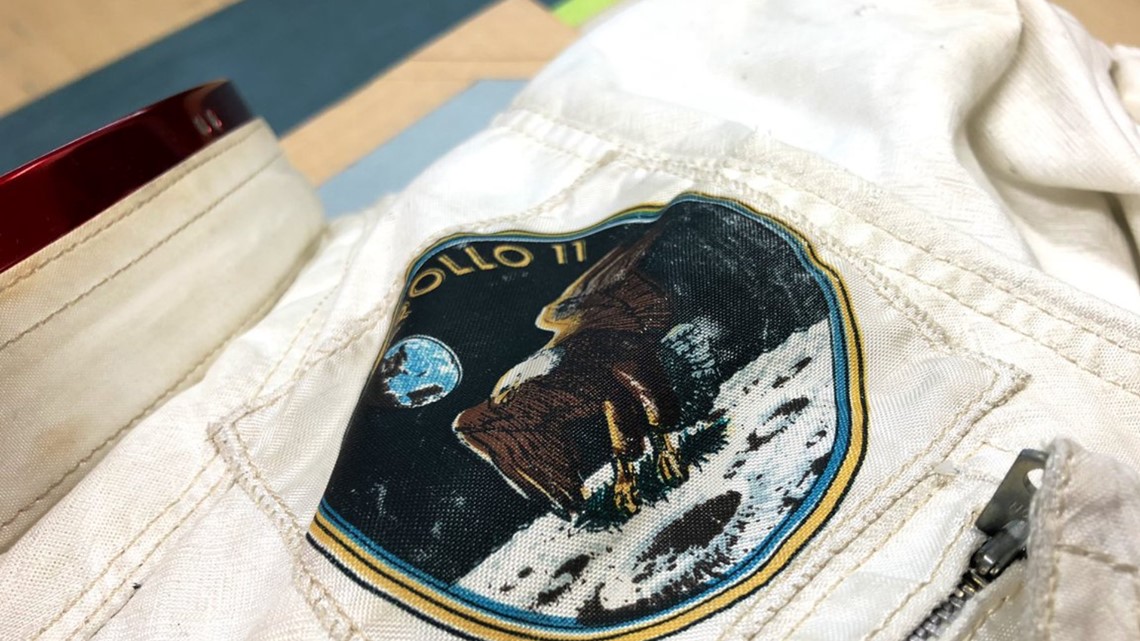 See photos from the unmanned rovers that led to the Apollo 11 landing -- Before humans walked on the moon, unmanned rovers paved the way! By the Light of the Silvery Moon: A Century of Lunar Photographs in the National Gallery of Art has about 50 photographs from the rovers and pictures from the first landing you can check out, as well as some really early images of the moon. You have some time though, as this exhibit will be around until Jan. 5, 2020.
What's it like to be an astronaut? -- People of all ages can find out what it's like to Be An Astronaut in this display at the Virginia Air and Space Center in Hampton, Va. Use touch screen stations, check out artifacts and go into interactive simulator pods built to look like space capsules, as you learn how to fly a spaceship, pilot a lander and drive a surface rover. (GA Tickets are $20)
NSO honors the moon landing with One Small Step, One Giant Leap -- Check out the National Symphony Orchestra play a collab with NASA in celebration of 50 years since the lunar landing. There will be a star-studded line up (pun absolutely intended) featuring Meredith Viera and Adam Savage hosting, as well as performances and appearances by Pharrell Williams, LeVar Burton, Natasha Bedingfield, and Mark Armstrong. (This is also airing on PBS at 9 p.m. on July 20 if you can't make it to the show.)
See Earthrise, a kid-friendly play -- Check out Lauren Gunderson's latest play. It has it all, live music, projections, NASA footage, the works! Tickets will run you $20, and it's at the Kennedy Center starting July 18 through Aug. 4.
A late night party in celebration of Apollo 11 -- Anytime D.C. has a reason to celebrate, we will! The National Air and Space Museum is throwing a party Saturday night - for free - where you can count down to 10:56 p.m., the exact time of Armstrong's moon walk. Then, play some trivia and witness a spacesuit fashion show at 1 a.m. in the night at the museum.
OUTSIDE
Watch a baseball game, and see Neil Armstrong's spacesuit in a statue version -- You can see one of 15 replicas of Armstrong's spacesuit at Nationals Park. To make it, they 3D scanned the spacesuit!
Moon Landing Campfire -- Enjoy some s'mores while learning about space travel and the moon by using telescopes in Fairfax County, Virginia. You can register for the July 20 event as long as you're over the age of eight, and tickets are $8. The program runs from 7:30 p.m. to 9 p.m. at Lake Accotink Park.
What the moon meant to Virginia Native Americans and colonists -- If you're looking for a hyperlocal historical angle to the Apollo 11 anniversary, look no further. Fairfax County Parks and Rec is putting on an $8 per person program at Ellanor C. Lawrence Park in Chantilly, Va. on Saturday. You can enjoy some non-historic s'mores while learning about the moon and it's impact on local people.
Watch an outdoor movie in College Park -- Watch "The Day We Landed On the Moon" Saturday night at the College Park Aviation Museum! You can bring your blankets and chairs to catch the movie on the lawn, as well as "moon-themed activities" as the film walks you through the personal stories behind the scenes of the historic day. Tickets are free, but you should reserve them here. Refreshments will be available for purchase.
WATCH FROM HOME
If you aren't in D.C. or just don't feel like getting out in this heat, there are SO many shows and specials on TV!
NASA is also planning a live broadcast in honor of Apollo 11 from the Kennedy Space Center in Florida, the newly-restored Apollo mission control room at Johnson Space Center in Houston and the Marshall Space Flight Center in Huntsville, Alabama. Officials said they also plan to have a special guest host here in Washington D.C. at the Smithsonian National Air and Space Museum!
"We'll tell the story of how we got there, and how we'll get there again, hearing directly from Apollo astronauts alongside current and future astronauts, scientists, engineers, and others sharing some untold stories, quirky facts, and personal reflections about journeying to the lunar surface," NASA officials wrote in a release.
Watch it on the NASA Live page July 19 at 1 p.m.
This story has been updated to remove events that happened since the original publishing.