WASHINGTON — Sasha Williams hit rock bottom in November 2014 when she found herself at a women and children's homeless shelter. She and her 1-year-old daughter Eboni had been living with a friend but couldn't stay there any longer.
In desperation, she called an emergency shelter hotline. The hotline sent a vehicle to pick them up and take them to the D.C. General homeless shelter. It wasn't Sasha's first time at the austere brick complex, situated between a jail and a rehab clinic. In fact, she was born in the very same building.
Sasha's mother gave birth there in 1985, and the building was a hospital until 2001. After the hospital closed, the facility was turned into a large homeless shelter with enough space for about 250 families. The shelter, which closed for good in 2018, had a reputation for being decrepit and unsafe.
PHOTOS: Life inside DC General Homeless Shelter
Sasha knew she had to get out of D.C. General as fast as she could, so she connected with Street Sense Media, a homeless newspaper and organization that teaches media skills, like writing and photography.
At Street Sense Media, she met volunteer Bryan Bello, a doctoral student at American University. As part of his thesis, Bryan helped facilitate a filmmaker's co-op group. Sasha joined as a founding member and quickly found a passion for videography as she helped others with their projects.
"I wanted to meet people that were on the street. I wanted to see someone's story about how they could turn everything around and successfully got their place… little did I know my story would be that," Sasha said.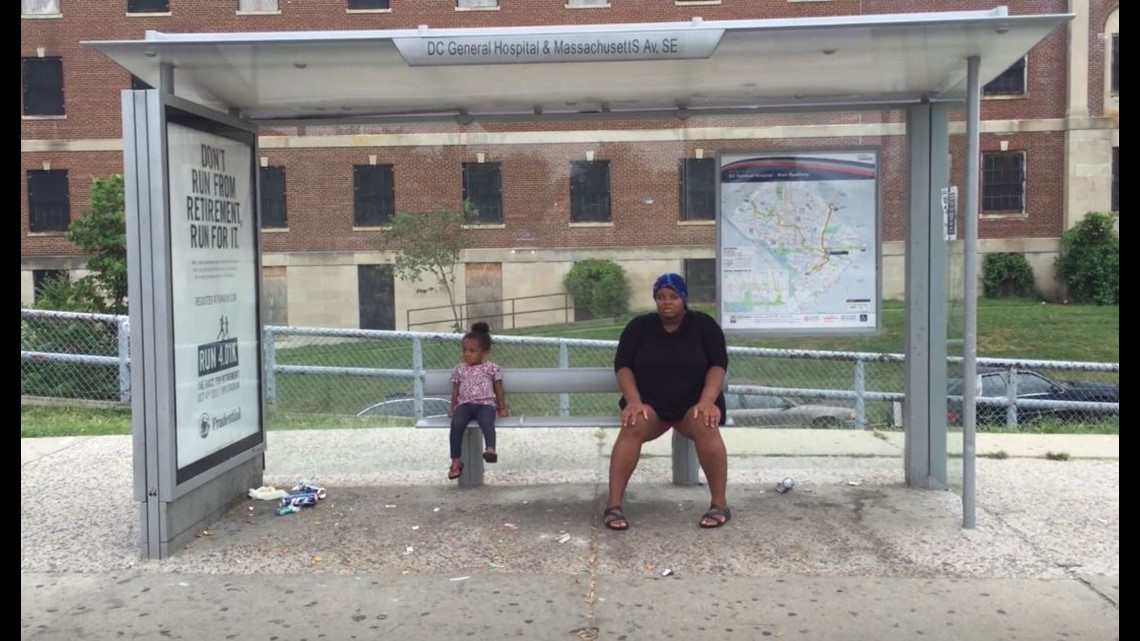 She decided to use her film to tell her own story and document the conditions at D.C. General. She began recording video diaries in the single room she shared with Eboni.
In recording the videos, she began to process multiple traumatic experiences from earlier in her life: A car accident that left her blind in one eye, a sexual assault by a relative and a rape at gunpoint. She also began treatment for bipolar disorder.
As she continued to work on her film with Bryan, plans for permanent housing also started to come together.
"Not to simplify it, but there is that documentary magic where by the time she was done filming, she had gotten herself into an apartment," Bryan said.
During the filming process, Sasha and Eboni moved into an apartment in Southeast D.C.
"I was so happy and thankful to have a place for my girl," Sasha said.
It was a huge relief to have a safe, private home, but she still thought of the families left behind in the shelter. As she finished her film, she paid homage to them, concluding with statistics about the remaining homeless population in D.C.
Sasha's documentary, "Raise to Rise," was finished in 2015 and screened for audiences across D.C. She said she hopes it helps viewers have more compassion for others and more empathy about what they might be going through.
Bryan said it was important to him as a facilitator to let filmmakers like Sasha have creative control over their work.
"Some of the stereotypes that come with homelessness from the outside perspective is that these are choices people make and so they deserve to be where they are or that they can just choose to get better," Bryan said.
"No one is better at dispelling those myths…than the folks that have lived the antithesis of those stereotypes," he said.
Not only has Sasha's work helped bring to light issues that affect people experiencing homelessness, it also helped her find stability personally.
"When I look back over everything else and where I'm at now, I feel like I came a mighty long way and I feel like I can fully accept myself now," Sasha said.
You can watch Sasha's full film here.
HeartThreads are the best stories about the best of us.