WASHINGTON — A federal judge declared a mistrial Tuesday after a jury deadlocked on the question of whether a U.S. Army veteran who served as the Oath Keepers' operations leader on Jan. 6 obstructed the joint session of Congress.
Greene, a U.S. Army veteran who served as the Oath Keepers' operations leader on Jan. 6, was acquitted of two counts of conspiracy and one count of tampering with evidence. Jurors found him guilty on a misdemeanor count of entering and remaining in a restricted grounds – but remained deadlocked Tuesday on a fifth count of obstruction of an official proceeding. After hearing about the impasse, U.S. District Judge Amit P. Mehta declared a mistrial on the remaining count against Greene.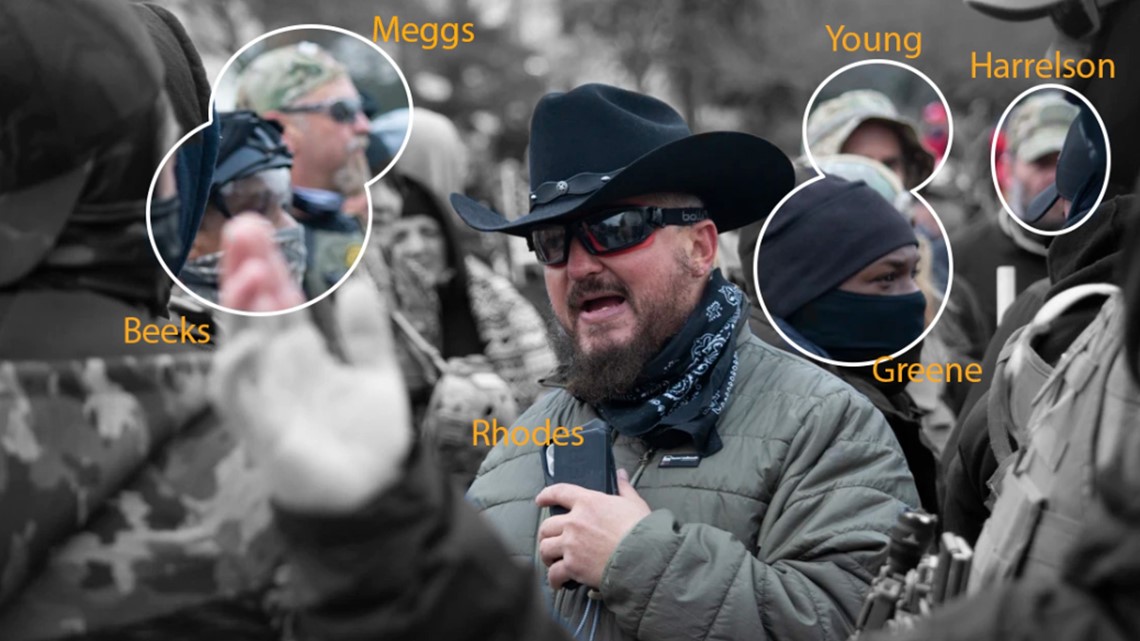 Greene was represented at trial by Dallas-based attorney Britt Redden and Hawaii-based attorney William Shipley, a former federal prosecutor who also represented Oath Keeper Roberto Minuta during the second group trial earlier this year. Minuta and three other defendants in that group were found guilty on all counts, including seditious conspiracy, in January.
"We've always believed Michael Greene was indicted in order to keep him from testifying on behalf of the Oath Keepers who were targeted by the government," Shipley said in a statement to WUSA9. "He was the 'security professional' who led the personal security teams who assisted VIPs and kept them safe on January 6. The government never wanted to admit or acknowledge that was the purpose for the Oath Keepers' presence in Washington, D.C.
"Britt Redden and I are happy that the jury saw through the farce that was the government's case against him," Shipley added. "It was a case that should have never been brought."
Although other Jan. 6 defendants have been acquitted of charges – including one, Matthew Martin, who was acquitted outright by a judge last year – Tuesday was the first time the Justice Department has failed to secure a single felony conviction in one of its marquee conspiracy cases. Greene was not charged with the seditious conspiracy count that Oath Keepers leader Stewart Rhodes and another defendant were convicted of in November, but had been portrayed by prosecutors as a key element of the Oath Keepers' plan on Jan. 6. In particular, prosecutors highlighted a three-way call between him, Rhodes and Kelly Meggs, a Florida Oath Keeper who was also convicted of seditious conspiracy, as precipitating the militia's movement on the Capitol.
Greene, who served in the U.S. Army as a combat engineer for more than three years before leaving early to become a private security contractor with Academi (formerly Blackwater), was called as a witness by the defense during the first Oath Keepers trial last year. He testified he had been hired by Rhodes – who he described in unflattering terms as an inept leader – to coordinate operations for a number of Oath Keepers events, including Jan. 6, but was never a member of the group. He also consistently downplayed the militia's ability to attack the Capitol, saying the group of mostly older members "couldn't storm their way out of a paper bag."
The government will now have to decide if it wants to retry Greene on the single felony count of obstruction of an official proceeding on which the jury failed to reach a verdict. If so, it could mean a substantial use of resources for the Justice Department, which is already straining to prosecute the more than 1,000 cases which have now been filed in connection with the Capitol riot. Each of the three Oath Keepers conspiracy trials so far has taken more than six weeks to present to a jury.
At least three other defendants connected to the Oath Keepers still await trial, including Donovan Crowl – a U.S. Marine Corps veteran and former helicopter mechanic who traveled to D.C. with Parker and Jessica Watkins. Watkins was convicted of multiple felony counts during the first Oath Keepers trial but acquitted of the top count of seditious conspiracy.
Rhodes, the Oath Keepers' founder and leader, was scheduled to be sentenced by Judge Mehta in D.C. District Court on May 25. Meggs, the other Oath Keepers defendant also convicted of seditious conspiracy in the first trial, was set to be sentenced the same day.
We're tracking all of the arrests, charges and investigations into the January 6 assault on the Capitol. Sign up for our Capitol Breach Newsletter here so that you never miss an update.