Never Again: The School Shooting Generation
Today's students have grown up in a post-Columbine world. After witnessing school shooting after school shooting, they're headed to the streets and the polls to speak out against gun violence.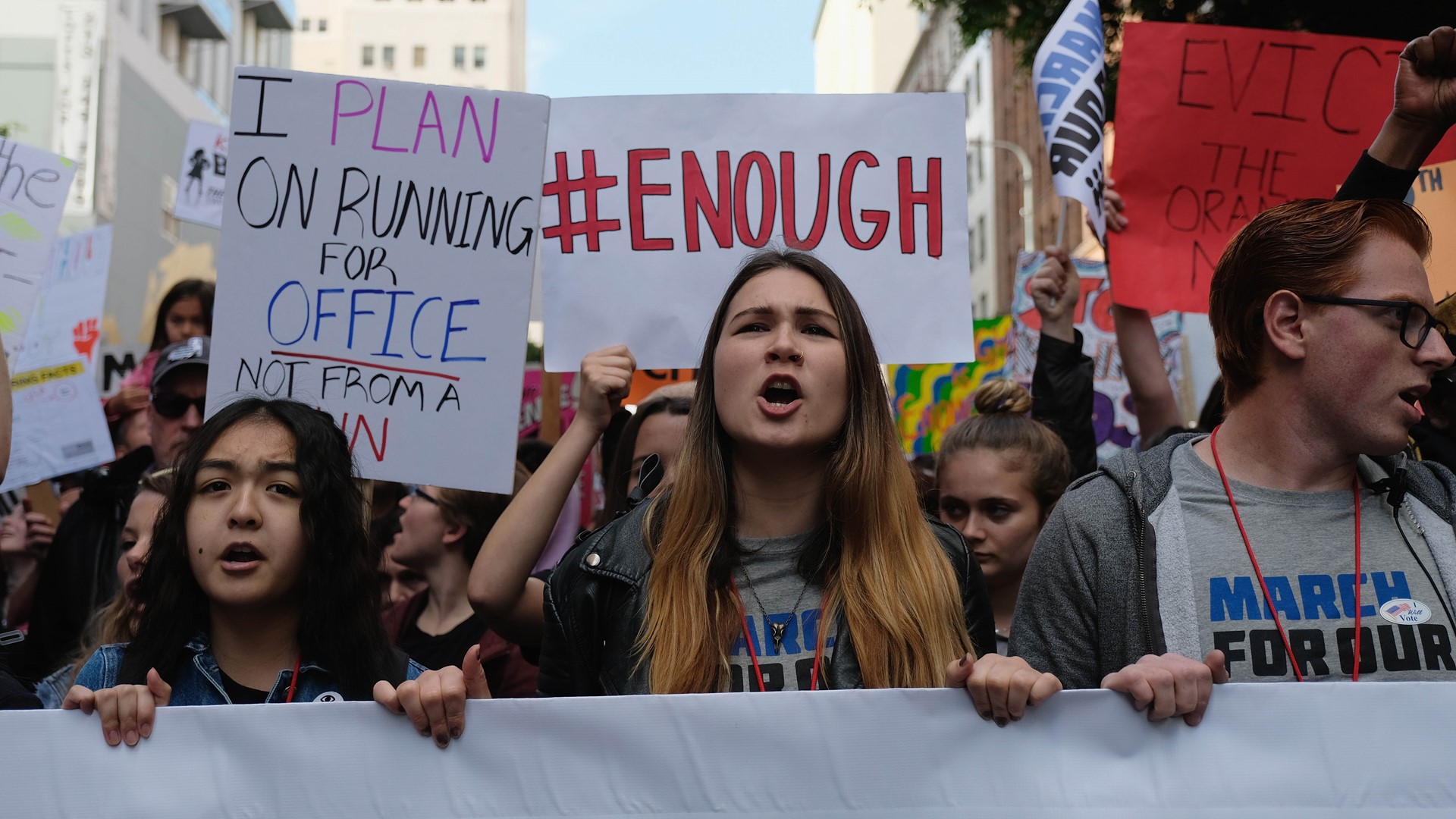 It's February 14 and a student has opened fire at Marjory Stoneman Douglas High School in Parkland, Fl., killing 17 students and staff and injuring 17 more.
It's 2 p.m. on May 18 at Speaker of the House Paul Ryan's office. Up and down the hallway, Brenna Levitan and her student peers lie on the ground in silence. They are eventually handcuffed, arrested and led out of the building by Capitol Police.
It's June 12 on the lawn of the United States Capitol. Mollie Davis stands at a podium and unrolls a sheet of paper taller than she is. "I stand here today because this is the list of school shootings in this country, and it shouldn't't be." She points to a small line that reads Great Mills High School. "This is my school on the list."
It's July 21 in front of the Maryland State House in Annapolis. Rain is pouring down, but Michael Nevett, bundled in a jacket and ducked under an umbrella, shouts into a megaphone. "This is what democracy looks like!" his friends yell.
In just eight months, survivors have ignited a movement of student activists for gun control that has taken over the country. In the D.C.-metropolitan area where the nation's laws are drafted and debated by elected politicians, students are at the forefront of the battle for change.
Chapter one
:
A post-Columbine world
Today's high school students were born after two students at Columbine High School in Colorado opened fired at their school in 1999, killing 12 people and injuring 21.
The deadliest school shooting at a grade school in U.S. history happened during their lifetime, when a man killed 20 children and six staff members at Sandy Hook Elementary School in Newtown, Conn.
For students in D.C., Maryland and Virginia, these school shootings may have been far from home, but the repercussions made it into their classrooms.
PHOTOS: Faces of the student gun control movement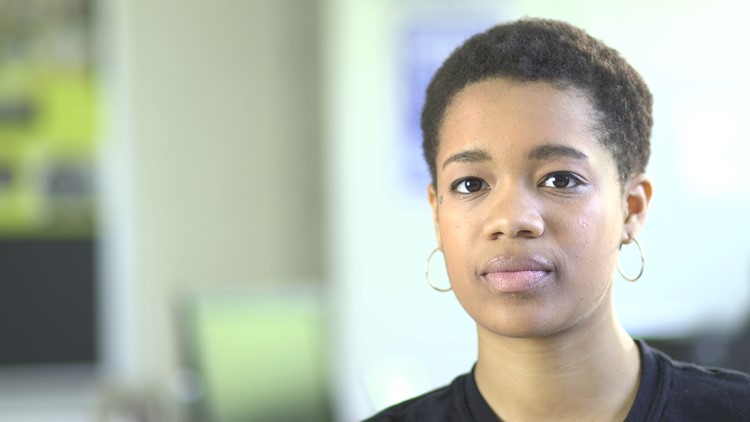 Lockdown drills were their norm since their first days in school as kindergartners. At four or five years old, many didn't understand why they had to practice hiding under desks, locking the door and preparing to fight.
"We were still too young to fully comprehend that we were practicing for if a shooter would come in," said Mollie Davis, a recent graduate at Great Mills High School in Lexington Park, Md.
But as they grew older, they understood school shootings were not just hypothetical situations. They actually happen in their schools. And in this reality, they realized practicing how to hide from a shooter was not enough.
"Lock downs prepare you. At least that's what they say until something real is happening," said Aniyah Smith, a recent graduate at Wakefield High School in Arlington, Va. "Locking the door is not going to do anything for a gun. Hiding in a corner isn't going to do anything."
Chapter two
:
Marching for their lives
Following the shooting in Parkland, a group of 20 Marjory Stoneman Douglas students formed the Never Again MSD committee to advocate for gun control. They planned the March for Our Lives demonstration in Washington, D.C. on March 24.
Four days before the demonstration was set to take place, 16-year-old Jaelyn Willey was shot by a classmate at Great Mills High School in Maryland. She died two days before the March for Our Lives.
Her classmates have been preparing to respond to an active shooter at school their whole lives, but nothing could prepare them for the grief they would experience when one of their own was killed by a shooter.
"Parkland made me want to fight, and it made me extremely sad, but when it happened to our school, and I saw my friends crying, and teachers crying, it became so much more personal," said Davis, a Great Mills student.
During the March for Our Lives, Great Mills students and other young people in the D.C.-metro area found solidarity after tragedy in the hundreds of thousands of people who showed up to protest against gun violence.
"I remember crying because of the fact that it was organized by students," said Smith, a student from Virginia. "Whereas I was struggling to organize a group to even show up to this thing, there was a group of students who, in the face of disaster and adversity, mobilized and created this amazing thing."
"Just to be surrounded by students who all cared about the same thing as you and were really driven to push for change was really empowering," said Brenna Levitan, a recent graduate of Springbrook High School in Colesville, Md. "It made me feel like I wasn't alone in this."
Chapter three
:
Standing strong against critics
D.C.-area students have tried to maintain the momentum from the March for Our Lives and continue to advocate for gun control to lawmakers in the nation's capital. They've organized protests and rallied their peers to register to vote.
"I do feel that since I have the privilege of being only about an hour from D.C., it's really important for me to be getting up here and using my voice," said Jaxton O'Mara, who runs March for Our Lives MD.
All over the area, students are stepping up and taking advantage of their position near the capital to push for change.
"I was not an organizer before, I'm not even an organized person. But when something needs to be done, sometimes things just make themselves go into motion," said Smith.
Their actions haven't gone unnoticed by supporters and critics alike.
"People love to tell me all about their guns," said Jay Falk, a recent high school graduate who runs an organization called Students Demand Action NoVa.
Counter-protesters often show up at the same places the students do. Some counter-protestors believe the student activists are too young to have political opinions. Many times, conversations get heated.
"I think a lot of people in the NRA are good people, but the organization as a whole is pushing back on us in ways that just aren't necessary," said Levitan. "They're pushing back on us in ways that are honestly making them complicit.
Chapter four
:
"Our lives are in the hands of people who can change laws"
Despite pushback, these students have no plans to back down.
"March for Our Lives was really that vantage point where I was like, 'We can't stop now,'" said Nate Tinbite, a student from Maryland.
Months of work will culminate at the polls on November 6, as a new generation of voters hope to make their voices heard.
"Our lives are in the hands of the people who can change laws at this point," said Smith.
It's been a long journey, and they don't know how it will end, but they're hopeful for the future of student activism.
"We're all networking, we're all meeting each other whether or not we live in the same state or even the same city," said Levitan. "So we're making these connections and we're growing and we're expanding until we become a student body of the entire us. And that coalition is what's leading us into the future and what's going to make change."