FAIRFAX COUNTY, VA (WUSA9) — WARNING: Some people may find the language in this article offensive.
Lake Braddock Secondary School (LBSS), with more than 4,000 students, is the largest school in Fairfax County.
Two years ago, a sexual harassment scandal cost the girls varsity basketball coach his job. But, Fairfax County Public Schools (FCPS) found no wrong doing on the part of school leadership. Now, FCPS is the focus a federal investigation.
Federal investigation
In November 2017, the Department of Education's office of Civil Rights opened a complaint for investigation. The complaint was filed by Bill Park, a parent of a former player on the basketball team at Lake Braddock.
He alleges "That LBSS head girls varsity basketball Coach John Giannelli was permitted by LBSS and FCPS leadership to sexually harass, bully, and verbally and physically abuse multiple teenage female players not once, but numerous times, during his three-year tenure."
What did the principal know and when?
Emails obtained by WUSA9 through a public records request suggest Lake Braddock Principal Dave Thomas may have ignored allegations and failed to protect students. Students like Lizzie Fitzpatrick, 18.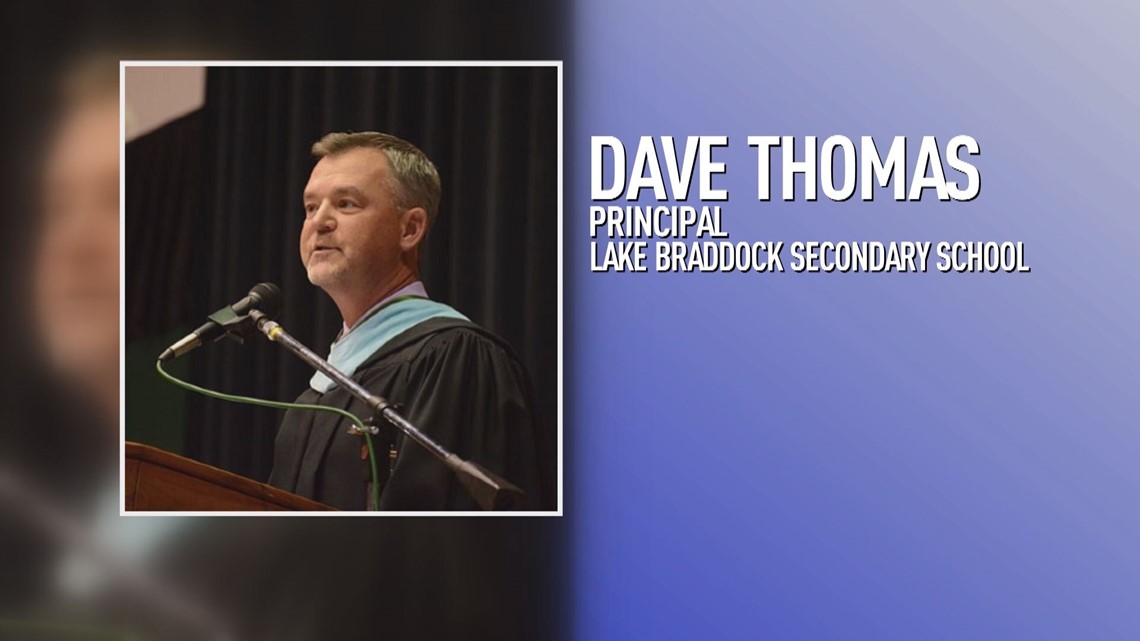 Former players speak out
It was Fitzpatrick's first day of practice on the varsity basketball team at Lake Braddock. She wasn't ready for a pass that hit her in the chest.
"He was like, 'Oh, Lizzie's double A's went to double D's.' And I was like, 'whoa.' I don't even know this guy," recalled Lizzie.
She said the comments continued throughout her time on the team.
"I thought, boys will be boys," said Fitzpatrick.
But the comments got worse and were sometimes directed at her teammates. In one case, she said he referenced oral sex when another girl picked up a balloon in an office.
"She started blowing up the balloon, there was a hole in it so, therefore, it wouldn't blow up, and he said, 'Oh, is that why your boyfriend broke up with you because you can't blow?' My initial reaction was, 'whoa, that was weird,'" said Fitzpatrick.
Former teammate Elisa Taylor, 20, remembers several comments.
"'Oh, are you talking about your boyfriends' penises?,'" the coach allegedly said to several girls as they pressed their legs into various size muscle rollers, recalls Taylor.
Another girl's knee was swollen and when the coach asked how she was doing, he allegedly added that he was commenting on her "swollen chest," not her knee.
Emboldened by the #MeToo movement where victims of sexual harassment began speaking out in late 2017, Taylor and Fitzpatrick, now in college, are speaking out about what they endured on the varsity girls basketball team under Coach John Giannelli.
Former coach denies allegations
When WUSA9's Special Assignment Unit sat down with Giannelli in November, he denied the allegations.
"Absolutely not. I have a daughter myself. And I have two sons who I want to be role model for. I would never speak that way to a young lady, a lady, anybody, anytime."
He also said he was never interviewed about the allegations by school officials.
Student makes formal complaint December 18, 2015.
When a teacher overheard the girls repeating some of the coach's alleged comments, she encouraged the girls to report the behavior to administrators.
Fitzpatrick volunteered because she was the only senior on the team. She said she was scared. The teacher agreed to go with her to see Lake Braddock's Activities Director Mike Clark. It was December 18, 2015.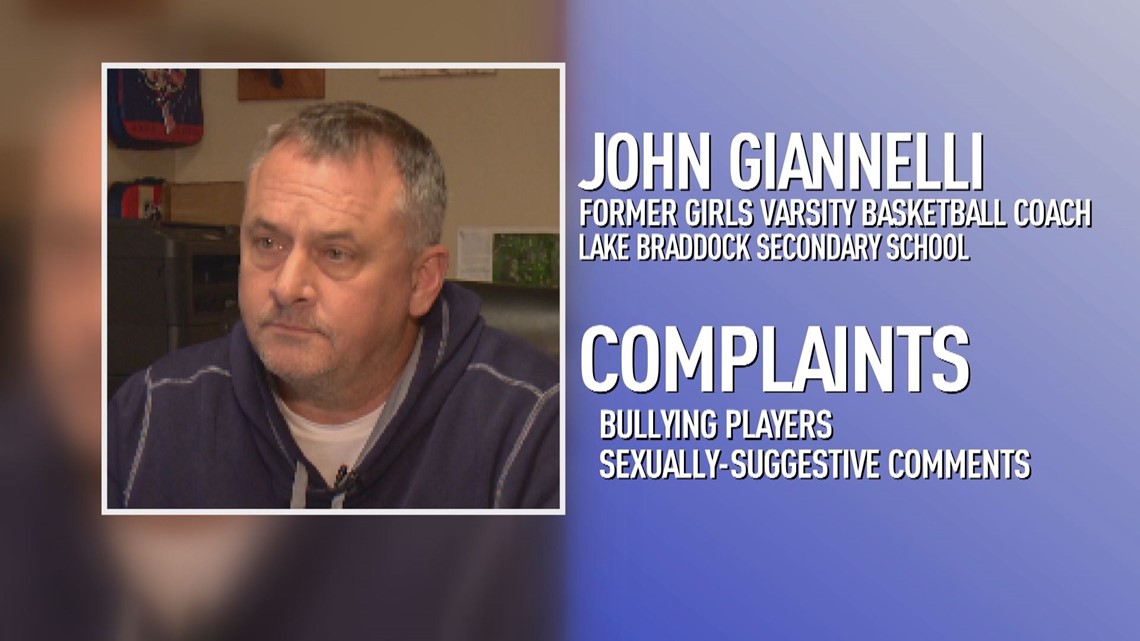 "I told him what I could and his first reaction was, 'I've known John for 20 years, and this doesn't sound right.' Just belittling me…My immediate reaction was, I'm going to get in trouble out of this," said Fitzpatrick.
Student who complained is kicked off team February 2016
Two months later, Coach Giannelli kicked Fitzpatrick off the team in the middle of a game. It happened during a heated exchange between Fitzpatrick and the coach.
"I did lash out. I said, 'don't speak to me like that.' And he said, 'it's your last night on the team...' He's like, 'no, get off my bench,'" she said.
"It was a huge gym. Was I just supposed to walk out? So, I was just sitting there crying…The whole team and the assistant coaches saw it too," said Fitzpatrick.
Coach Giannelli confirmed her removal in an email to her parents the next day that said Lizzie was being "removed from the basketball team for health reasons and conduct reasons."
Parents fill out surveys blasting coach March 9, 2016
In March, the basketball season was over and it wasn't just Lizzie Fitzpatrick complaining.
Parents had learned about the sexual harassment allegations. They filled out Winter Sports Surveys provided by the school and blasted Coach Giannelli, not only on the sexual harassment allegations, but also for bullying and demeaning players.
"The crude, inappropriate, and childlike behaviors of the head coach – and the enabling behavior of his staff—created a hostile and intimidating environment that damaged our daughter's overall experience, and bled over into her academic performance," read one account.
Those school surveys were turned in to Lake Braddock administrators on March 9, 2016.
Coach John Giannelli resigned six days later on March 15.
Lizzie Fitzpatrick complained on December 18th.
That's three months the coach stayed on the job after a formal complaint was made.
FCPS faults coach, clears Lake Braddock leadership.
Giannelli coached at Lake Braddock from 2013-2016. He was not a teacher but a part time coach with a salary of $4,518.
After an internal investigation, FCPS released its findings on July 14, 2017 "that the girls' coach engaged in improper conduct."
FCPS found no "failure to act" by school leadership.
Federal Title IX Law
Title IX is a federal law that prohibits schools that receive federal money from discriminating on the basis of sex, that includes sexual harassment. Schools must take immediate action to investigate, eliminate harassment and prevent its recurrence.
Parents of several players say that did not happen.
Kathy Taylor, mother of Elisa Taylor, said Principal Dave Thomas was made aware of the the girls' allegations and ignored them.
"They were brave enough to come forward with these allegations and they were dismissed. And it's serious enough that there should've been an investigation. And if there's this coverup occurring, who's to say that it won't happen again," Kathy Taylor said.
The principal said he did not know.
Principal Dave Thomas wrote to Bill Park, a Lake Braddock parent, in an email on March 24, 2016 that the allegations were "brought to my attention the first week of March after a parent initiated meeting with the other families in the program."
If that's true, it would mean that Activities Director Mike Clark did not tell the principal about Lizzie Fitzpatrick's allegations when she made them.
Activities director forced out
The following school year, Principal Dave Thomas decided to fire Mike Clark.
On October 6, 2016, the FCPS Office of Equity and Employee Relations wrote "Mr. Thomas issued his decision…to dismiss Mr. Clark."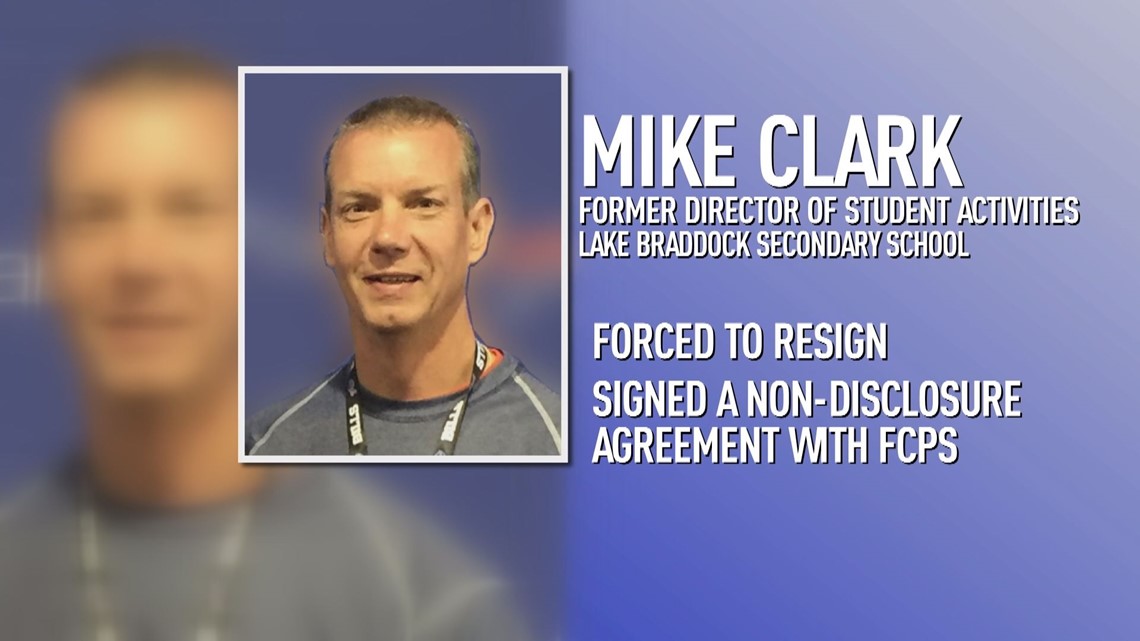 Clark was able to take early retirement by resigning and signing a non-disclosure agreement. He was unable to speak to WUSA9 because of that agreement.
Revealing emails
Before Mike Clark left his job at FCPS, he sent an email to Dave Thomas, insisting that the principal knew about the players' allegations from day one.
Clark writes, "During the afternoon of December 18th, 2015,--the same day that the student and the aid came to see me, I specifically told you that a player had told me that they were claiming that Coach G was using inappropriate language toward some of the other girls during practice. I told you that an aid was there with her….I have witnesses to the fact that I came to your office to discuss these allegations with you on December 18, 2015."
A witness
Another person claims Principal Dave Thomas knew about the allegations all along. His name is Jim Poythress. He was Lake Braddock's football coach for 13 years, the winningest football coach in school history. Poythress was named Coach of the Year by several organizations, including the Redskins.
In the federal complaint, Poythress is named as a witness who "twice observed the principal and the AD talking about the basketball coach's behavior." One of those conversations was in February.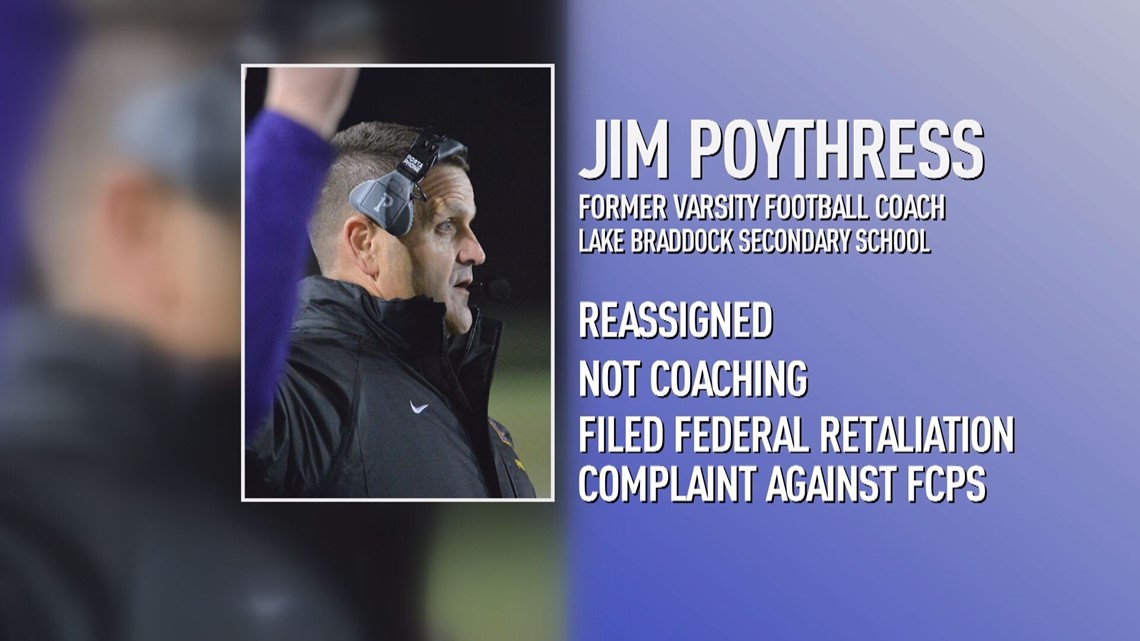 The fact that the football coach was a witness apparently didn't sit well with Principal Dave Thomas who wrote in an email on November 11, 2016, "Here we go again…At least we know who the mole is –our football coach…"
Dave Thomas fired Jim Poythress from his $7,000 coaching job, and Poythress was reassigned to another school where he is not coaching.
Poythress has filed a federal retaliation complaint against Fairfax Schools. He would not agree to an interview with WUSA9. Poythress continues to teach as a fulltime FCPS teacher.
Three LBSS staff gone
That makes three former Lake Braddock staff members connected to this case who are no longer at the school.
The basketball coach was forced to resign.
The activities director was forced to resign and retired early.
The football coach was fired from his coaching job and reassigned to another school.
Principal Dave Thomas is still on the job.
Former players
It's been two years since the 2015-2016 girls basketball season at Lake Braddock. Lizzie Fitzpatrick and Elisa Taylor are in college. They don't play basketball anymore. They say there was no legitimate investigation.
Fairfax County Public Schools said they investigated this sexual harassment allegations. But both Fitzpatrick and Taylor says nobody interviewed them.
"I was never spoken to about it," said Fitzpatrick as Taylor shakes her head in concurrence.
Why are they speaking out now?
"Because nothing was done. And for all I know, he could come back and coach at our school again," said Taylor.
"Why would they let him resign in the middle of all this? He could go coach at another school. I don't know how long he's been acting like this," explained Fitzpatrick.
What next?
Parents believe Principal Dave Thomas knew about Lizzie's allegations against Coach Giannelli the day she reported it and did nothing to protect their daughters.
One father wrote in an email to FCPS then-acting Superintendent Dr. Steven Lockard that he brought similar accusations to administrators against Giannelli in 2014.
Neither Dave Thomas nor Superintendent Scott Brabrand would talk to WUSA9 about the allegations.
Parent who filed federal complaint presses School Board
Going back to the allegations against the basketball coach, after parents wrote up those surveys, they began asking Principal Dave Thomas to investigate the matter. "We started pressing Dave Thomas to start the formal investigation that he was required to do," said Bill Park, the parent who later filed the federal complaint with the Department of Education office of Civil Rights.
by May 2016, months after Principal Thomas said he first learned of the allegations, he wrote back to Bill Park, "I think we are going to have to agree to disagree with the level of action you expect from me and the leadership here at Lake Braddock (regarding the 2015-16 basketball season.)"
Park's anger was rising. "He said that we're going to have to agree to disagree on the level of action you expect from me as the principal of Lake Braddock, when we were perpetually asking for an investigation to document this behavior," said Park, accusing administrators of inaction.
School Board member Tammy Derenak Kaufax said she was troubled by WUSA9's investigation. She said, "it's imperative we adhere to policy. I want to ensure that our policy was followed to make sure we did what was right for these children. "
Bill Park is pushing school board members to reopen an investigation into how administrators handled the matter. "I would offer, or ask the school board, what is their level of accountability? And will they actually hold any of these people accountable if it was determined that wrong doing actually occurred."
FCPC says it did conduct an investigation and that nearly 20 individuals were interviewed in the process. Coach Giannelli was found to have engaged in improper conduct, but no wrong doing was found by School Leadership, including Lake Braddock Principal Dave Thomas. Those findings were released on July 14, 2017, more than a year and a half after Lizzie Fitzpatrick made her formal complaint.
Fairfax County Public Schools Statement
"FCPS takes seriously any and all allegations of sexual harassment, bullying or other allegations of inappropriate behavior reported by staff or students. Nearly 20 individuals were interviewed as part of the FCPS investigative process into the allegations raised at Lake Braddock Secondary School. The Lake Braddock coach was removed from FCPS nearly two years ago (early 2016), and has not been employed by FCPS in any capacity since then. We cannot provide further details due to legal confidentiality of personnel and student matters.
Mr. Giannelli was not a licensed-teacher; he was employed as a part-time coach only and resigned his coaching position at Lake Braddock in early 2016 and is no longer employed by FCPS. Mr. Clark retired from FCPS at the end of 2016.
FCPS' primary responsibility is the safety and well-being of all FCPS students. By law, FCPS cannot comment on specific personnel cases (unless the individual employees agree to publicly disclose information contained in their personnel files).
FCPS vigorously pursues and investigates any and all allegations of sexual harassment or other allegations of inappropriate behavior reported by staff or students. If any negligence in reporting such incidents is discovered, appropriate disciplinary actions are undertaken. If any disciplinary steps are taken against employees, the action taken is confidential under Virginia law (unless the individual employees agree to publicly disclose that information).
For those reporting any allegations, FCPS does have a "whistle blower" policy that protects employees from retribution for reporting alleged wrongdoing. There is no evidence of any retaliatory measures taken against any of the employees involved in the Lake Braddock Secondary School investigation.
The Department of Education stressed that the opening of the investigation is not an implication of any wrongdoing by FCPS and FCPS welcomes the review."