FALLS CHURCH, Va. — A 73-year-old man who was on his way to work when he was shot while stopped at a Wells Fargo ATM Wednesday morning died Saturday afternoon from his injuries, the Fairfax County Police Chief Kevin Davis said.
The man, who has been identified as Nelson Alexander Sr., was originally taken to the hospital with life-threatening injuries after the shooting on Annandale Road in Falls Church, according to police.
The case has now transitioned to a murder investigation and police are adamant they will find Alexander's killer.
"The young man who took Nelson's life knows what he did, who he is, and knows we're looking for him," Davis said. "I encourage that young man who undoubtedly knows what he did, knows that we need to get ahold of him, to turn himself in. Be a human, be a person, be a man, turn yourself in."
Members of Alexander Sr.'s family said the 73-year-old husband, father, and uncle came from a large multigenerational family from Fairfax County. They said he loved his family more than anything in the world and in his spare time loved to hunt, watch the Dallas Cowboys and sing in the men's church choir.
At 73-years-old, Alexander Sr. continued to work as a delivery driver, his family said.
Police said they will stop at no end to provide the man's family with justice.
"We're appealing to those folks who know the young man who committed this heinous, outrageous, atrocious act and took the life of a 73-year-old man who was still working each and every day and stopped by the ATM machine to get a few bucks on the way to work," Davis said. "That's all he did and his life was taken because of it."
The shooting happened in the 2900 block of Annandale Road around 5:20 a.m. Wednesday, police said. It wasn't until 6:15 a.m. that Alexander was discovered and police were called, according to chief Davis.
Police are asking anyone in the area to check their home surveillance cameras during the overnight hours of Oct. 19 and 20th. Detectives believe the suspect may have been involved in other criminal activity overnight.
The suspect is described as a young black man, slim build, last seen wearing a black hooded sweatshirt, dark-colored pants, light-colored backpack, white shoes with black laces and a black face covering.
If you have any information that may be helpful, you are asked to call Major Crimes Bureau at 703-246-7800, option 2.
In the aftermath of the shooting, Chief Davis called the shooting despicable and outrageous.
"This is something that outrages our police department, outrages our community," Davis said in a press conference. "There is no such thing as a good victim of crime, but a 73-year-old man on his way to work? This is outrageous."
Fairfax County Police said the shooting appears to be a possible robbery. Davis said when the victim arrived at the ATM it was only a matter of seconds before the shooter appeared. The shooter appears in the video, announces a robbery and displays a gun that police describe as a revolver.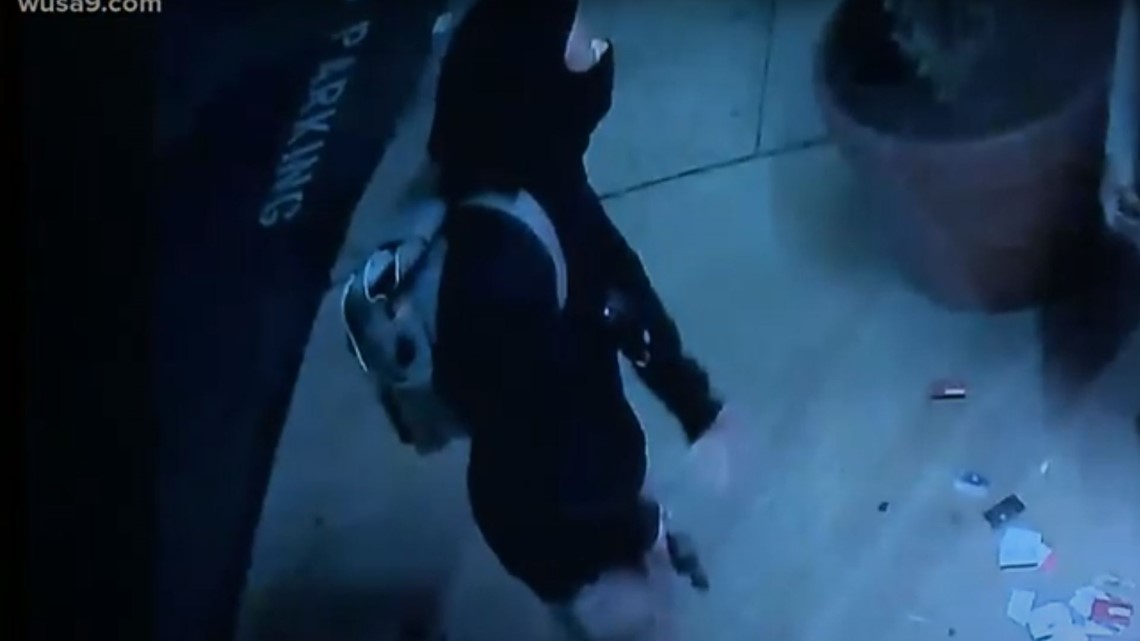 Investigators do not believe the suspect got away with cash and that the man was shot randomly.
"There was no struggle. There was no fight. There was no resistance. He just shoots our victim in the chest. One shot," Davis said. "We do know that it wasn't but a matter of seconds when our 73-year-old victim was in front of that ATM machine when our shooter appeared."
Davis pointed out that the shooter is seen in surveillance video wearing a distinctive backpack and distinctive white sneakers. He urged the community to reach out if they know anything that may be of use to the investigation.
"We need our community to step up, like they always do, and help us with this one," Davis said.
The surrounding community in Falls Church was stunned to see police swarming their area.
"I go to the bank like twice, three times a week," local business owner German Andrade said. "Honestly, personally, it's very scary."
Andrade is the owner of Spin Pollo, which he opened three years ago-- he frequents the very ATM machine involved.
"As a business owner, it's very concerning," he said. "I have a responsibility to keep my employees and customers safe and hearing about something like this, right behind our doors is very alarming. I just hope the gentleman is well and hope he recovers. He's a part of the community obviously, and we're going to be praying for him."
Fairfax County Police said they're committed to finding the shooter.
"We will leave no stone unturned to identify and capture this coward who shot a vulnerable senior citizen at an ATM machine this morning," Davis said.
Fairfax released surveillance footage from the bank late in the afternoon Wednesday, which can be viewed in the YouTube video below.