Do the number of burglaries increase during the holiday season?
No, more burglaries occur during the summer.
Arlington, Montgomery, Prince William and Prince George's County Police Departments, Stafford County Sheriff's Office
It's about this time police warn homeowners not to let the mean Mr. Grinch into their homes for the holidays. We know--if you're out and about keep the doors locked, the lights on and presents out of sight--but with all the ads against holiday crimes, we're verifying whether there are more this time of year.
Our Verify researchers looked at data from Arlington, Montgomery, Prince William, Prince George's and D-C police.
From the stats, we found trends. First, summer is prime time for house crimes. In Arlington break-ins over the summer more than doubled.
In 2016, between June and August, DC police responded to 547 burglaries. That's about six burglaries a day for the entire summer. Arlington and Montgomery saw similar trends with summer months being the hot spots for break-ins.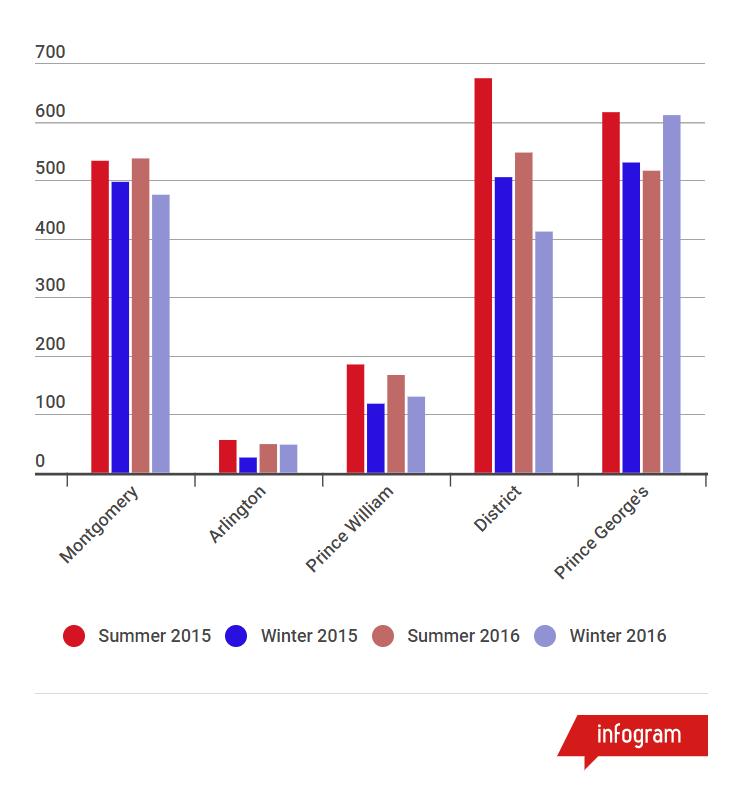 These are official numbers gathered from police department records:
Montgomery County

Summer 2015: 533
Winter 2015: 497
Summer 2016: 537
Winter 2016: 475

Prince George's County

Summer 2015: 616
Winter 2015: 530
Summer 2016: 516
Winter 2016: 611

Arlington County

Summer 2015: 56
Winter 2015: 26
Summer 2016: 49
Winter 2016: 48

Prince William County

Summer 2015: 185
Winter 2015: 118
Summer 2016: 167
Winter 2016: 130

District of Columbia

Summer 2015: 674
Winter 2015: 505
Summer 2016: 547
Winter 2016: 412
Police tell Verify it's no surprise burglaries prefer summer. That's when most families are on vacation, making it open season for thieves.
But the latest update from Stafford County Police confirms they've actually seen an uptick in thieves burglarizing businesses this holiday season, with eight separate businesses targeted in the span of two days earlier this week.
So yeah, Grinches strikes during the holiday season but the prime time high number of burglaries occur is not the holidays, it's those dog days of summer.
Verify researchers also looked into annual trends from the FBI Property Crime Offense reports from 2012-2016 and this Home Alone crime is dropping dramatically in the past two years.