STERLING, Va. — Some Virginia teachers couldn't afford their dream classroom, so a group of strangers made it for them.
Samantha Patton, a functional academics teacher, described the classroom around her.
"It's kind of boring. It's square," Patton said.
It's the classroom where she and Sterling Middle School teacher Allison Steves, spend hours working with students who have differing special needs.
The teachers said the room makes it tough on both them and the students.
"We are in a space not conducive to what needs to happen for these students," Steves said.
Steves has worked with special needs students at Sterling Middle School for 10 years.
"We need comfort. We need a safe space," Steves said.
Steves said sometimes the students need to sit, stand or lie down. That means sitting on the hard floor with a plastic chair as a desk, or moving into a corner just to get some room.
Patton and Steves thought the students deserved more.
"These kids are the hardest workers of any kids I've ever worked with. They are special in more ways I can't even explain to you. They are just the coolest people in the world," Patton said.
The teachers had a vision for the space and the support of Sterling Middle School Principal Gus Martinez, but they didn't have the funding.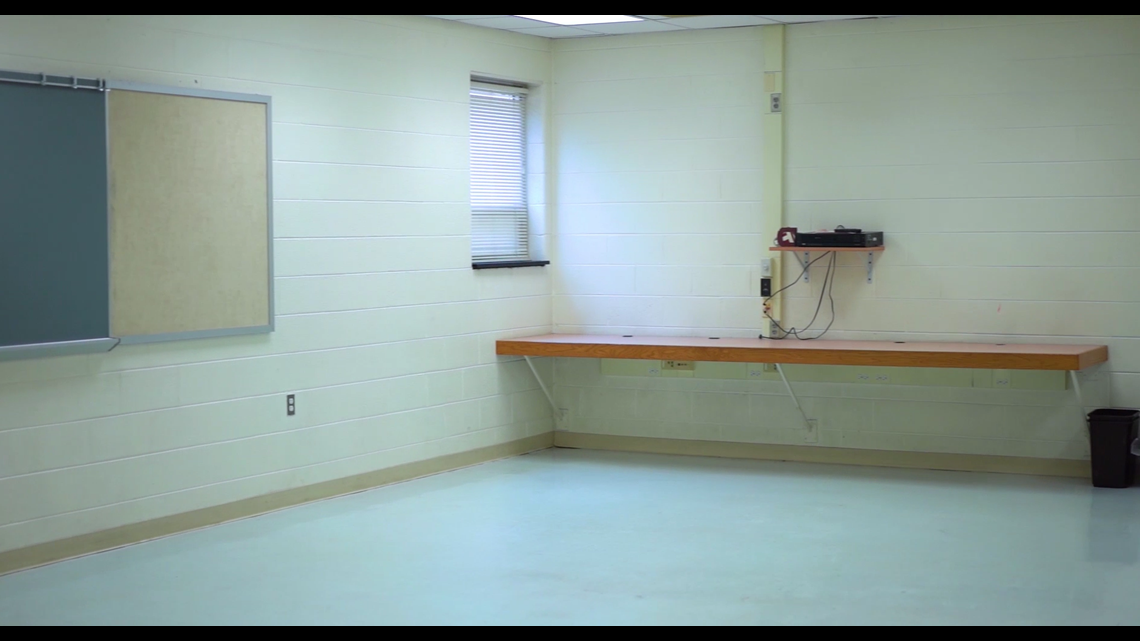 "We know, even research says it, that the environment, the physical space of a building affects learning and affects student well-being," Martinez said.
The WUSA9 Impact team heard about the teacher's dream classroom and asked the community to make it happen.
On a sunny afternoon in April, volunteers from Reston Hospital Center, Stone Springs Hospital Center and WUSA9 showed up ready to work.
The room was a clear, empty canvas. For the next four hours, volunteers painted, drilled and designed the new classroom.
The new room is full of color, life and comfortable seating.
When everything was in place, the teachers and students got their first look at the new space. It didn't take them long to settle in.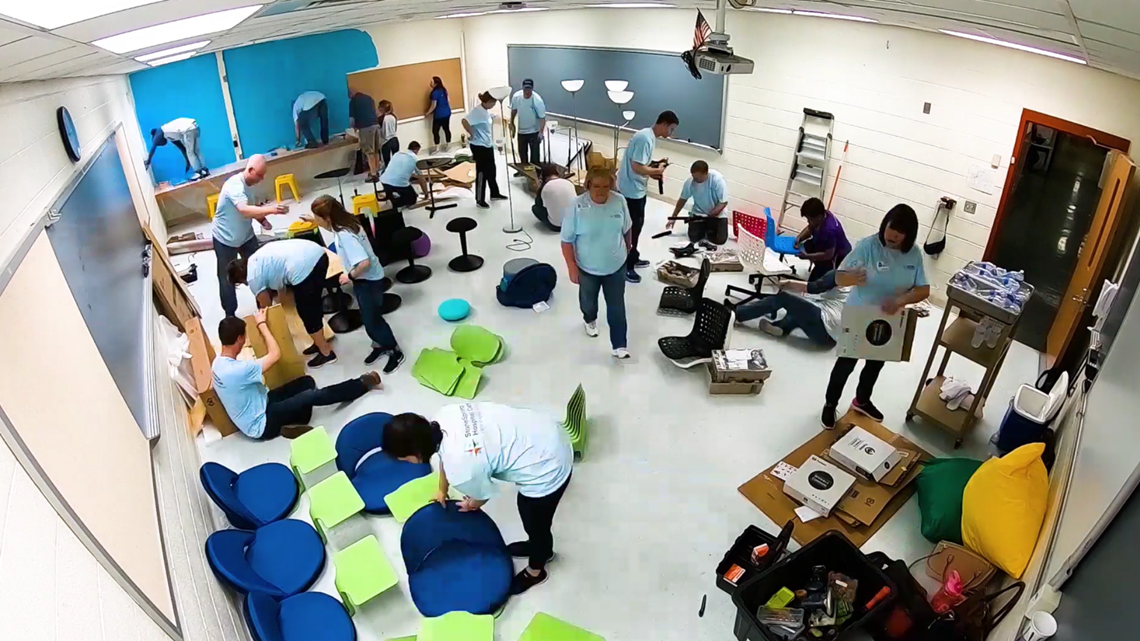 Kim Cook was there with her student to see the room for the first time.
"I love it. I love this aqua wall," Cook said.
When asked how it would make an impact on his learning she told WUSA9.
"It's a new environment. Anything new is good for him," Cook said.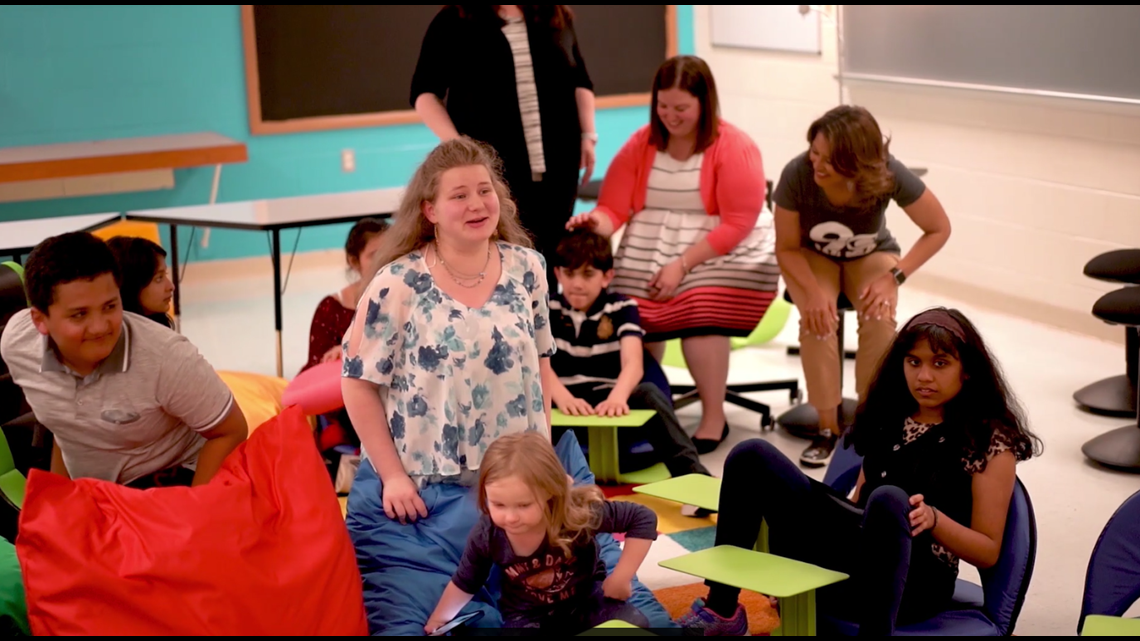 Cook said it's going to make a great experience even better for her son.
"The teachers here are just fabulous. I couldn't be more happy with the Sterling Middle School system and this room is only going to improve things for kids," Cook said.
John Deardorff, the CEO of Reston Hospital Center, Northern Va. Market, said the decision to fix up this classroom came easy.
"Really, it was our privilege to come out and make a difference for all these students," Deardorff said. "I just want to thank Sterling Middle School for inviting us here. It's just a privilege to give back."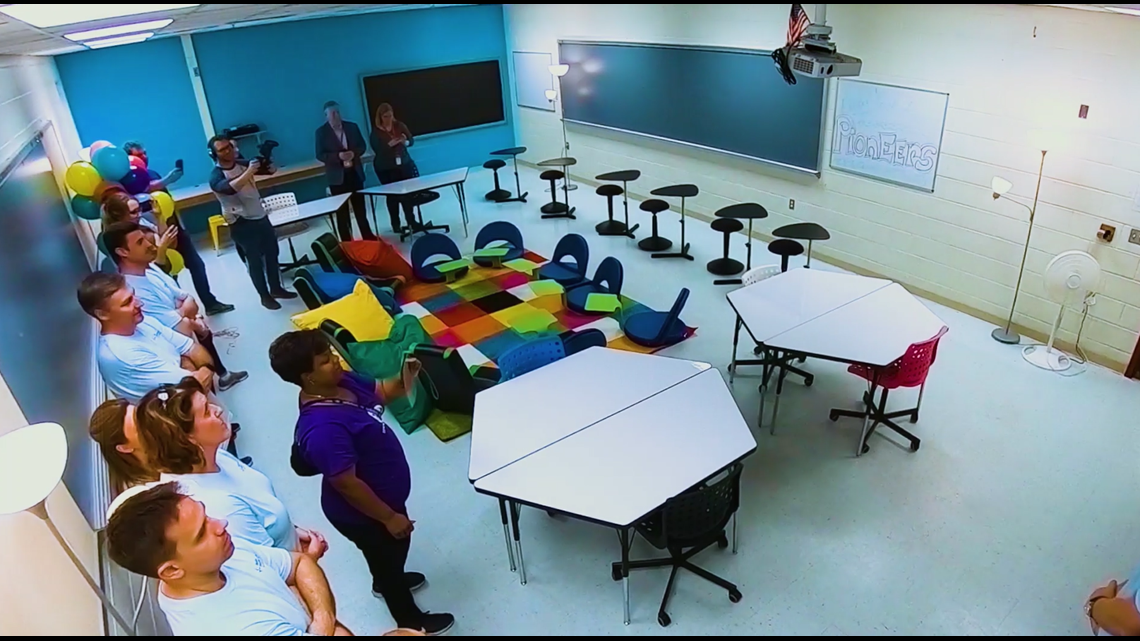 Matt Mathias, CEO of Stone Springs Hospital Center, also lead a team of volunteers.
"To know they (the students) are going to be able to come to this room everyday and be in such a beautiful environment and learn and grow. It's special," he said.
One student said, "I want to say thank you for everything because I think we can learn better when we are comfortable."
"I couldn't imagine what you were going to do in this room, and seeing the color on the walls and all this flexible seating really, really moves me," Martinez said.
Dream classroom at Middle School