UPPER MARLBORO, Md. — The owners of a trash strewn, vulture-infested feral cat colony beside a shopping center in Upper Marlboro have been ordered to clean the site up within 10 days or face additional sanctions from Prince George's County.
The animals are fed daily by well-meaning volunteers who say they're trying to care for the cats, a practice that many wildlife managers and environmental health experts say does much more harm than good.
The feeding has attracted a large flock of vultures and could entice other nuisance wildlife such as raccoons and foxes.
An inspector for Prince George's County's Department of Permitting, Inspections and Enforcement visited the site Wednesday and issued a violation to the property owner to "clean and remove trash and debris", according to a statement from the Prince George's County Department of Permitting Inspection and enforcement (DPIE).
WUSA9's visits to the property have documented trash, animal feces and other nuisances.
Feral cats: nuisance or in need of help?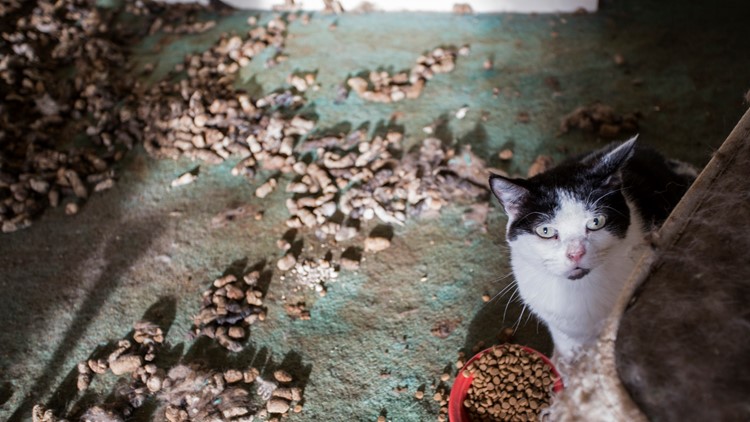 The notice will be sent to the property owner of record which is Marlboro Investors LLC, according to Maryland tax maps.
The property, which is tucked in a wooded ravine and flood-plain between a shopping center parking lot and the Western Branch is managed by Broad Street Realty, according a sign on the site.
A company spokesperson declined to comment.
The cat colony is next to a Weis Market and the dumpsters for a Kentucky Fried Chicken franchise.
A spokesman for Weis Markets did not respond to WUSA9's requests for information.
It is unclear if a clean-up would require the removal of several makeshift shelters constructed from plastic storage bins that have had holes cut in them for animal access to flea-infested bedding and food.
"Any 'trash and debris' on the lot would need to removed," wrote DPIE spokesperson Avis Thomas-Lester in an email to WUSA9. "A possible exception would be if Animal Services determines that any of the items are required by law to stay. In that case, they would not have to be removed."
Prince George's County's Animal Services chief Rodney Taylor was not immediately available to discuss how the county clean-up order may affect the fate of the cats living at the location.
In April, Taylor explained that some of the cats at the site have been handled by volunteers who conduct a Trap Neuter and Release protocol known as TNR.
Cats are captured, neutered or spayed, vaccinated and returned to the wild after one of their ears is clipped for identification.
Under county ordinance, animal control officials are required to contact TNR organizations when a nuisance cat with a clipped ear is captured.
The organization has three days to take possession of the cat before a decision is made on putting it up for adoption or euthanizing it.
Most feral cats are un-adoptable and not suitable for living in a home, Taylor said.