COLLEGE PARK, Md. — A drone could potentially save lives in the next mass casualty situation, thanks to a company that started at the University of Maryland.
The company, Airgility, is developing a drone to help first responders scope out the scene of a terrorist attack or natural disaster before going in themselves.
"When I'm looking at something like that, what goes through my head is that this problem can be solved, and how can we solve this problem?" Pramod Raheja, co-founder and CEO of Airgility, said.
His team says the solution starts at takeoff.
"The idea behind it is to go into a mass casualty situation. It could be an earthquake, it could be a fire, a collapse of a building and be able to go inside of that building before first responders do. Don't put them in hazard's way initially," Raheja explained. "So the idea is send in the drone, flying around and being able to sense signs of human life through different techniques."
"For example, by equipping thermal technology or vision-based technologies and now as we endeavor into AI and higher-level algorithms, the vehicles can now become smart," said Evandro Valente, co-founder and CTO of Airgility.
With AI (artificial intelligence), the drone can sense as an object approaches it and backs off without the pilot controlling it.
The founders say their drone is more sophisticated in terms of its construction than the typical quadcopter people are used to seeing.
Demo of one of Airgility's drones
"We're able to orient our aircraft in many different configurations…and also go a little further and faster than your average quadcopter, so that allows us to do a much bigger range of missions," said Raheja.
Other capabilities they're exploring with their drones include counter-terrorism in the event of a drone attack.
Raheja said their drone would be able to locate, follow, and then "kill" a drone sent to attack the United States.
The team is also developing a five-to-six-foot drone to carry medical supplies to remote villages around the world or to troops overseas.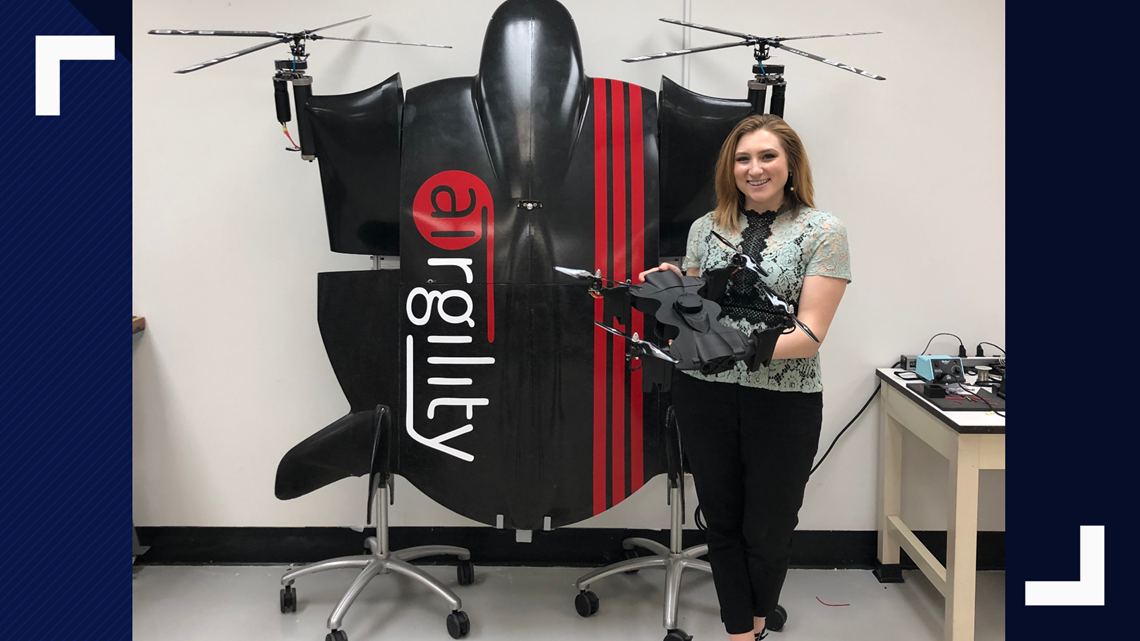 For a size comparison, Jess is 5'4", so this drone, which is hollow, would have the ability to carry a decent amount of medical supplies inside of it.
The Department of Homeland Security said they are excited about the potential of all of this new technology.
In about two weeks, Airgility and a few other drone companies will head to a small town in Indiana to meet with the Department of Homeland Security and FEMA to demonstrate their technology.
They're meeting on a makeshift urban test site to figure out how they can best adapt their technology to suit the needs of first responders.