RESTON, Va (WUSA9) -- Children sometimes mimic the very worst habits of adults.
The internet is now abuzz with stories of kids imitating some of the anger they're seeing in the presidential campaign.
Thousands of people are talking about the Facebook post of a Fairfax County mom who says classmates told her third grader that when Donald Trump is president, he will be deported.
WUSA9 has been unable so far to get ahold of the mom, Evelyn Momplaisir, and she has removed the post from her Facebook page. But Fairfax County Schools did confirm her story.
"I just got a call from my son's teacher," she wrote on Facebook. "…that two of his classmates… point(ed) out the "immigrants" in the class who would be sent home when Trump becomes President... They singled him out… because of the color of his skin... In third grade…. in Fairfax County... in 2016."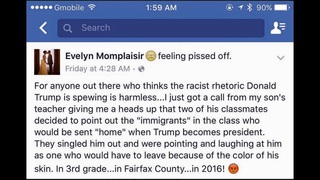 Petula Dvorak wrote about it in her column in the Washington Post. "Kids have always been awful to each other, we all know that growing up. But in this case, kids use very specific language that came from the presidential campaign."
Critics point to Trump rallies, his fury at immigrants and his supporters' response to Latino and African American protesters.
The Fairfax classroom is far from alone. In Indiana, some students were shocked when fans from a largely white Catholic school mocked students from a largely Latino school.
Jonathan Lopez is an 18-year-old Fairfax County high school student and legal immigrant who wonders what he'll do if Trump wins the White House. "I might want to go back to my own country," he said.
But Trump supporters think the controversy is overblown. "I don't think he meant that, that he was going to deport somebody," said Tara Vitori, who lives in Reston.
A Fairfax Schools spokesman says the teacher in the third-grade classroom has spoken to the students who allegedly engaged in the Trump taunts. And John Torre said the schools want to encourage an environment here that's supportive of everyone.
Evelyn Momplaisir is a Fairfax County middle school teacher herself.