Further analysis by former military explosives disposal experts of canisters and casings obtained by a WUSA9 crew Monday night on H & 17th street indicates another form of munitions used against protesters:
"The Stinger Ball grenades, also mostly made by Defense Tech, that's like a -three-for-one. Not only does it have a flash bang effect, but it also has a little bit of tear gas inside of it. Some also have some pepper spray, depending on – there's a couple models," explained former explosives expert Brian Castner, now with Amnesty International.
The Stinger Ball collected by WUSA9 shows an OC gas label.
Castner added, "It's got rubber type little nuggets inside, pellets. It's a little bit like firing rubber bullets in a general direction. And of course the problem with that is, there's no target. It could hit anyone. It could hit anywhere. It could hit you in the eye, or the throat. There's no way for the police to be really targeted in trying to focus on a specific person, or a specific action. That's just affecting the entire crowd, whether they are protesting peacefully, or if they are actually engaged in some sort of violence."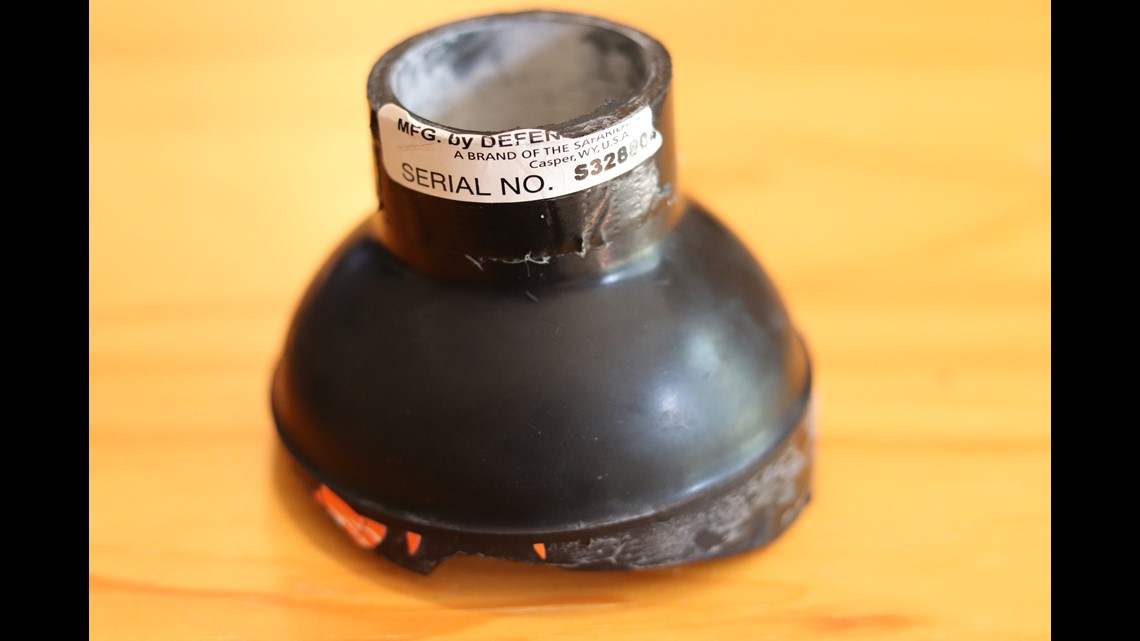 As of Thursday evening, US Park Police, Arlington Police, DC Metro Police and the Secret Service have all denied using any kind of tear gas in Lafayette Square Monday evening.
But federal law enforcement did launch tear gas Monday evening outside Lafayette Park, and WUSA9 crews witnessed it.
Here's a first-person perspective of what WUSA9 reporter Nathan Baca saw himself:
WUSA9 cameras were at the fence line near the Northwest corner of Lafayette Square Park. At around 6:15 p.m., we heard two bullhorn addresses from the direction of federal police. We could not make out what they said, and by appearance, none of the protesters could either. US Park Police said they gave three verbal warnings to clear H Street before the mayor's 7:00 p.m. curfew.
Our crew also witnessed nothing but peaceful protester behavior, even with our unique 15-foot-high camera position.
It was a shock to the protesters to see and hear flash bangs launched by federal law enforcement in front of officers on horses compelling protesters to retreat at around 6:35 p.m.
These are the gas canisters, especially this tear gas one with blue lettering - labeled SPEDE-HEAT CS, that WUSA9 gathered from the scene.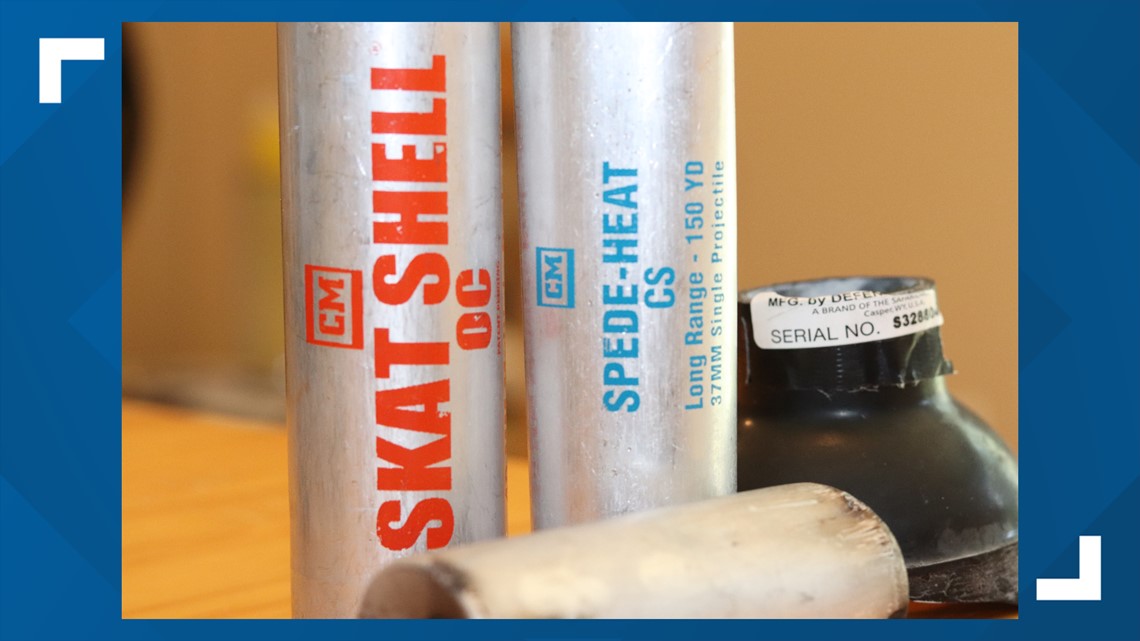 While some agitators threw water bottles at advancing police, one agitator hurled a firework towards officers that fell short and caused panic among retreating protesters.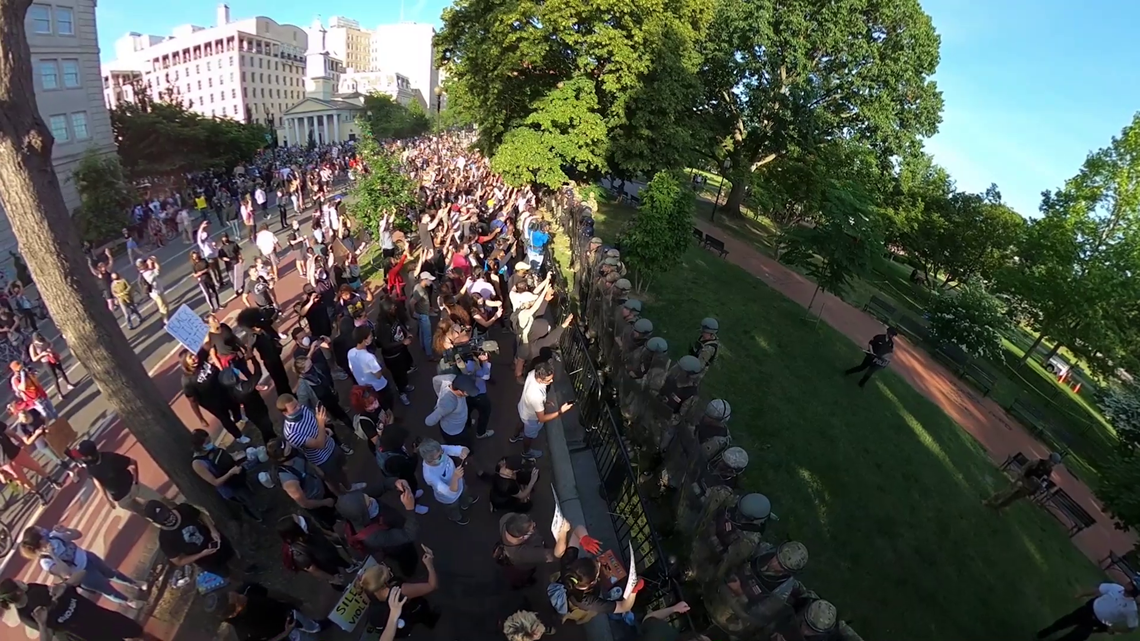 With the DC National Guard staying within the Lafayette fenceline, we witnessed US Park Police supported by the US Secret Service advancing after a few minutes to consolidate their lines. They meant to take over the intersection of H and 17th Street.


We witnessed canisters venting out green-colored gas. After watching the line of US Park Police and Secret Service march south on 17th Street past us, we went back to the intersection of H and 17th where we found canisters scattered on the street.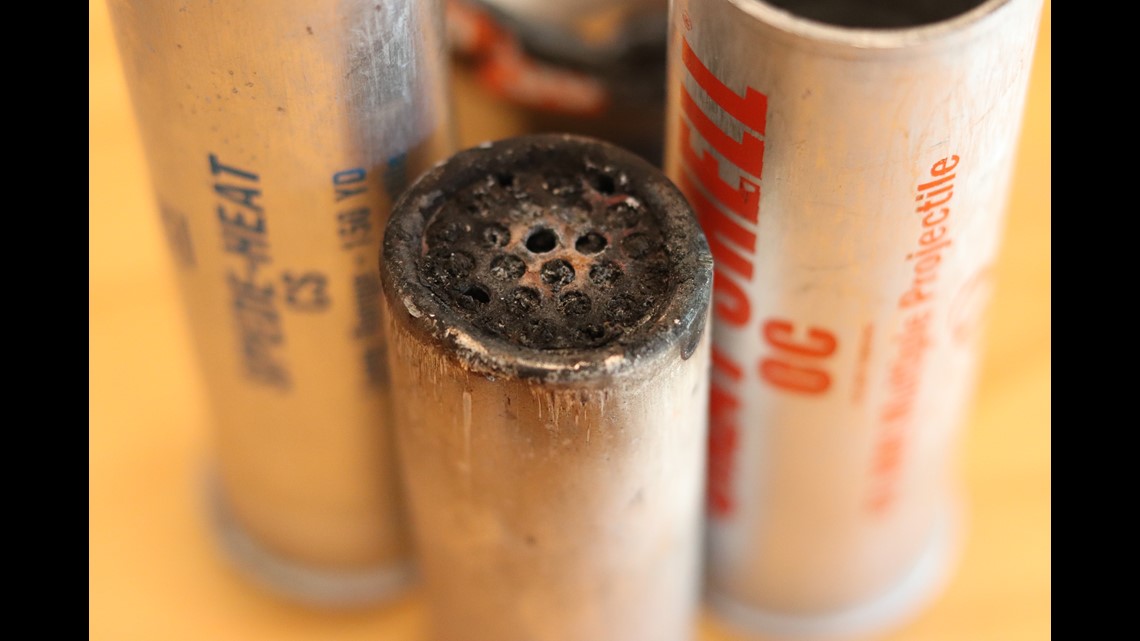 You can see me holding one looking towards the new protective line, where a block away, President Trump was visiting St. John's Episcopal Church.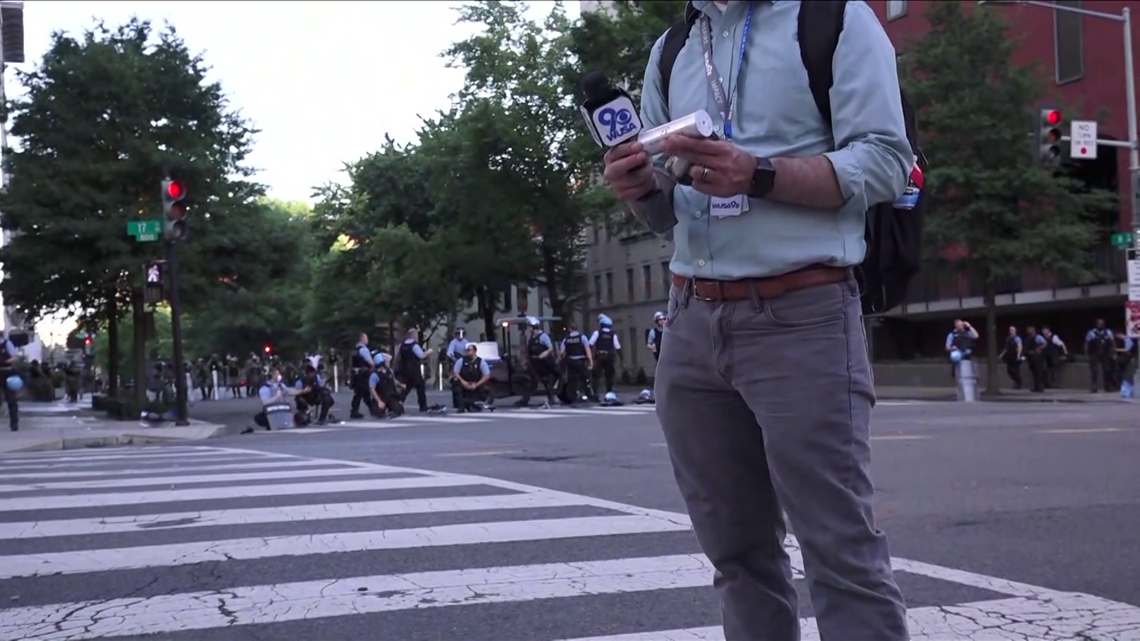 I took one canister labeled as holding OC gas pellets. I handed WUSA9's Darren Haynes a canister labeled as holding CS projectiles.
Thursday morning, after denials from the White House and federal agencies that any tear gas was used, we discovered what that SPEDE-HEAT CS label meant: artificial tear gas was inside.
We showed our canisters to military bomb disposal expert Brian Castner, who works with Amnesty International:
"That Spede-Heat one, it's a cartridge that has a little bit of propellant in the back," Castner said. "It's got a bunch of tear gas upfront and you fire it from a launcher so it goes a certain distance. I believe that one is rated to about 150 yards, so it goes fairly far and its job is to spread tear gas around a crowd."

The gas we ran through Monday made me cry and made WUSA9 photojournalist Becca Knier cough for several minutes.
To answer some viewer questions we received online, the four canisters gathered were not from a previous day. They were in the middle of the street undisturbed, and in one case, still slightly warm to the touch. Secondly, our WUSA9 crew were the first people immediately after police pushed south on 17th to get back to the H street intersection.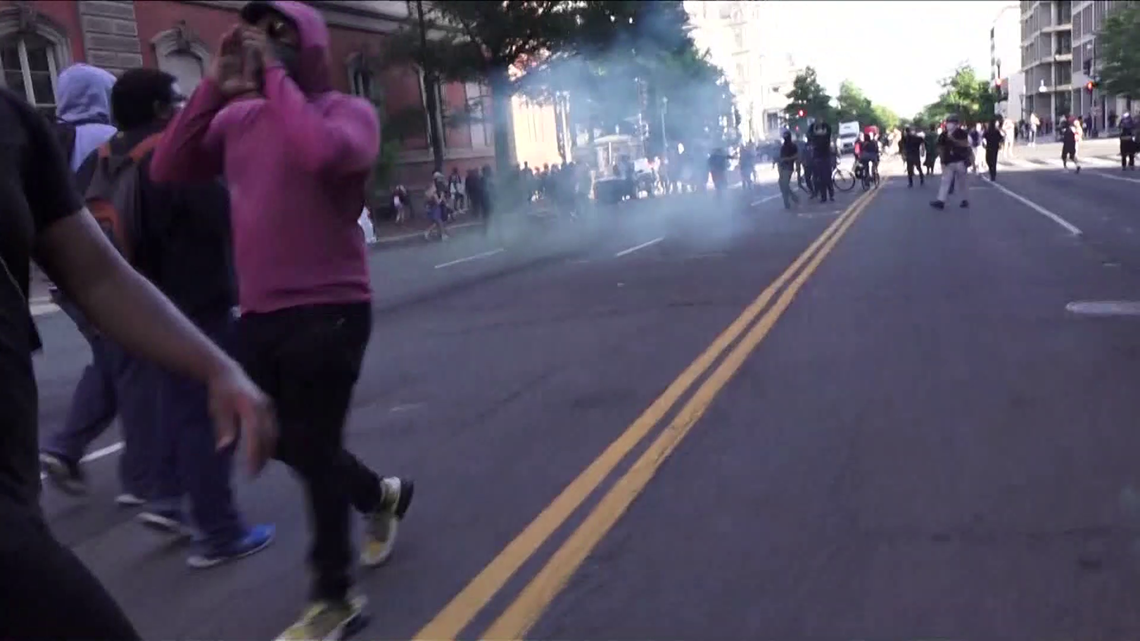 So who fired these canisters?
US Park Police says it was not them, issuing this statement: "USPP officers and other assisting law enforcement partners did not use tear gas or OC Skat Shells to close the area at Lafayette Park."
Neither protesters nor our crews witnessed DC National Guard leave Lafayette Park during the protest.
Arlington Police who assisted them on 16th Street denies using canisters.
DC Metro Police denies assisting Park Police Monday at Lafayette Park at all.
And the US Secret Service denied using any gas or spray Monday in a statement to WUSA9 Thursday evening.
But federal law enforcement did launch tear gas Monday evening outside Lafayette Park.
We watched them do it, we suffered the effects, we picked up evidence and we are pressing for answers.
The ACLU and Black Lives Matters D.C.announced Thursday that they are suing President Trump, AG William and Barr and other federal officials over the use of tear gas to clear the streets outside the White House Monday.
Original story published 6/3
United States Park Police said Tuesday they did not use tear gas to clear protesters from Lafayette Square before President Donald Trump left the White House for a photo opp on the grounds that hundreds had just occupied at St. John's Church.
The law enforcement that cleared the area did use a type of gas that produces similar symtpoms as tear gas, called Oleoresins Capiscum, or "OC" for short.
The specific product used is a CM Skat Shell made by Defense Technology that "is widely used as a crowd management tool for the rapid and broad deployment of chemical agent," according to the company's website.
The OC gas causes the same tears and tight breath as tear gas, and comes out green.
Both natural OC and Tear Gas, which is an artificial compound that goes by the acronyms CS and CN gas, cause the same symptoms and have similar toxicity and health risks, according to the doctors writing that study.
The study shares that significant clinical effects are not anticipated when people come in contact with OC, CS or CN gas.
WSUA9 has reached out to the US Park Police to ask how many 40 mm OC gas canisters they used on the crowd at Lafayette Square. They did not immediately respond.
Rubber bullets, pepper pellets and flash-bang grenades have also been used during protests in the District over the killing of George Floyd by police in Minneapolis.
Tuesday evening saw mostly peaceful protests that came amid a curfew in place for residents in the District. Protests in D.C. have been held for five days now.