WASHINGTON — A D.C.-area artist is exploring black history through fashion.
The art installation takes a deep dive into the relationship between black customers and luxury brands.
"So, this exhibition is essentially called Stay Fly," Jamea Richmond-Edwards said.
Richmond-Edwards used fashion to explore African-American history and culture.
"That's what the exhibition is about. It's about paying an ode to black culture with fashion," Richmond-Edwards explained. "We influence a lot of the fashion trends. We are trendsetters. So, this exhibition kind of examines that history through the lens of my mother and myself growing up."
The autobiographical display explores fashion between the 1960s and 1990s.
"It's about these rituals that we took part of in spite of the hard times," Richmond-Edwards told WUSA9. "I think that the flamboyancy of the colors is — I can. I can do whatever I want because I have this sense of agency over my body and this is a way of expression."
"A lot of times the aesthetic sort of counters mainstream America – white America. Hence the sagging pants. You know? It's about that rebellion and being able to articulate ourselves through our clothing," Richmond-Edwards described her display.
The installation is a part of Cultural D.C.'s mobile art gallery.
"We are at City Center in downtown Washington," Kristi Maiselman, who is the executive director of Cultural D.C., said.
The organization takes art into D.C. communities in every ward.
"We've been to the Anacostia Community Museum, we've been to the Smithsonian zoo, we've been to Union market, we've been to Petworth," Maiselman explained. "We really have been all over the city."
The 'Stay Fly' exhibit coincidentally opened near luxury brands at the same time the fashion industry is facing blackface scandals.
"My exhibition is right next to Gucci, and I think a complicated in a way it's real. I don't necessarily have the answers, but I'm also about accountability with all brands," Richmond-Edwards said. "Whether they're adding blackface or any sort of disrespect, I am who I am and I'm a free woman."
'Stay Fly' by Jamea Richmond-Edwards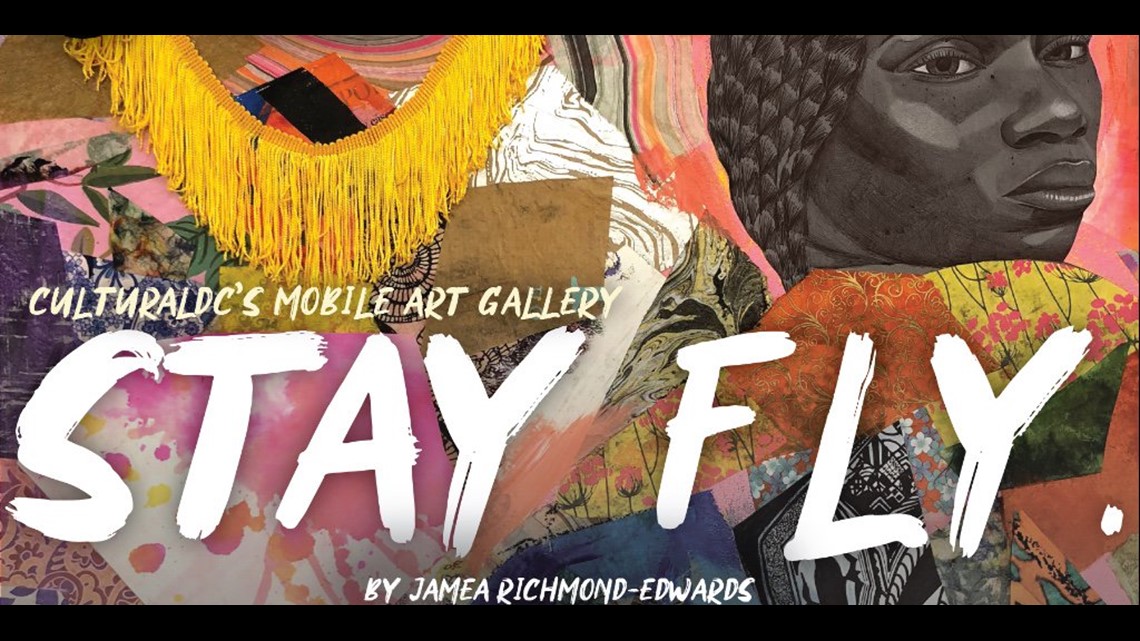 Despite the racially-charged scandals in the fashion industry, Richmond-Edwards hopes her art sparks meaningful dialogue.
"It is a sense of pride to be able to share my family's history -- my story which essentially is American history," she said.
To find out more about Cultural D.C.'s mobile art gallery and other programs, CLICK HERE.
Follow Richmond-Edwards work on her website or on social media.