WASHINGTON — DC Water says a boil water advisory in place for parts of Northeast D.C. since Sunday was lifted on Wednesday.
All DC Water customers in the impact area under the boil water advisory can use tap water for all purposes after following the instructions provided below.
DC Water issued a boil water advisory for parts of Northeast D.C. on Sunday night. The advisory impacted customers who lost water pressure on Sunday. DC Water advised customers to not drink or cook with their water without boiling it first if they are in the impacted area, which includes the neighborhoods of Fort Lincoln, Woodridge and Langdon.
The impact area is generally:
East of Montana Avenue
West of Eastern Avenue
South of Rhode Island Avenue
North of New York Avenue
DC Water advises customers to search their address on the interactive map or call the 24-Hour Command Center at (202) 612-3400 to determine if they are in the impact area of this advisory.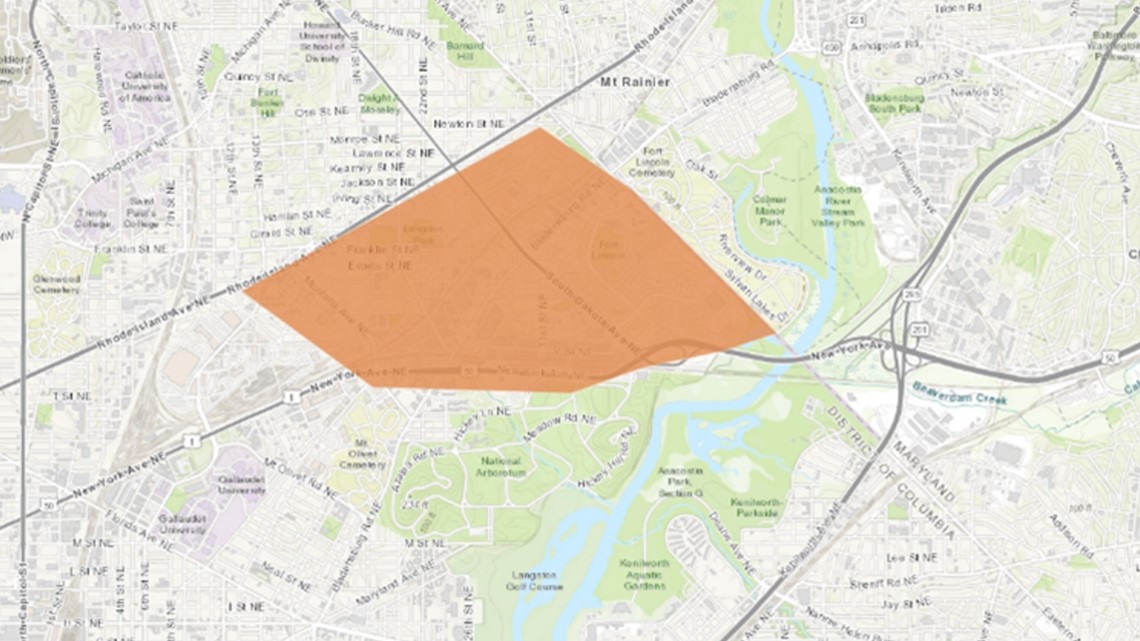 Customers in the impacted area should:
Discard any beverages and ice made before and during this advisory.
Run cold water until clear (if discolored) prior to boiling.
Run cold water for 2 minutes if known sources of lead are present prior to boiling.
Bring water to a rolling boil for 1 minute and let it cool.
Store cooled water in a clean, covered container.
Cooled, boiled water or bottled water should be used for:
Drinking
Brushing teeth
Preparing and cooking food
Washing fruits and vegetables
Preparing infant formula
Making ice
Giving water to pets
Do not use home filtering devices in place of boiled or bottled water, DC Water says.
On Sunday evening, DC Water received a number of customers in Northeast D.C. who were experiencing low or no water pressure. The investigation into the cause of the loss of pressure is ongoing.
The advisory has been issued out of an abundance of caution because it may have been possible for bacteria or other disease-causing organisms to enter the water through cracks, breaks or joints in the distribution system.
Bacteria and other disease-causing contamination such as viruses and parasites can cause symptoms such as diarrhea, cramps, nausea, headaches, or other symptoms.
DC Water collected samples in the impacted area. The advisory would be lifted when tests on two consecutive days show no bacteria are present and all customers can continue normal water use. Both samples ran clear Wednesday, so the advisory was lifted