WASHINGTON — The most competed-for seats in the D.C. Public School system had 300 contenders vying for one of three open spots, according to data released this week by the district.
The Oyster-Adams Bilingual School's Oyster campus topped the charts for applications-per-seat for the upcoming school year, with 900 applications filed for just three open seats in its English-dominant track. Ross Elementary School took the second spot on the list, with 802 applications for just four seats.
Detailed data about the 2019-2020 school lottery was posted this week to the My School DC website. Parents were notified of the results last week. (2019-2020 lottery data for charter schools had not yet been posted.)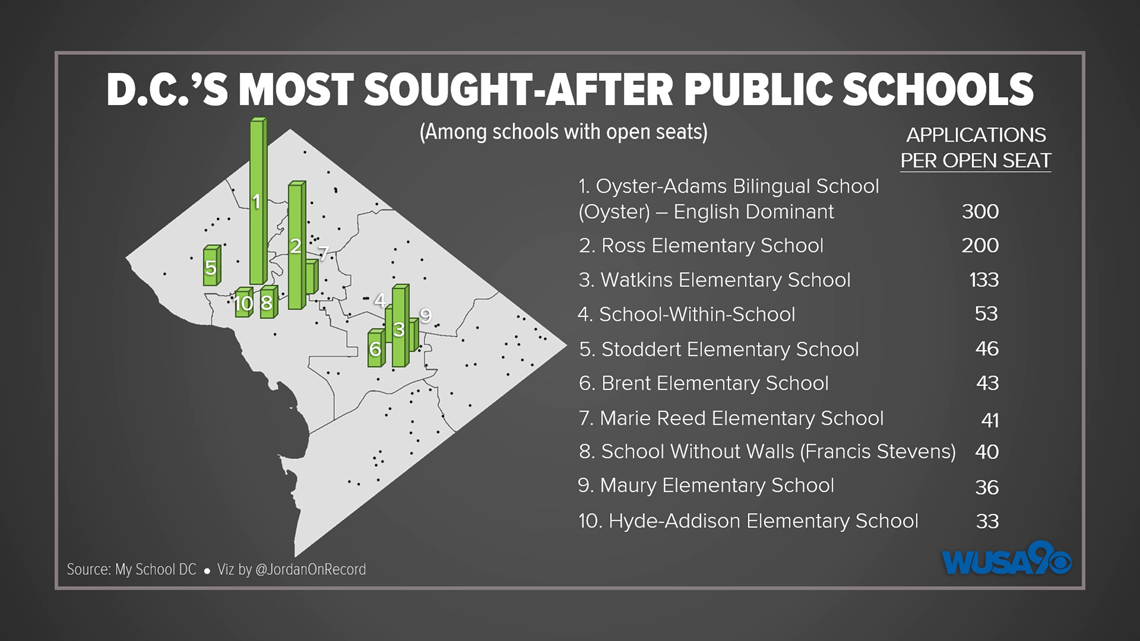 Across the entire District, 18,655 students applied for D.C. public schools for next school year. Of those, the district says 7,222 students received a match, and 9,437 were waitlisted at least once. More than 70 percent of those waitlisted were waitlisted for more than one school.
The data shows dozens of students are often competing for each seat at the district's most sought-after schools. The 20 schools that had the most applications per seat saw a median of 33 applications for each open position.
Even at the pre-kindergarten level, the most sought-after schools saw 20 applications per seat, on average. School-Within-School had far and away the most applications of any pre-k school, with 1,350 students competing for 33 open seats – or about 40 for each spot. Marie Reed's English Dominant pre-k track also drew in approximately 40 applications per open seat – although all but one of its open seats ultimately went to students with siblings already attending or offered a spot at the school.
Three schools – Woodrow Wilson High School, Deal Middle School and Stuart-Hobson Middle School (Capitol Hill Cluster) – reported no open seats at all for the upcoming school year. Nevertheless, they received a combined 2,450 applications. More than 1,500 of those students were waitlisted.
Use the tool below to see a breakdown of lottery data for each D.C. public school:
We Need Your Help! As we continue to report on this latest round of school lottery data, we want to talk to you. Has the lottery worked for your family? Has it not? Have you or someone you know moved to try to get a better lottery result? We want to hear your story. Please email reporter Jordan Fischer at jordan.fischer@wusa9.com or message him on Twitter at @JordanOnRecord, or shoot us a private message on the WUSA9 Facebook Page.