Fairfax, Virginia — FAIRFAX, Va. -- In its first federal sexual harassment complaint of the Me Too movement, the ACLU has filed charges against the Fairfax County and the fire department.
The charges are being filed on behalf of two of the highest-ranking women in the Fairfax County Fire Department. The national civil rights organization is accusing Fairfax County leadership of retaliation over sexual harassment complaints.
Fairfax Fire Department accused of retaliating after sexual discrimination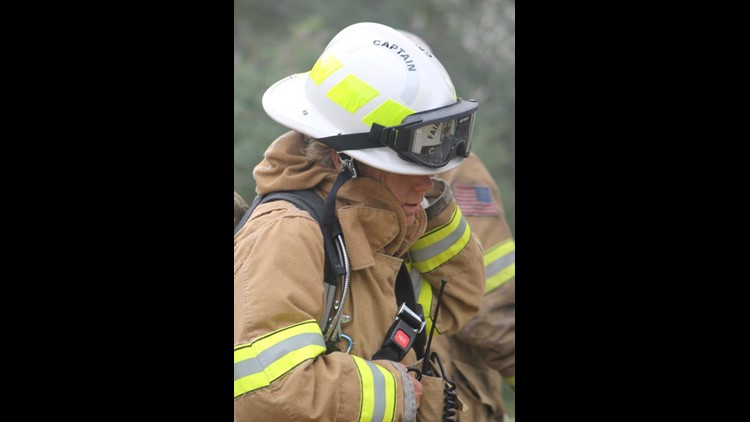 The charges are the first step in filing a federal lawsuit over the treatment of women in a fire department renowned for its emergency and fire response.
"Harassment, cold shoulder, people messing with my office. My computer not working,"said Kathleen Stanley.
"They're trying to force me out. There's no other way to look at it," said Cheri Zosh.
Battalion chiefs Cheri Zosh and Kathleen Stanley are the two highest-ranking women in the Fairfax County Fire Department. They are two of only three women battalion chiefs. Zosh has been in the department 24 years, Stanley, 27 years.
Stanley has a master's degree, served as an Urban Search and Rescue Medical Specialist for FEMA's rescue effort in Haiti, and she was detailed for five years working as an officer on the federal government's Joint Counterterrorism Assessment Team.
Stanley said that Fairfax County leaders tried to force her out.
"They advised that they think it's best that I find another agency to finish out my career. And I had a little over 12 months in my career and they're asking me to leave. Very demoralizing, very degrading, very shocking," said Stanley. She said County leaders tried to get her to switch to be a call-taker for 911.
Over the past two years, the two women made accusations of sexual harassment in the department.
Stanley spoke out publicly about the need for a stronger policy that would mandate punishment. If no one is ever punished, nothing changes, she says.
Now the ACLU is involved.
The ACLU, a national organization, can pick cases all over the county to take on. They chose Fairfax County, as their first sexual harassment case of the Me Too movement for a reason.
"It really hits all the marks. You have women absent from the highest management. You have women going though harassment that's not addressed. You have women going through insufficient training. Transferred or not transferred, according to whims that don't make sense. Then you have the two most senior women in the department speaking out about it and instead of being listened to, they're penalized, vilified, they're punished," said ACLU Senior Staff Attorney for the ACLU Women's Rights Project.
This comes four months after Kathleen Stanley resigned from her position as Women's Program officer in a scathing letter critical of then-Fire Chief Richard Bowers. To defend himself, Bowers held a press conference in which several women firefighters praised the department.
"As far as any violations of sexual harassment, discrimination, whatever zero tolerance means, action is taken," said Richard Bowers back on February 1, 2018.
Days later, Bowers announced his retirement.
"You see the County Executive stand up in front of the whole nation and say we don't have a problem here in Fairfax county, and simultaneously, I'm being torn apart on the Union web page. Everybody denies it's happening, and yet, they're participant in it," said Kathleen Stanley.
The ACLU has filed three separate discrimination charges totaling 36 pages. They accuse the County, the Fire Department and the local union of harassment, bullying, discrimination and retaliation. The charges claim that after Zosh reported fire captain Jon Bruley in the sexual harassment case, Chief Bower transferred her to an area further away from her home and children. It claims she's also been denied transfer requests and worker's compensation medical claims for an injury sustained while fighting a house fire.
All of it comes after the 2016 suicide of firefighter Nicole Mittendorf. After her death it was discovered that she had been bullied and sexually harassed at work and online. It brought the problems of sexual harassment in the fire department out into the open.
So why would these two women, who are finishing up their long careers with the Fairfax County Fire and Rescue Department, want to be part of a federal lawsuit against their employer now?
"I'm very close to retirement and I want to leave this place better than I found it. And so, what I hope to do, I hope to bring it to a higher level so that there can be mandated change. It's obvious the fire department cannot change themselves because they protect themselves. And the county is protecting the fire department," said Zosh.
"They were so overtly retaliating against me, not once but twice, asking me to leave the department and trying to force me out. This isn't the 1950s. I can't in good faith walk away from that and still look myself in the mirror.:
She believes the fire department has made changes, but not fast enough. She'd like to tell the young women who think the fire department has changed sufficiently: if it happened to us, it can happen to you.