We face a deadly threat on our highways. It's a decades-old debate over whether more should be done to protect you and your family.
The Insurance Institute for Highway Safety, a non-profit vehicle safety research group in Ruckersville, Va., said guards on the sides of tractor trailers would save lives.
"She was a shining star," said Durso. "She had a huge future in front of her. Siblings that loved her. Parents that loved her. Friends that loved her."
The daughter called her mom every day. Sometimes twice a day.
Durso misses those calls.
"I wish that they would come," the mother said. "But I know that they won't. Not in this life."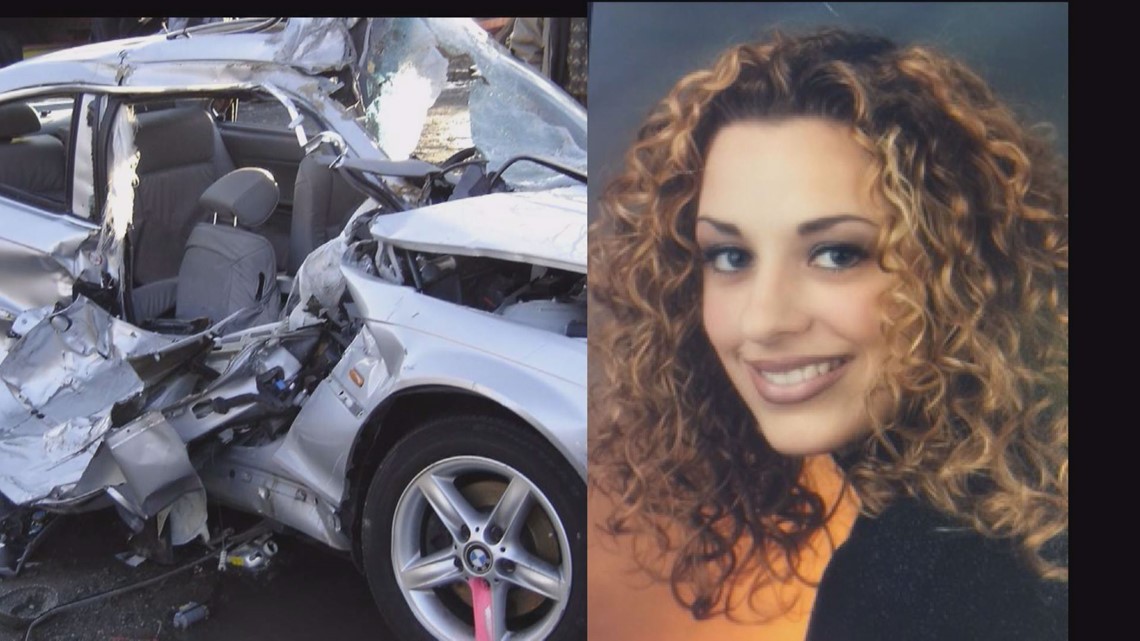 Sadigh's life ended on an Indiana highway in 2004. The BMW driven by her fiancé lost control and slid underneath the side of a tractor trailer in what's known as an underride accident. That's when a passenger vehicle slides underneath a tractor trailer, crushing the passenger compartment of the car.
Sadigh died instantly. It was the day before Thanksgiving.
"You know she was a gift from above," Durso said. "And it's taken a toll on the whole family."
Families across the nation have been hit hard by side underride accidents. Despite major gaps in federal crash data, the Insurance Institute for Highway Safety (IIHS) looked at semi-trailer accidents from a single year, 2015. IIHS estimates vehicle underride accidents killed about half of the 301 people who died when their vehicles struck the side of a tractor-trailer for 2015.
PHOTOS: Side underride crashes with tractor trailer trucks
The IIHS said if those trailers had side guards, many of those lives could have been saved.
IIHS Executive Vice President and Chief Research Officer David Zuby showed the WUSA9 Special Assignment Unit the results of two separate crash tests.
The first test car hit the trailer without a side guard on it.
"Yeah, if you watch the video, from this crash test, you can see the drivers head smash into the side of the truck," Zuby said of this first crash test without the side guard.
The second test car slammed into a trailer equipped with a side guard. The car's dummy driver does not get crushed.
The side guard is called an "Angel Wing." It's the only one out on the market right now.
IIHS research found side guards like the "Angel Wing" can reduce serious injury and death in nine out of 10 side underride crashes. But the federal government has no laws, rules or regulations requiring side guards on semi trailers.
Why? That answer is unclear.
The Department of Transportation talked about requiring side guards decades ago.
A federal register stated the DOT anticipated supporting a law requiring side guards on semi trailers, as far back as 1969.
"So here we are, more than 40 years later, in 2017, and we're still at the same place," Durso said.
So why hasn't the Department of Transportation's regulatory arm, the National Highway Traffic Safety Administration, moved forward?
One NHTSA memo from 1991 stated, "...side underride countermeasures have been determined not to be cost-effective." But the agency didn't give any details of how they came to that decision.
WUSA9 wasn't able to find any other NHTSA statements on the issue.
NHTSA has not granted the Special Assignment Unit's request for an interview. Instead, NHTSA sent a statement citing ongoing research on side underride protection it initiated at the Texas Transportation Institute, a research group on the campus of Texas A&M.
NHTSA is deeply committed to the safety of the motoring public. The agency is actively pursuing the improvement of underride protection and published a regulatory proposal in late 2015 to upgrade requirements for rear impact guards. Through research, computer crash simulations, and analysis of public comments received on our proposal, NHTSA is evaluating federal safety standards to find ways to make these types of crashes more survivable. NHTSA has already initiated research with Texas Transportation Institute on side underride protection on trailers that will be completed at the end of 2017. As part of its continual commitment to improve safety and reduce fatalities, the agency is focused on advances in vehicle crash avoidance technologies to mitigate the severity of these crashes and to prevent them from occurring in the first place. One example of this is the historic agreement that NHTSA and IIHS reached with automakers to make automatic emergency braking (AEB) a standard feature on virtually all new light vehicles cars no later than NHTSA's 2022 reporting year, which begins Sept. 1, 2022. NHTSA will continue to consider innovative approaches to prevent crashes and expedite safety advances than could occur through the formal regulatory process.
The statement did not explain exactly what that project entailed or if it would lead to new federal regulations requiring side guards.
WUSA9 asked the Texas Transportation Institute for more information. It referred all questions to the DOT. WUSA9 sent follow up questions to NHTSA, and DOT.
"And I think that's very frustrating," Durso said. "That this is, in my mind, a no brainier."
Durso is now using her story to lobby congressman, senators and NHTSA to make those changes happen.
She is fueled by her mission to add side guards to all semi trailers on the road. She keeps her faith in her daughter who would be cheering her on at every turn.
"You go mom...she would be very proud of me," Durso said. "And that is what she would want. Because she has a great heart."
After the WUSA9 Special Assignment Unit series "Big Rigs, Big Risks," one of the most powerful men in Washington announced he is pushing for change.
After a fatal underride crash in New York, Senate Democratic Leader Charles Schumer said he is calling on the federal government to require truck trailers be equipped side underride guards and stronger rear underride guards.
Although there are laws requiring rear guards on trailers, IIHS crash tests show many of the ones that meet the current federal standard, don't stop fatal underride crashes as they are designed to do.