WASHINGTON -- All this week Congress has been announcing proposals to fix to the systematic problems plaguing military base housing. Military families have shown their homes with mold, rodents and lead paint, all while they're supposed to be able to protect our freedoms. The House version of the defense spending bill could help them. But our WUSA9 original investigation "Dangers at Home" uncovered it never should have gotten to this point.
"We shouldn't be here at all," Maryland Rep. Anthony Brown, who sits on the House Armed Services Committee, said. "I mean, when we enter into contracts, when the Department of Defense enters into contracts, with private housing companies to provide quality housing to military families, that's what we expect. That's what we demand. That's what military members deserve."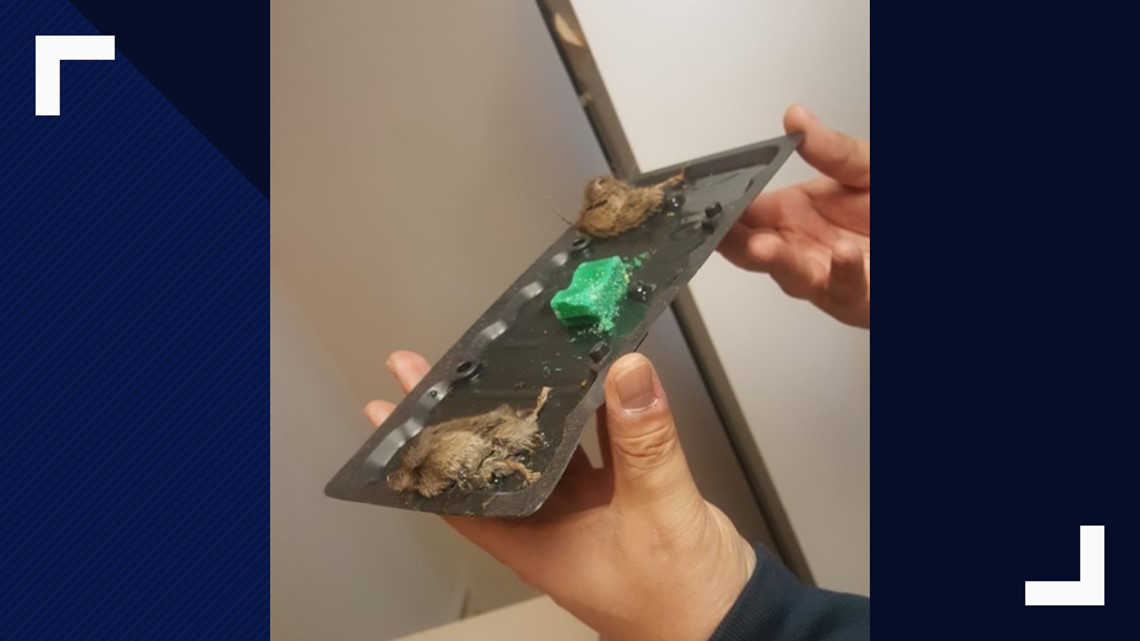 A photo from DC's Joint Base Anacostia-Bolling shows rodent carcasses inside a home.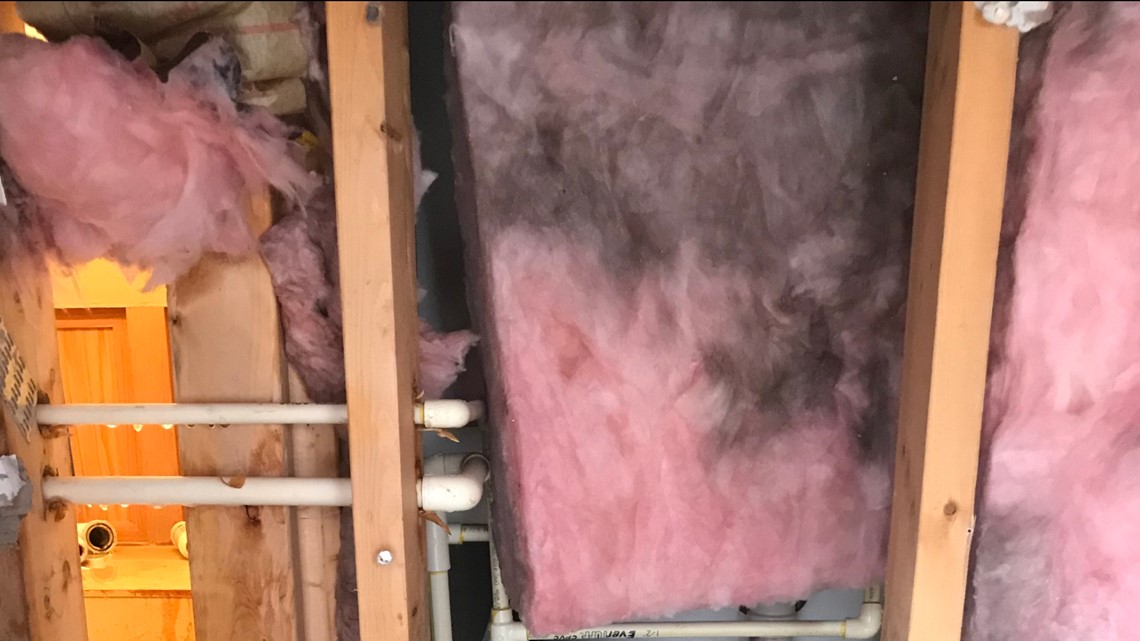 A photo from Marine Corps Base Quantico exposes insulation covered in black mold. WUSA9 has reported on example after example of conditions no one should have to live in, especially those who are making some of the biggest sacrifices for us.

"You don't feel that you should worry about your health at home," Marine wife Heidi Starr told us. "You don't feel, especially when your hands are tied that you can't fix the problems yourself, so I want to be able to help my kids, protect myself, protect my health, as well, and know that my kids aren't forced to live in something like that."
As Starr looked at photos and talked about her family's time living in privatized military housing on Quantico, the tears started to flow. Cleanup of a busted pipe in their home revealed a much larger issue.

"That's when I first saw what was an alarming amount of black mold, all over the stud work, the wood, the drywall behind there, the insulation was covered in black," she recalled.
The Starrs are not alone. New data from the Military Family Advisory Network gives a detailed look at life inside military bases across the country and right here in our area. 3,248 of the people who responded to the organization's survey reported mold in their homes.
"You get a flood of different emotions," Heidi described. "You get angry. That's definitely one I can't lie about."
Ninety-nine percent of military housing is now run by private companies. The contractors faced backlash. Military families became so fed up, they went to Congress. They detailed dangerous and sickening conditions inside their base housing.

"Without the diligence of military families raising their voices on behalf of others, we might still be uninformed about these troubling problems," Congressman Doug Lamborn said at a hearing with leaders from the military service branches.
It took courage for these families to speak out. There's a fear they're putting their careers and homes on the line. But they didn't have to. It wasn't necessary for the families to take on that risk. Our investigation uncovered Congress, DoD and the service branches already knew there were problems.

We found a statement from the National Military Family Association. It was given to a U.S. House committee. The organization voiced concerns about the 50-year contracts given to private companies to run military housing.
They asked: "Who provides oversight of housing management and maintenance? Who is the advocate for family members living in the housing?"
They warned Congress families could be caught in the middle of the private companies and the services, leaving them "with the residual mess."

That testimony was given on Capitol Hill on March 29, 2001, which is almost twenty years ago.

It wasn't only on Congress' radar. There are also reports from the Department of Defense's own inspector general. Between 2013 and 2016 it issued six reports on housing issues.

A report from 2015 looks specifically at bases in our area. Inspectors noted hundreds of "deficiencies." At Fort Belvoir, they reported deteriorated lead paint. On Joint Base Anacostia-Bolling, they said "uncontrolled moisture was a potential source for future mold growth."

In the bases they examined across the world they saw thousands of problems. "The pervasiveness of electrical system safety, fire protection, and environmental health and safety deficiencies was the most significant trend that we observed," they wrote.
The issue came back to Congress again just last year. Its own watchdog examined the finances of the privatized housing program. It found DoD officials have not consistently looked into the ability to maintain the housing in good condition for the long haul.

We come full circle with another statement from the National Military Family Association. This one was given in February. They reminded lawmakers of their early warnings.
"It saddens and angers us to have to say, 'we told you so,'" they said. "After almost twenty years, families are still looking for the answers."

Congressman Brown served in the Army for thirty years. We asked him if he thinks the private contractors are going to be motivated by congressional hearings or if their contracts need to be renegotiated.

"I think the contracts need another look," he responded. "I think Congress needs to continue its oversight responsibilities."
Another hearing on Capitol Hill is expected in the coming weeks.
Military officials are also meeting with company executives. In May, they went over a new proposed Tenant Bill of Rights. Residents in base housing should get a look at it soon. The military families told WUSA9 they are hoping for accountability, which can be complicated when residents come and go every two to three years.
Multiple House Armed Services Subcommittees met this week to go over how they want to spend billions of dollars for the nation's military. The first item on the Readiness Subcommittee press release includes proposals to address "problems with the management and oversight of military family housing." It lists requirements about that tenant bill of rights, hiring of civilians to better staff housing offices and developing tools to measure some of the hazards in these homes.
At the Starr's new home on Bolling, Heidi is thinking about the future. She knows, like all military families do, another move isn't far off.

"Where do we move next," she wondered. "You see all the other things. There are issues in this house, but there's none that are severely affecting our health. So do we stay put as best we can or do we look at moving somewhere else and then risk the chance of another mold-riddled home or other toxins that are in a home?"
In the meantime, watchdogs continue to investigate. DoD's Inspector General announced it is expanding a lead paint evaluation to look at all health and safety hazards. The Government Accountability Office is looking into oversight and management of this housing, but that report isn't expected until December.
We reached out to each of the companies asking for interviews. None of them would appear on camera. They did send us the below statements.
CORVIAS GROUP, Kelly Douglas, Marketing and Media Strategist:
"We are honored to serve service members and their families, and the hundreds of employees across our installations take very personally the jobs they perform, the families they support. We are working with our partners and residents to provide a high level of service within a sustainable program, one that balances short- and long-term needs. The MFAN survey from February 2019, represents a response rate of 4% from families who reside within the 13 communities we serve. In one case, there were zero respondents. However, we are actively listening to our residents and we will continue to look for ways to improve."
LINCOLN MILITARY HOUSING, Jarl Bliss, President:
"The results of this online poll of less than eight percent of residents is in sharp contrast to the thousands of independent surveys that a majority of Lincoln residents completed in 2018 that consistently showed high satisfaction. Still, we are striving to ensure that all military families are pleased and are implementing a host of substantive measures to improve property management services across our portfolio including:" (******INSERT LINK TO PDF HERE****)
HUNT COMPANIES, Cindy Gersch, VP Corporate Communications:
"Hunt takes the responsibility of serving those who serve and sacrifice so much for our country extremely seriously, holds itself accountable and is committed to continuing to make necessary improvements to offer every resident high-quality housing. This year, we have taken additional steps to improve our processes and procedures for addressing resident concerns such as streamlining and enhancing our maintenance request processes, testing a new web-based mobile application for residents to provide further transparency on work orders, implementing a "Hunt Promise Helpline" for direct contact between residents and Corporate Management, adding more maintenance and technical personnel at each of our communities and implementing enhanced training for employees to ensure they are properly equipped to provide residents with the support they need.
We use resident feedback as a key indicator of our performance and we believe even one dissatisfied resident is too many. We are fully committed to doing everything we can to address our valued residents' needs and ensure we can provide every member of our communities with safe, healthy and comfortable homes."
This is one episode in our "Dangers at Home" series. Watch more episodes below.