WASHINGTON - Pot busts have not gone up in smoke in D.C. despite the decriminalization of the drug in The District.
Eight-six percent of people arrested for marijuana-related crimes are black.
"The fact that 86 percent of those arrested are black, in majority black and brown areas of the city even though the level of marijuana use is the same among blacks and whites in The District, only proves that MPD is continuing a racist policing strategy that I hope the mayor doesn't consider to be 'DC Values'," said Ward 7 Advisory Neighborhood Commissioner Lorenzo Green.

In 2017, 63 percent of all marijuana arrests in 2017 came in police Districts 5,6 and 7, which encompass Wards 7 and 8. WUSA9 found in 2017, marijuana arrests were up 97 percent in those districts, while they have fallen nine percent in the rest of the city.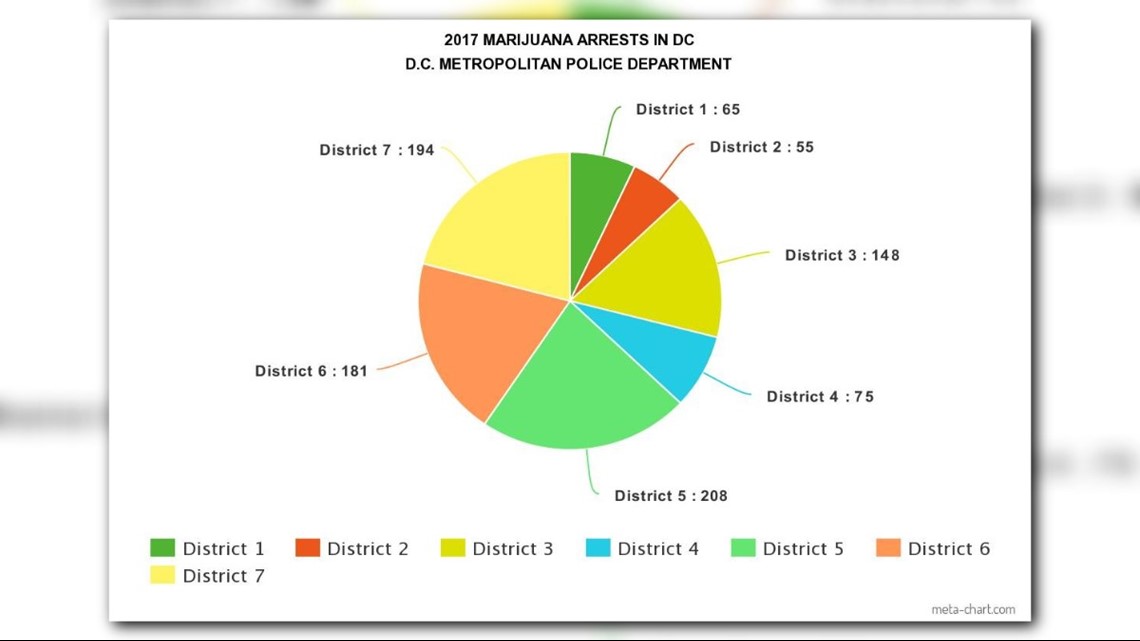 Green said the data indicates D.C. police are selectively enforcing marijuana laws in low income, predominately African-American parts of the city.
MPD released a statement on Tuesday night, challenging the findings of WUSA9's report.
In their statement they wrote, "We are disappointed to see WUSA9 publish such an inflammatory story. While the story lead is that 'Pot busts have not gone up in smoke in D.C. despite the decriminalization of the drug in The District.,' it doesn't highlight that last year, 69% of the arrests were for distribution (43%) or possession with intent to distribute (26%). Selling or distributing marijuana is still a crime in the District, and is often linked to other crimes.
The Department made only 19 arrests – or 2% – for possession, which would have been for someone in possession of more than 2 ounces, a significant quantity. A majority of the 266 arrests for consuming marijuana in public were in the Second or Third District. The community has consistently expressed frustration with the amount of public consumption of marijuana and we are obligated to take action.
The Department respects the legalization of small amounts of marijuana for home grow or home use. However, the community still expects the Department to enforce the remaining laws."
However, Green sees the data differently.
"It's clear, under the leadership of Chief Peter Newsham, we continue to go down a path of an outdated strategy of policing," Green said. "Our communities endured the last two years of rhetoric from Mayor Bowser and Chief Newsham about how crime is down. But we see a double-down of marijuana arrests in black and brown communities in The District."
Adam Eidinger, co-founder of dcmj.org, helped write and lobby for Initiative 71, which makes it legal to grow a limited amount of marijuana in your home, smoke it in private and carry less than two ounces in public.
But you can still be arrested if you smoke pot in public, carry too much or sell it.
"As the proposer of the initiative, this is not what we intended," Eidinger said. "We never intended for low income people to continually be targeted."
Eidinger, who originally called for complete legalization of the plant, says the trends uncovered in the arrest data amount to a waste of resources.
"Every time a police officer arrests someone for smoking marijuana in front of their home, which is often where this is taking place, you take that police officer off the street," Eidinger said. "And they are in the station they are booking the person, for two or three hours, maybe the rest of their shift. And meanwhile, the neighborhood is getting robbed."