BALTIMORE COUNTY, Md. — Tierra Tyson screamed in shock when she realized her account barely had money available.
The mother of five children was buying a new milk bottle for her baby when the receipt showed there was $11.64 left. She felt shocked and confused because several hours earlier, Tyson knew she had more than $1,600.
"It's not cool for anybody to go through this," Tyson said. "I want to cry now, but I have to keep my composure and keep me from being emotional because I can't deal with the stress."
Tyson relies on the Supplemental Nutrition Assistance Program (SNAP), formerly known as food stamps. The federal government provides benefits and other cash assistance through Electronic Benefits Transfer (EBT) cards. The state administers public assistance benefits to more than one million Maryland residents.
Like other victims, she said she was scammed after using her card at a local ATM machine.
Bridget Jackson said the same thing happened to her when she used her EBT card to support her 15-year-old daughter. She claimed her account has been wiped clean by thieves more than once.
Jackson said her only source of income currently is the $600 of benefits she receives each month.
"I'm very frustrated and stressed out," Jackson said. "A lot of people are homeless out here. I'm scared I'm going to be one because if my lights get cut off, I'm out. If my water gets cut off, I'm out."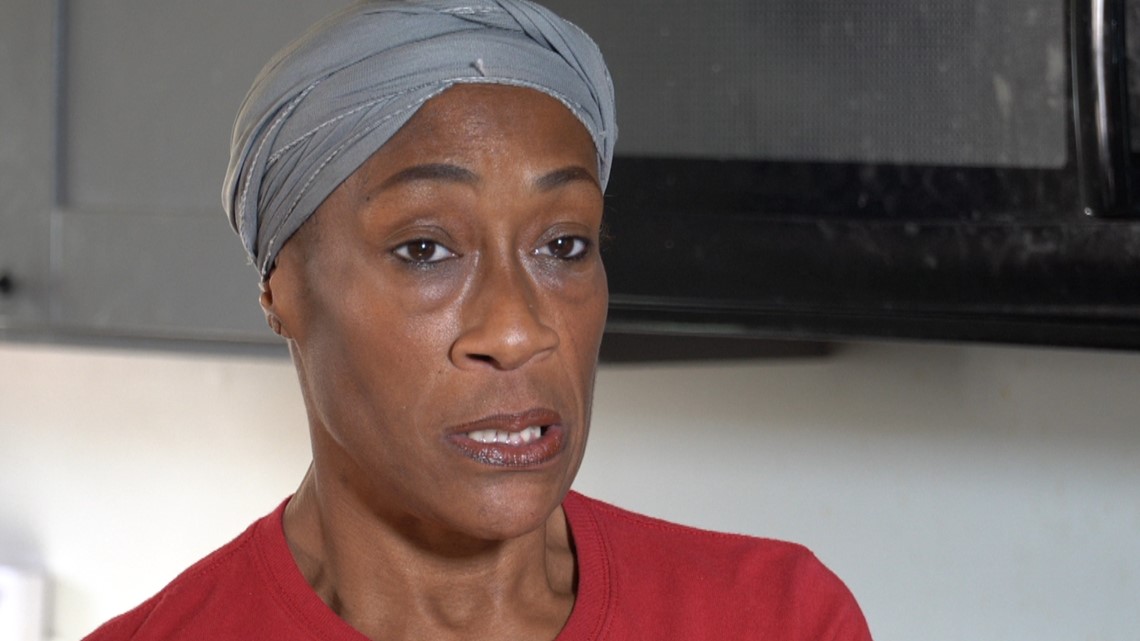 Federal officials are aware of a growing nationwide problem targeting SNAP recipients. The United States Department of Agriculture (USDA) issued warnings over credit card skimming, card cloning and phishing scams to steal SNAP benefits and other financial assistance.
Prince George's County Police recently issued a warning about devices used to skim cards at convenience stores. The department's $700,000 of benefits have been stolen in the county this year alone.
Through the help of Sen. Ben Kramer, (D) District 19, WUSA9 received the latest numbers from the Maryland Department of Human Services. Since January, there were 1,413 incidents of EBT fraud, a giant spike from the total last year when the number was just 137.
As of November 2, 2022, the total federal dollars reported as a loss since January is $1,056,651.22.
In many cases, victims learn their benefits were withdrawn in other states such as Jennifer Johnson. She remembered using her card in Prince George's County only to realize someone stole all her cash from Washington state.
No reimbursements
Despite doing what is required including getting a new card with a pin number and reporting the incident to the police, Jackson reports a lack of progress. She and other victims question why the state cannot backfill the funds.
In a statement, MDH said, "federal regulations prohibit states from replacing SNAP benefits using federal funds."
"Our Department's Office of the Inspector General (OIG) has been working closely with the U.S. Secret Service, USDA-OIG, and the U.S. Department of Health and Human Services' OIG to investigate this matter," the statement said.
The answer was insufficient for several Maryland lawmakers including Sen. Kramer, who pressed members of MDH during a finance committee meeting in September to discuss the EBT fraud.
They asked Secretary Lourdes Padilla if the department has considered with Gov. Larry Hogan, (R) Maryland, to use state funds to reimburse families. She failed to provide a direct answer.
"This is a crime that belongs with the law enforcement to pursue," Padilla said during the meeting.
Kramer hopes under the new administration, the state could implement a new system that can provide the money back, much like the District of Columbia and California. He plans to introduce legislation with the help of local groups.
"This is a failure of state government and state government at its worst," Kramer said. "We actually have a $2 billion budget surplus in Maryland right now, and how it is we can't provide a few hundred dollars to these victims of theft to ensure they've got food on the table is absolutely unacceptable."
Sen. Katie Fry Hester, (D) District 9, who raised concerns about the ongoing theft earlier this year, also wants the card vendors including Conduent to be held accountable.
"Have you asked them to repay the benefits because that is the provider we procure within Maryland?" Hester asked Padilla during the meeting.
"No, I have not," she replied.
"Will you be willing to?"
"I'd consider the conservation with Conduent but again, like I said, this lies with law enforcement."
Groups such as Maryland Hunger Solutions (MHS), which is a statewide nonprofit working to end hunger through policy, advocacy, and outreach, blame the department for a lack of adequate response to mitigate future problems and a dizzying process to resolve any EBT-related issues.
MHS Director Michael J. Wilson worries that it would only further stigmatize families relying on SNAP.
"No bank would say it's a law enforcement problem and our customers are on their own," Wilson said. "SNAP beneficiary should not be on their own. If you're a SNAP beneficiary and you're getting 200 a month and lose half of that, that's a big deal."
New measures
As the department continues to face criticism, MDH Executive Director of Family Investment LaSherra Ayala said they are working with the vendors to help mitigate the scams.
Part of their mitigation plan already includes reissuing an EBT card, providing DHS-funded emergency food programs at local food pantries, emergency cash assistance benefits and referrals to emergency programs.
As of September, 360 households in Maryland have suffered from benefit thefts this year alone.
The vendor Conduent, which is approved by the Federal Drug Administration (FDA), is expected to implement a system change that will prevent SNAP recipients from selecting a pin easy for fraudsters to gain access.
Conduent is planning a card lock feature via a mobile application or cardholder portal to roll out during the summer of next year. The feature will allow cardholders to lock all transactions or lock only out-of-state transactions.
Although it will not fully prevent fraud, it should help curtail fraud significantly.
The USDA also released actions so SNAP participants can help prevent card skimming. For example:
Keep your PIN secret. Do not share your PIN with anyone outside your household. Cover the keypad when you enter your PIN on a machine.
Check your EBT account regularly for unauthorized charges. If you notice any, change your PIN immediately to stop the thief from making any new purchases.
Check card reading machines to make sure there's nothing suspicious overlayed or attached to the card swiper or keypad. The overlays can be difficult to detect but are often bigger than the original machine and may hide parts of the machine.