What do those letters mean to you?
A local property management company is facing some tough questions after WUSA9 learned those three letters appeared as part of a questionnaire in the online application process for three Washington D.C. apartment buildings.
The management company said they were shocked and had no idea.
"Every time I've discussed this case with somebody, their first reaction has been utter shock," said Kate Scott, who heads the fair housing unit at the Equal Rights Center, a non-profit dedicated to anti-discrimination efforts.
A woman who saw the letters while searching for an apartment told WUSA9 she was disturbed.
"It is a big flashing 'Do not come here. We don't want you,'" the woman said.
WUSA9 agreed not to share her identity.
She said back in December, she was planning to apply for an apartment managed by Alvin L. Aubinoe, Inc.
"So, I go online and then one of the first questions that you have to answer, or you can't proceed, is 'How did you find out about,' or 'How do you know about this property?'" she said.
A screenshot taken in December shows a website with a drop-down-style question asking "How did you hear about us?" The letters "KKK" were listed among other preset answers such as "Ads" and "Internet."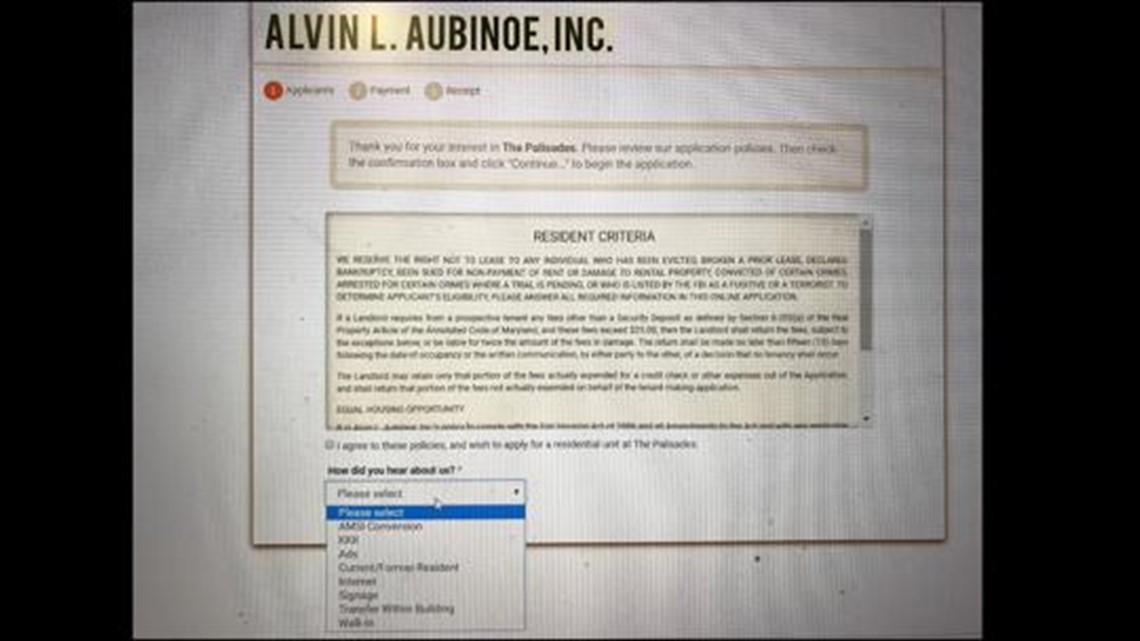 "Literally the first thing I thought was 'It can't be. No.'" she said.
Text messages provided to WUSA9 show on December 5, she sent the leasing agent she was working with a photo of the website with a text message that read "What organization is this highlighted?"
"That is a typo that our marketing department needs to address," the leasing agent replied.
Five months later WUSA9 saw that nothing had changed.
We took three photos on May 17, showing the same KKK letters this woman saw.
They appeared as part of the application process for three properties, but not on any of the other properties in the District, Arlington, nor in Alexandria.
All were managed by Alvin L. Aubinoe Inc., but the online application processes were different.
"There wasn't any apologies or outrage or anything," she said. "It was just like 'Oh it's a typo.'"
She took her concerns to Kate Scott at the Equal Rights Center.
"Having the initials, the KKK initials on the website, is harmful, no matter what the intention was," Scott said. "If everybody's first response is 'That has to mean something else,' it means that what they are interpreting it as to begin with is the Ku Klux Klan."
The ERC conducted an investigation, and found that Alvin L. Aubinoe Inc. treated people of different races very similarly.
The ERC still sent a letter requesting the company remove "KKK" from the webpages, damages for their client, a $10,000 donation to an anti-discrimination group, and compliance testing among other asks.
The letters disappeared, with no other entry in their place.
"There are certainly questions that I think the housing provider needs to answer," Scott said.
We called Alvin L. Aubinoe Inc. The company said they didn't know about the entry and were "shocked by the existence of these erroneous letters."
When we pointed out the leasing agent's text response on December 5, we were referred back to the statement.
"While the application website is linked through our website, Alvin L. Aubinoe Inc., is not able to make changes or edits, and therefore takes no responsibility," Alvin L. Aubinoe, Inc. said in a statement.
Roughly three weeks later, when WUSA9 told Alvin L. Aubinoe, Inc. the story was scheduled to run, the company sent this additional statement:
"Alvin L. Aubinoe Inc. is an Equal Housing Opportunity Provider and does not discriminate against any resident or prospective resident on any protected basis. It is committed to its continued compliance with all Local, State and Federal Housing Laws. We are investigating this matter and will take appropriate action based on the results of the investigation. We decline to provide any further comment at this time."
We tracked down the web provider, On-Site, which offers web-based leasing platforms for a variety of housing options, according to their website.
On-site is owned by another company, RealPage, a property management software solutions company, according to a spokesman.
RealPage sent WUSA9 this statement:
"We are aware of the situation and are actively working to learn more information about what exactly occurred. We're taking this isolated instance very seriously and will share more information as it becomes available."
Property and business records show one of the affected buildings is owned by Albin L. Aubinoe.
WUSA9 reached out to the property owners of the two other affected buildings. Each company told WUSA9 they had no idea the letters "KKK" appeared on application forms and did not have any influence over the marketing of their properties.
WUSA9 chose not to share their names because the Equal Rights Center did not direct its letter to the other property owners. Further, WUSA9 has declined to share their names because Alvin L. Aubinoe Inc. gave no indication the property owners had any input on questions associated with the online application process.
We spoke with Heather Abraham, a supervising attorney and clinical teaching fellow at Georgetown Law who specializes in fair housing within the Civil Rights Clinic. She is not affiliated this case.
When asked if explaining the letters as a mistake protects Alvin L. Aubinoe from any repercussion, Abraham said that is unclear.
"That it is a very strange, odd and suspicious mistake, an unlikely typo," she said. "But, if it is a mistake, I'm not sure that it does matter."
She said intention matters, but so does interpretation. The final decision usually comes from the court.
"We can't say definitively whether or not that's illegal," she said.
Those three letters spoke to the woman searching for an apartment, but it was how long they lingered that said the most.
"Sometimes inaction speaks volumes," she said.