WASHINGTON -- After serving the eastern side of D.C. for 158 years, Providence Hospital officially closed Tuesday, April 30.
People living in the surrounding neighborhood say they're worried how far they'll have to go for emergency services now.
When patients call Providence Hospital now, they'll hear the following message: "Thank you for calling Providence Hospital. Providence Hospital is now closed."
That unwelcome message is coupled with the unwelcome sight of the word "Hospital" missing from the building bearing the word "Providence".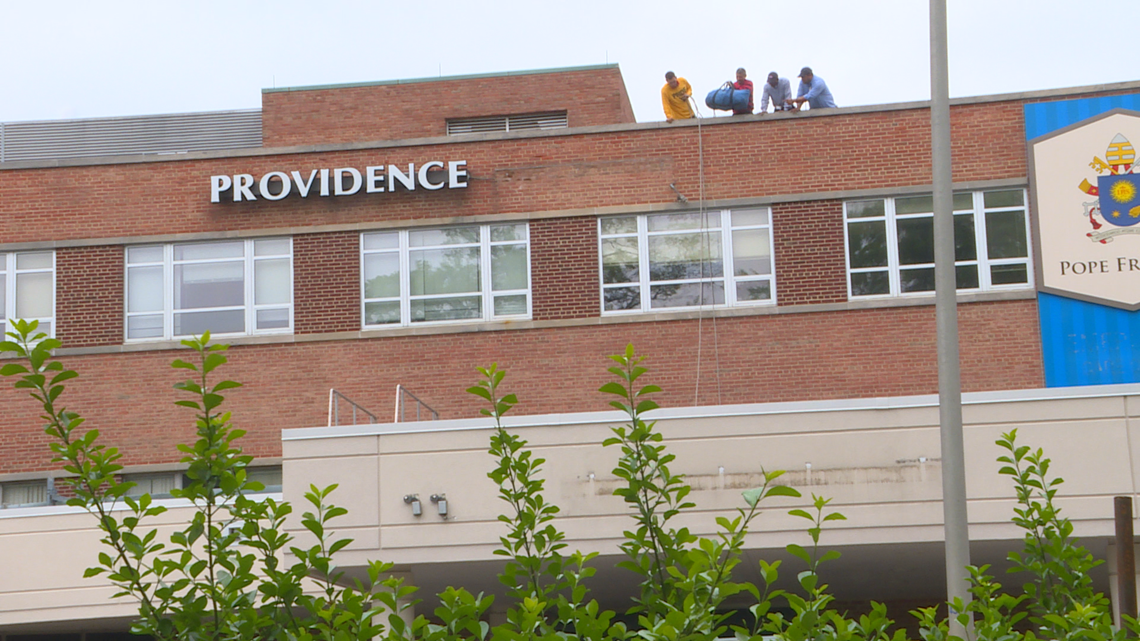 Folks like Rickey Evans, who has lived in a house around the corner from the hospital for 20 years counted on Providence for emergencies.
"I get little abscesses you know I'm on back where with my doctor, I had to wait for an appointment day, but I couldn't wait, so I use them as backup since I'm nearby," said Evans.
A neighbor on a parallel street, Phillip Lee, who has lived in his house for 10 years but in D.C. for his entire life, asks: "Why are they eliminating hospitals in Washington, D.C.?"
Ascension, Providence Hospital's parent company, said the company is working on transforming the center for neighbors and issued the following statement:
Providence Health System, today as planned, will no longer operate its hospital and emergency care center as it transitions from providing hospital services to delivering care that aligns with community needs and improves health outcomes.
Providence is re-investing and redeploying its resources from hospital-based care to primary, and community-based services with a continued commitment to the residents of the District of Columbia, including working cooperatively with DC Health's State Health Planning and Development Agency (SHPDA) on the Certificate of Need review process for an urgent care center coming soon. Providence is continuing to operate primary care services, skilled nursing care at Carroll Manor, outpatient behavioral health, care coordination for Medicaid beneficiaries through the My Health GPS program, a working retail pharmacy and access to free medications to those who need it most.
The District's recent Community Health Needs Assessment and the DC Health Systems Plan found that the top health concerns of area residents included: managing chronic disease, caring for an aging population, and increasing access to mental and behavioral health services.
"Providence is excited to build upon our healthy village vision to create a community of healthcare and non-healthcare partners supporting the whole person and every facet of their well-being," said Tamarah Duperval-Brownlee, MD, MPH, MBA, President and Chief Executive Officer of Providence Health System. "We look forward to continuing to focus on improving the health of the District by providing the holistic resources supporting mind, body and spirit that helps our community live fulfilling, healthy lives."
The healthy village's goal is to help D.C.'s elderly population access the physical and mental health services they need – all in one place – while providing an opportunity for social, emotional and spiritual growth.
Meanwhile, neighbors like the elderly woman who approached Phillip Lee Wednesday afternoon as he was working in his yard, have to go elsewhere.
"She just walked up the street. She said, I'm not feeling good," said Lee. "I live in the neighborhood. I used to go over to the hospital, to the emergency. She can't do that, so now she's over to Washington Hospital Center, and that's where she went. And I'm saying, that's ridiculous."
The nearest hospitals are Washington Hospital Center, which is about a 12 minute drive away, or Howard University Hospital, which is about a 20 minute drive.
Neighbors say that can be a challenging commute for the elderly or people without cars.
"I think it will put a lot of people in jeopardy who you know don't have standard healthcare," said Evans.
"You're hurting people. You're really hurting people. You're messing with people's lives, and you can't do that. You really can't do that," said Lee.
WUSA 9 reached out to Washington Hospital Center to see if they're anticipating or already feeling an impact of the closure -- and are waiting to hear back.