WASHINGTON — D.C. Mayor Muriel Bowser has followed suit closing specific businesses in the District after Maryland Gov. Larry Hogan's move to shut down all bars, restaurants dining rooms, movie theaters and gyms across Maryland.
Drive thru, carryout, takeout and food delivery remain available throughout the city. Specific businesses impacted by Bowser's announcement were to close doors by 10 p.m. Monday.
Bowser's decision to shut down businesses is in an effort to limit day-to-day interactions and to encourage social distancing in order to stop the spread of COVID-19 coronavirus.
"We all have a role to play," Bowser said.
Bowser spoke about flattening the curve through social distancing during a news conference Monday.
"Let me be clear about why social distancing is so important. When we slow the spread of COVID-19, we protect our hospitals from getting overwhelmed. We are able to keep more hospital beds open and make better use of limited resources," Bowser said.
The move comes after Bowser announced over the weekend measures that limit contact at District establishments, including no more than six people to a table and no people standing at bars.
Bowser was asked about businesses defying the mandate, or people gathering together outside exceeding the 50-person limit.
"As mayor, I don't wake up in the morning and try to figure out how I can shut down a business, or issue a fine, but I will do it," Bowser said.
Jose Andres, a popular D.C.-based chef, closed all the restaurants he owns in the District. He is offering a reduced-priced and limited menu for carryout orders -- one of a growing list of restaurants that are doing the same.
Erik Bruner-Yang owns several D.C. restaurants, including ABC Pony in Southeast.
Bruner-Yang said he is grateful he can still serve some of his customers during the pandemic. However, he said he's worried about his staff of 200.
"The biggest challenge is not knowing where the end of the line is," Bruner-Yang said.
He had to temporarily cut 100 workers over the weekend in anticipation of tougher days ahead. However, he's still trying to help.
Bruner-Yang said he told them, "You're more than welcome to continue to come to the restaurant and take food for free to take home. We'll continue to pay the health benefits for as long as we possibly can in terms of our cash flow."
Restaurants were struggling prior to Bowser's latest mandate. According to data from OpenTable, as of Sunday, D.C. restaurants reported 55 percent fewer diners compared to this time last year.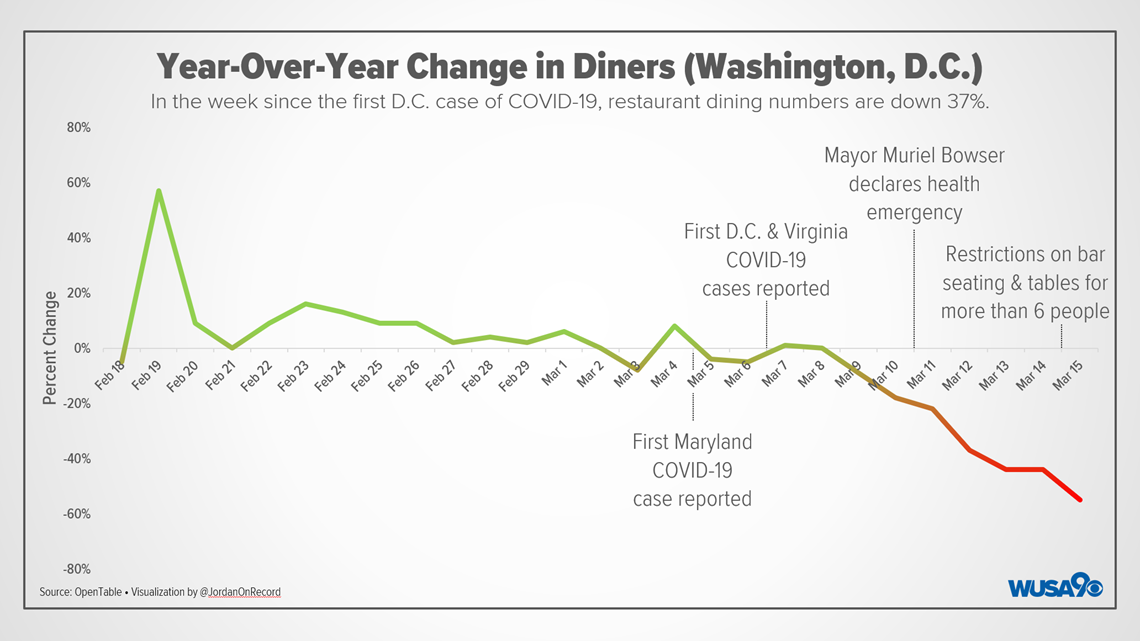 While business was steady through February, with even a spike at the beginning of the month, the data shows that since the end of February, through mid-March, it has changed.
But creative ways to still create income is something D.C. officials want to give its bars and restaurants. Along with still allowing carryout, Bowser said emergency legislation could allow for places to soon deliver closed-container alcohol to citizens with their food orders. But rules and the scope of how this would work were not given out in Bowser's news conference.
Bowser mandates coronavirus closings
Coupled with the big announcement on bar and restaurant closures, there was also plenty of talk about how D.C. residents can do their part in helping fight the coronavirus.
Aside from social distancing, health officials noted using good hygiene and being aware of what to do if you think you have the virus.
One additional thing officials stressed at the news conference was panic buying and hoarding when shopping at the grocery store.
Buying in excess during the coronavirus pandemic is something District officials say needs to stop. It comes after the White House sent down similar advice in its news conference on Sunday.
With the sudden volume of purchases born out of fear, grocery stores supply chains have become stressed.
Officials said they are in constant contact with grocery stores and suppliers and that they have been assured that without this rapid panic buying there will be enough food.