WASHINGTON — D.C. Mayor Muriel Bowser on Thursday expressed her outrage and demanded action after the District was given only $500 million -- $725 million less than states -- in the Senate-approved $2.2 trillion coronavirus relief package.
The 50 states in the nation receive a direct payment of $1.25 billion and some cities with larger populations get additional funding, officials said.
With the exception of representation in the Senate, D.C. is treated like a state in every other aspect, like tax revenue, officials said. The District also has a larger population than Vermont and Wyoming -- two states which will receive the full $1.25 billion funding.
Bowser said federal leaders are treating D.C. like a territory and she wants lawmakers to treat D.C. fairly. Bowser said the District not only has a larger population than several other states, but residents pay more taxes than some states as well.
"We just need to be treated fairly. We just want what every taxpaying American is getting out of this bill," Bowser said. "Everybody who lives and works here has a stake in that."
A letter was sent to Senate officials, telling lawmakers to "right this wrong" and to fill the inequity gap of $725 million, Bowser said.
D.C. council chair Phil Mendelson said this isn't a statehood issue, it's a public health issue.
"It needs to be equal as to what the states are receiving," Mendelson said.
Sen. Tim Kaine, D-Va., told WTOP on Thursday morning that he thought the discrepancy in funding for DC was an "error" and that having to vote on this bill through the process of social distancing and telework has "led to some glitches" like this. He did not elaborate on when or if the discrepancy would be addressed.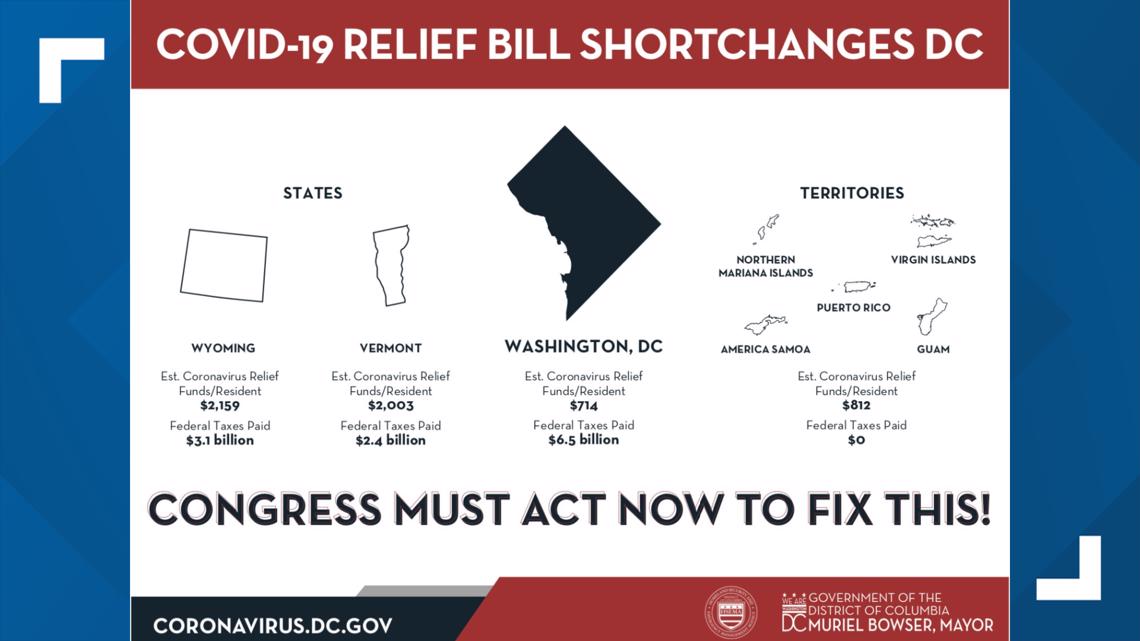 Unemployment is filed where people work and D.C. is a major center of workers for the region. Many of the District's unemployment claims are from Virginia and Maryland residents -- something not taken into account in the Senate bill, officials said.
In the last week, 25,000 people filed jobless claims in D.C. The system sent erroneous denials to people filing claims prompting calls to officials, they said. People filling out claims should select "No" under job search until the system is updated to correct the issue, officials said. So far, there is no word on projected jobless numbers.
D.C. Council was told last week that if the coronavirus pandemic lasts through June that $500 million in revenue would be lost and that raises liquidity concerns -- one of two major concerns -- an official said. So far, the District has lost 30-40 percent of sales tax revenue during the closure of businesses.
"We have to manage what's coming in, so we can manage the basic operation of government," Bowser said.
The second major concern are revenues collected through property taxes. Property tax receipts are worth the same as D.C.'s rainy day fund, an official explained.
He compared the lack of funding to airline passengers protocols when faced with an emergency, and the oxygen masks drops down, "We have to take care of ourselves as well as our citizenry." The lack of funding the relief current coronavirus relief bill does not allow D.C. to properly take care of its residents, officials said.
Bowser said a letter sent to Senate leaders addressed the discrepancies. She said she hopes the difference is made up in a future Congressional relief package.