WASHINGTON — Dozens of George Washington University students rallied outside the Tau Kappa Epsilon fraternity house Monday in response to a Torah being destroyed during an apparent break-in over the weekend.
According to the TKE fraternity and the university president, the fraternity house was broken into, vandalized and a Jewish text was desecrated.
George Washington University Police are working with DC Police to investigate the incident in which a Torah scroll was destroyed. It happened Saturday and was discovered Sunday morning, according to a police report.
"Our entire chapter is outraged and saddened by the blatant act of antisemitism against our brothers," the Tau Kappa Epsilon fraternity said in a statement on Instagram.
The fraternity said they are cooperating with police and the Anti-Defamation League.
WUSA9's Matthew Torres was at the rally and says dozens of people took to the streets with Torahs and even carried the destroyed Torah from the fraternity house.
In a tweet, the Anti-Defamation League of Washington D.C. said they were disturbed by the incident and said they were in touch with students and the campus police.
"We expect a full and rapid investigation," the ADL said.
TKE President Chris Osborne said Jewish members make up about a quarter of his chapter. He said members returned to the home around 2 a.m. on Sunday after a night out celebrating Halloween to find hot sauce splashed everywhere, floor detergent smeared on the basement floor, smoke alarms ripped from the walls and the scroll doused in detergent.
Osborne believed the incident was antisemitic because he claimed there were other religious texts in the house including the Bible that were untouched.
"I really, really feel horrible for the Jewish members in my fraternity who were directly impacted by this," Osborne said. "Right now I'm just trying to pull everyone and my chapter together and be a shoulder to lean on for people and move on together."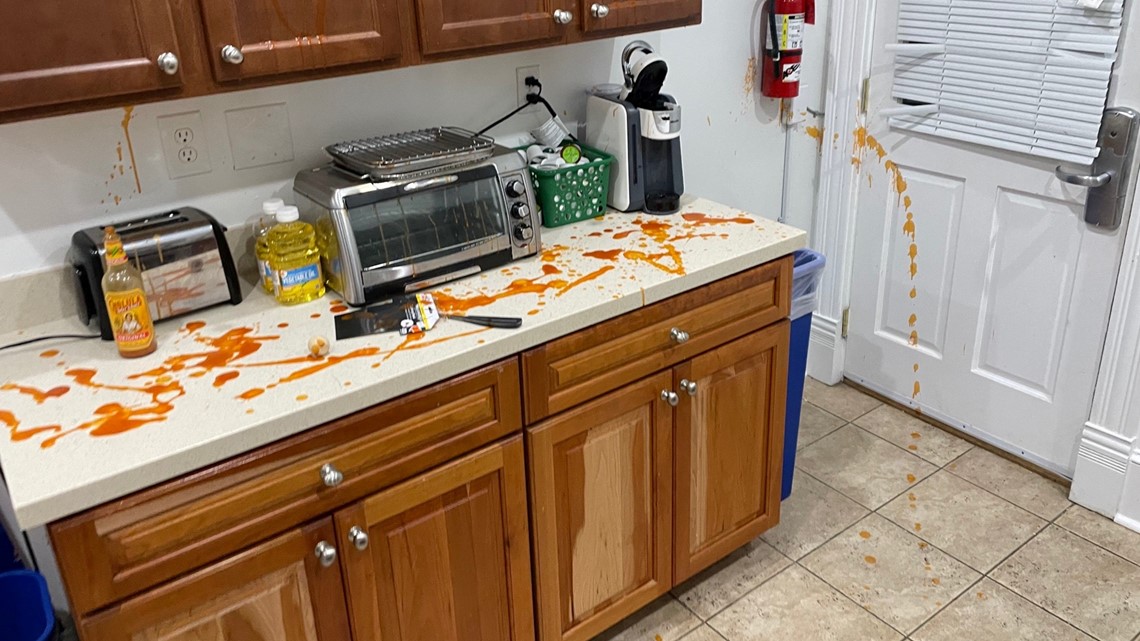 Hundreds of GWU students gathered at the steps of TKE on Monday to stand with the Jewish community and against any form of antisemitism.
Samson Kampler with the Chabad Colonial Organization at GWU and Rabbi Yudi Steiner of the Rohr Chabad Center at GW worked with the fraternity to hold the rally and Torah procession.
"What this incident symbolizes is an attack on Judaism's holiest artifacts and we're responding with more Judaism, pride, conviction and more Torah," Rabbi Steiner said.
George Washington University President Thomas LeBlanc issued a statement late Sunday saying that George Washington University Police is working with D.C.'s Metropolitan Police Department to find who is responsible.
"I want to be clear: I condemn all such acts of antisemitism and all forms of hatred, discrimination, and bias in our community. Any act of antisemitism is an attack on the entire GW community and cannot, and will not, be tolerated," LeBlanc's statement reads. "The safety and well-being of our students and all members of our community remains our foremost priority, and the university is providing all resources necessary to the investigation and to support our community."
"The Torah is the foundation of the Jewish faith, and it's desecration is an antisemitic act of disrespect toward the Jewish community on campus," GW Hillel said in a statement.
The investigation is ongoing. Anyone who may have information about this case is asked to call George Washington University Police at 202-994-6111 or MPD at 202-727-9099.
There is an average of one to two anti-Jewish hate crimes every day, according to the FBI.
In its 2020 Audit of Antisemitic Incidents, the Anti-Defamation League reports D.C. saw a 126% increase in incidents compared to the year before.