WASHINGTON — A jury convicted five anti-abortion activists Tuesday of conspiring to blockade a D.C. clinic in 2020 in violation of federal law.
Jurors deliberated for a day-and-a-half before returning their verdict finding activists Lauren Handy, Heather Idoni, William Goodman, John Hinshaw and Herb Geraghty guilty of two felony counts each of conspiracy against rights and violating the Freedom of Access to Clinic Entrances (FACE) Act.
Prosecutors described Handy as the organizer and leader of a plot to block patients from accessing care at the Washington Surgi-Clinic on F Street NW on Oct. 22, 2020. The day before, anti-abortion activists from around the country traveled to D.C. and gathered at a meeting where Handy, according to witness testimony, laid out the plan and also informed those who intended to physically obstruct the clinic they could face arrest. According to Caroline Davis, an activist who was at the meeting, Handy went as far as describing the specific statute, the FACE Act, under which individuals who blocked doors could be charged.
"This entire event, the invasion, the blockade, this case – it's all because of her," Assistant U.S. Attorney Sanjay Patel said Thursday.
On the day of the clinic blockade, Handy and long-time anti-abortion activist Joan Bell – who will go to trial with a second group of defendants next month – waited outside the clinic door while other activists, including her co-defendants Herb Geraghty and William Goodman, hid in an emergency stairwell with a bag of locks and chains. Handy had made an appointment under the false name "Hazel Jenkins." When a clinic employee opened the door, the activists rushed out of the stairwell and forced their way into the clinic in a chaotic struggle that sent a clinic employee to the hospital with an ankle injury. Surveillance video appears to show Handy giving directions to other activists, who then moved chairs in front of the door leading from the waiting room to the clinic. Two members of the group – Bell and Paulette Harlow – pulled chains out of a bag and affixed them to bike locks they had placed around their necks. They then sat in chairs in front of the door to form a physical blockade with other activists, including one of the defendants on trial, John Hinshaw. Others went back into the hallway, where some stood in front of the clinic's employee entrance and others attempted to persuade clinic patients waiting for their appointments to leave.
One patient, who testified under a pseudonym, can be seen growing increasingly distraught on DC Police body-worn camera video, shouting at one point, "How is this legal?" She eventually was forced to climb through a window into the reception area to evade the blockade. Another patient, who also testified under a pseudonym, said she collapsed on the floor outside the clinic in pain while her husband begged the activists to let her inside.
"We were not able to understand what was happening," she said. "He was just telling them, 'Please let her go. Please let her go.'"
While other activists were blockading the clinic, Handy went outside to, according to Davis' testimony, to delay police as long as possible. Body-worn camera video entered as evidence in the trial shows Handy telling police her group was there that day "basically blocking the facility to prevent abortions." Handy explained that members of the group who did not want to "risk the ordinance" would be praying outside of the clinic. Ultimately, the blockade last for more than three hours before police were able to remove activists from the facility. Body-worn camera video showed police using a saw to cut off the bike locks two of the defendants had placed around their necks before they were able to be arrested.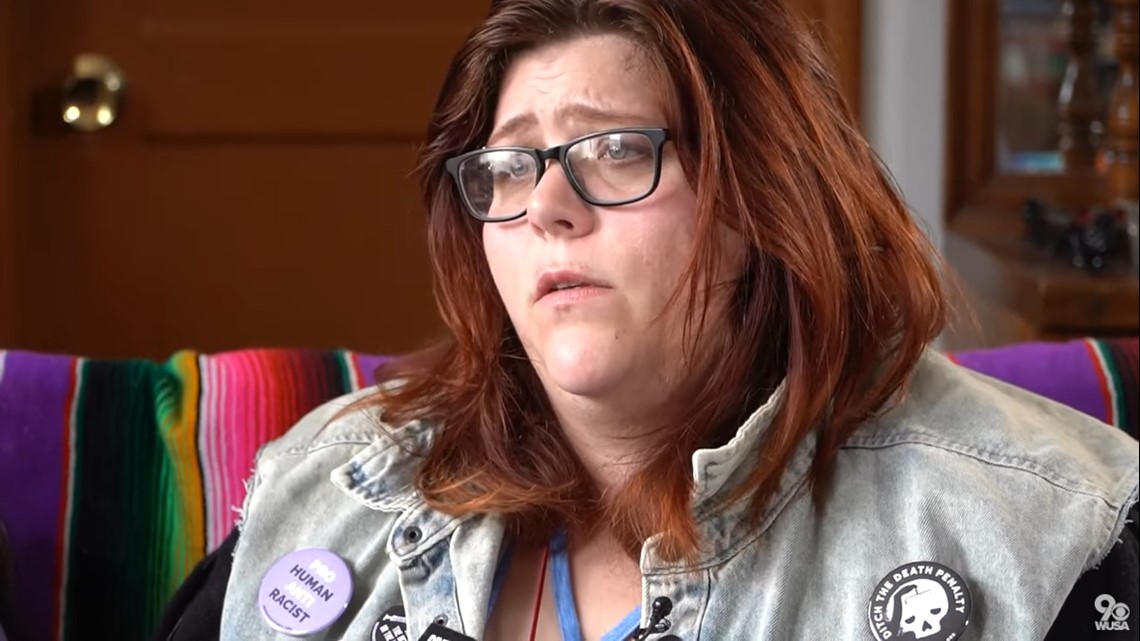 At trial, U.S. District Judge Colleen Kollar-Kotelly, a nominee of former President Bill Clinton, barred the defendants from arguing their actions were protected by the First Amendment or were committed in defense of a third person – which she described as a "vigilante" defense. She also barred introduction of a video of the clinic's doctor surreptitiously recorded in 2012 by anti-abortion activists. Handy and a second defendant, Geraghty, had hoped to argue the video showed the doctor admitting unlawful conduct. Kollar-Kotelly, however, said it was essentially a heavily edited "propaganda" video that would improperly prejudice the jury. Handy and Geraghty were limited on the stand to saying they'd viewed the video and that it had helped form the beliefs that led them to the clinic in 2020.
"In Lauren's mind, any person she can prevent from going into that clinic is a person whose baby will not be born alive and left to die," one of Handy's attorneys, Martin Cannon of the anti-abortion law firm The Thomas Moore Society, said during his closing arguments.
The trial was marked by an unusually high number of warnings from the judge to spectators in the public gallery, who had to be warned repeatedly not to attempt to influence potential jurors, interact with witnesses or make outbursts in court. In one instance, Kollar-Kotelly admonished a nun not to tamper with a witness for making the sign of the cross at her and reportedly saying the Hail Mary to her face in the hallway during a break in testimony.
Because jurors found the conspirators had committed a crime of violence by forcefully entering the clinic, Kollar-Kotelly ordered all five taken into custody while they await sentencing. A date for that hearing was not yet set.
After the verdict, supporters of the five defendants rallied outside of court and vowed to continue the rescue movement. Steve Crampton, a Thomas Moore Society lawyer who helped represent Handy at trial, said attorneys were already planning an appeal and efforts to get the defendants released while they await sentencing.
"In the end, I think this case is far from over," Crampton said. "Miss Handy is a person who has the courage of her convictions. Willing to do time – obviously doesn't want to do time. While she will fight on, we intend to fight on as well at the Thomas Moore Society."
Jury selection for the second group of defendants is scheduled to begin next Wednesday.