WASHINGTON — Food insecurity is a pressing issue in the DMV and WUSA9 is partnering with organizations throughout D.C., Maryland and Virginia to help provide relief to children and families who are experiencing food insecurity.
What is food insecurity?
Low food insecurity was formerly known as experiencing food insecurity without hunger, according to the USDA, and is defined as "reports of reduced quality, variety, or desirability of diet. Little or no indication of reduced food intake."
Very low food insecurity was formerly known as experiencing food insecurity with hunger, according to the USDA, and is defined as "reports of multiple indications of disrupted eating patterns and reduced food intake."
WUSA9 food drives
For six weeks, WUSA9 will host food drives across the DMV to collect food in partnership with local food distributors. Here are the six events WUSA9 is hosting:
July 7: Giant Food Store on Cherry Hill Road in Silver Spring, Maryland with food donations going to Kingdom Cares. You helped collect more than 4,000 pounds of food!
July 14: Giant on Linton Hall Road in Gainesville, Virginia benefitting House of Mercy. You helped collect more than 5,300 pounds of food and $5,686 in donations, translating to 5,041 meals.
July 21: Giant in Fort Washington, Maryland collecting for United Communities Against Poverty. You helped collect nearly 7,500 pounds of food and more than $1,100 in donations, equaling 6,282 meals!
July 28: Giant at Riding Plaza in Chantilly, Virginia collecting donations for Dulles South Food Pantry. You helped collect more than 2,300 pounds of food and more than $1,000 in donations, equaling 2,085 meals for the Loudoun Co. community.
Aug. 4: Giant in the Kingsbrook Crossing Shopping Center collecting items for The City of Frederick Maryland Food Bank
After four weeks, the total campaign has collected:
19,977 pounds of food
$8,712 in donations
Providing for 17,519 meals to be served
According to the Capital Area Food Bank's 2022 Hunger Report, one out of three people were impacted by food insecurity in the D.C. region.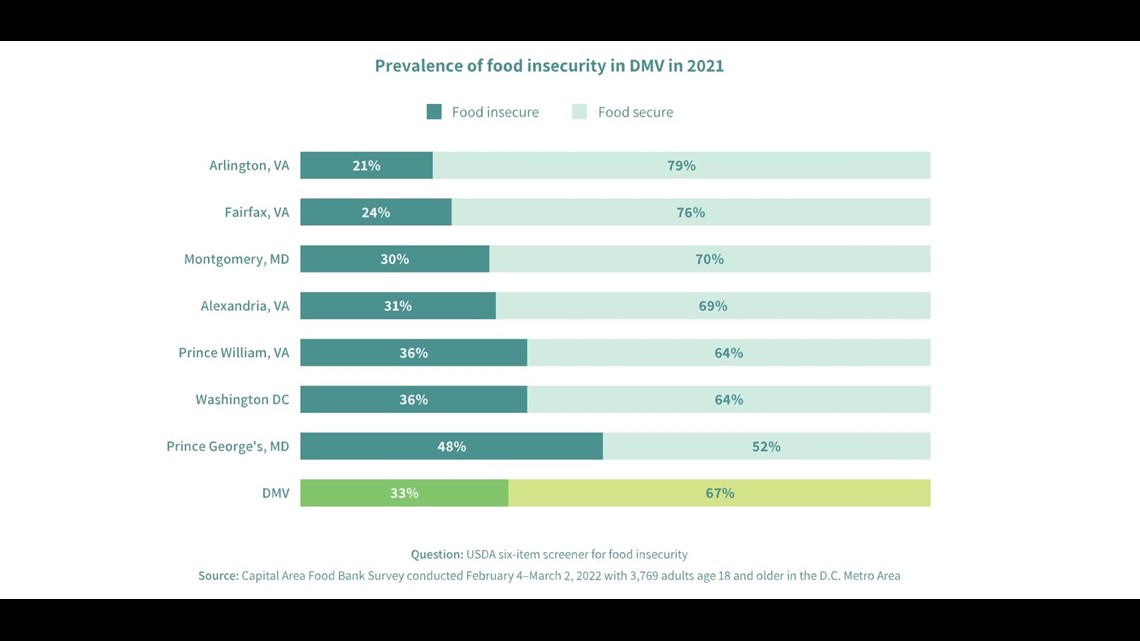 Are you looking to purchase fresh produce and additional food with EBT, WIC and other food assistance programs in D.C.? Well, look no further because WUSA9 has put together a list of places in the District with multiple forms of payment.
Arcadia Mobile Market
This mobile market serves some of D.C.'s most underserved communities. The mobile market hosts pop-ups and serves fresh produce to residents while also accepting EBT and WIC payments. The program runs from June until November and makes appearances Wednesdays, Thursdays, Fridays and Saturdays at specific locations for each day. If you wish to learn more about Arcadia's Mobile Market, check out their website.
SHARE Food Network of Washington D.C.
This program offers groceries at reduced rates for those who are paying with SNAP benefits, debit/credit cards, money orders, organizational/business checks and gift certificates. This program is available in D.C., Maryland and Virginia.
If you are interested in purchasing a food package from SHARE, you can view the monthly menu which is available both in English and Spanish, find your local SHARE host site and then speak with the listed coordinator for your local site to set up an order and schedule a pick-up date and time.
To learn more about the program, check out their website.
Farmers Markets
This organization has a farmers market open to the public every Saturday from 10 a.m. until 3 p.m. The Ward 8 Farmers market accepts EBT and WIC payments. Additionally, the organization participates in the Produce Plus program which falls under D.C.'s Department of Health. According to the Ward 8 Farmers Market website, they double the value of their food for EBT, WIC and additional food assistant programs. For more information about types of payment that are accepted at their market, visit their website.
Grocery Stores in D.C.
Some grocery stores and markets in the District accept WIC and SNAP/EBT payments. Here is a list of grocery stores that are authorized in D.C.
If you would like to know which retailers accept SNAP payments, visit the SNAP Retail Locator website created by the U.S. Department of Agriculture (USDA) and type in 'Washington, D.C.' to find stores in the area.