Sometimes good falafel comes with a side of hummus, but sometimes it comes with a side of cultural awareness too.
A local entrepreneur is bringing a whole new meaning to the deep-fried ball made from chickpeas or fava beans. And he's using his grandmother's authentic recipes to make "the best falafel around" and more importantly to ideally feed at least one million refugees; at least for starters.
Though in his eyes he's just "a Palestinian kid that came up in Kansas" and was raised by two Palestinian immigrant parents.
His parents raised him "pretty American with strong Palestinian roots". And Falafel Inc. ever so perfectly ties his heritage with what he believes in and stands for.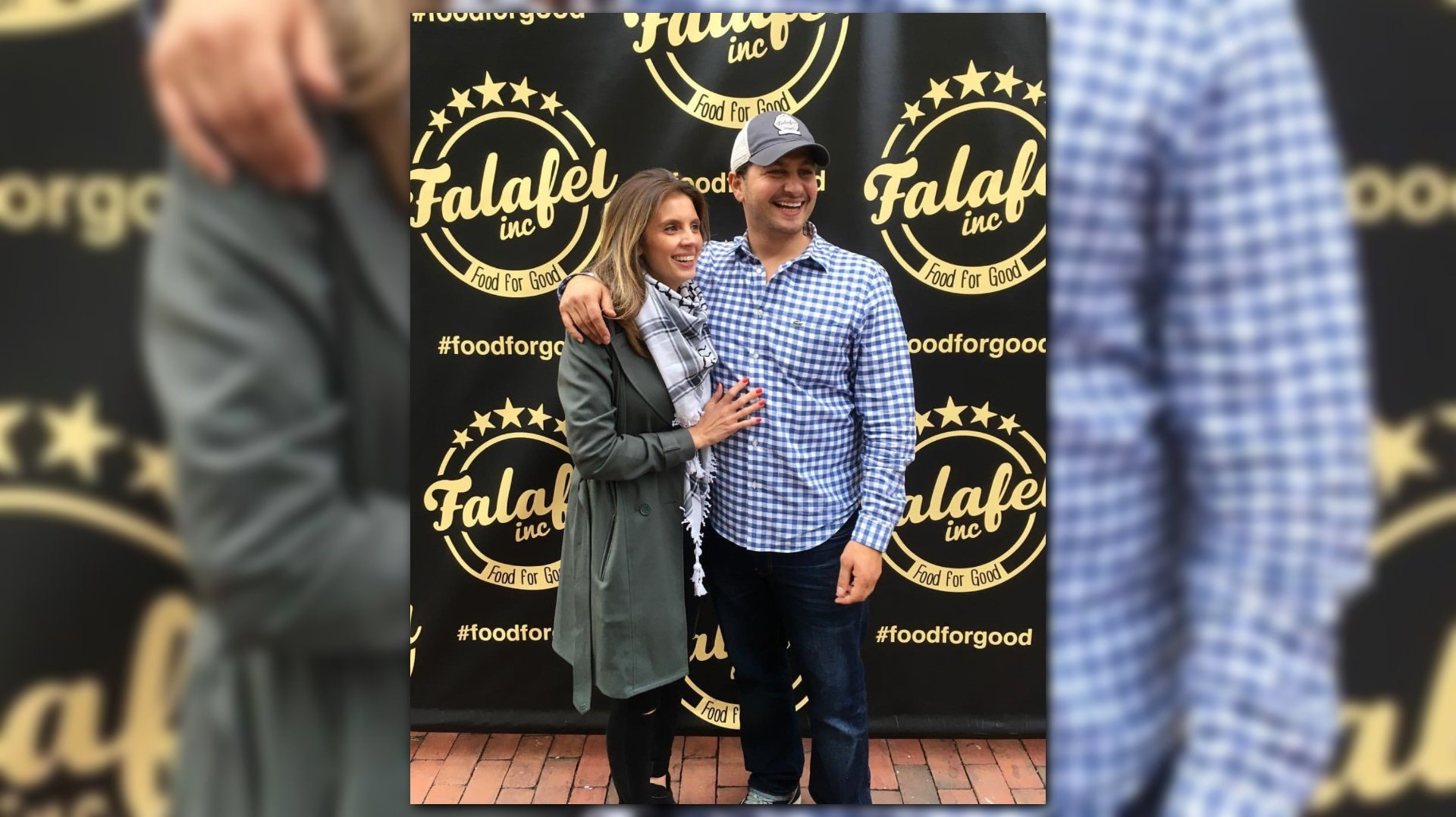 It's a simple concept that all started with a not so simple challenge. But before we get to how Falafel Inc. was born let's take a short walk in Ashkar's shoes.
Ashkar, whose story started in Kansas, grew up spending summers with his family in Palestine. He played football, attended Catholic school and eventually went off to university. He made his parents proud and landed a job on Wall Street, but when the stock market took a turn for the worst in 2008, Ashkar started to question his life.
So how does Falafel Inc. all play a role in this you may be wondering at this point.
In 2009 the young entrepreneur started the Hult Prize Foundation, "a not-for-profit organization dedicated to launching the world's next wave of social entrepreneurs." The idea behind the organization is to motivate the business minds to compete in teams to solve challenges the world is facing by using innovative ideas and creating startups.
This year's challenge was to create companies that will aid refugees and focus on the refugee crisis. And this is when Ashkar had the "aha" moment: Falafel.
"You might think falafel is cool and urban but refugees have to eat it everyday," he explained.
The Palestinian-American business success believes this will help "people to understand the plight of the refugee."
Not only do customers get a bite of what some Middle Eastern refugees may be experiencing on a daily basis, but for a brief moment they will feel and see it as well.
"The falafel stand is built the same way a stand would be built at a refugee camp," Ashkar elaborated.
"We want to raise awareness around the plight of refugees and we want to be on the front end of people's awareness level."
Although it is too soon to discuss what the Falafel Inc. is doing in terms of awareness, one thing is certain: it has grabbed the attention of Washingtonians.
The shop hasn't even been open a week, but they've sold out of food every single day -- which is probably a good sign.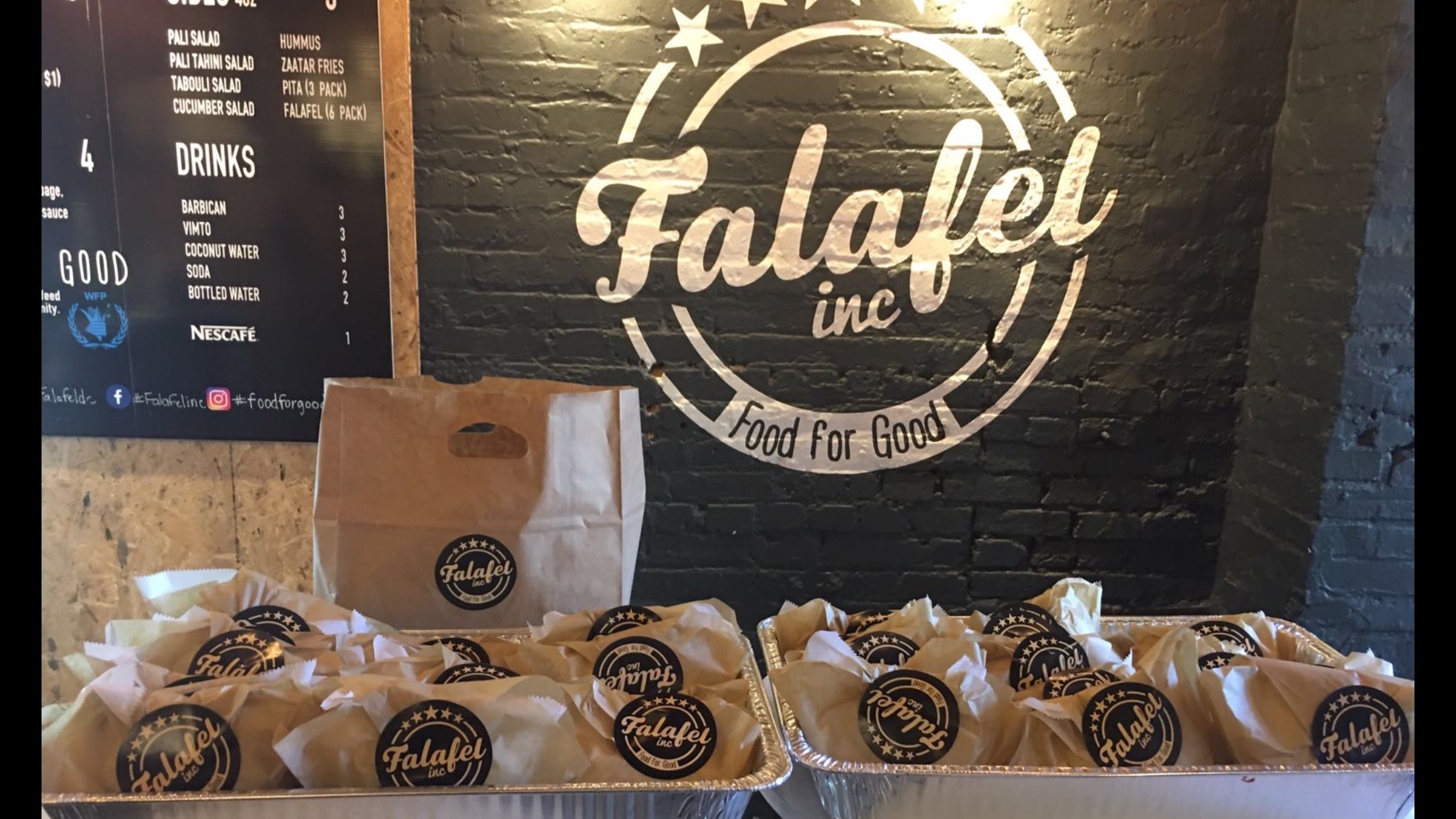 Remember: Ashkar did say they had "the best falafel around."
But in all seriousness, the concept seems to be luring customers in, specifically millennials, Ashkar said.
"People are eating out more, looking for something healthy and they're getting the chance to eat with dignity."
Besides, spending $3 on falafel sandwiches and $4 on falafel bowls is also easy on the wallet.
Ashkar said that everyone keeps asking "Why is it so cheap?" As you've probably gathered from this strategy and story by now, it's all about awareness and understanding. And falafel is a cheap food.
Now to the bigger question: How does eating a falafel sandwich in DC help refugees on a global level? The economics are simple; Every $10 you spend at Falafel Inc. goes to feeding one refugee a day.
The local falafel shop is working with the World Food Program, an organization that focuses on addressing hunger and promoting food security. The money you spend at the Falafel Inc. will go to a refugee anywhere in the world.
"We are here to empower refugees around the world. There's no discrimination," Ashkar added.
But empowering refugees around the world isn't the only thing Ashkar plans on doing. The entrepreneur wants to open up at least 100 more Falafel Inc. shops worldwide. Boston, Rio de Janeiro and London are just a few of the cities on the list.
"My bigger goal is to create a 'food for good' revolution." He wants more brands and restaurants to follow suit.
"I'm one person....and I think I can get to one million people, imagine if others joined in," he said.
However as for right now Ashkar laughed, "my full time job is taking a hit right now." So he's focusing on the present and taking it one falafel at a time.
Falafel Inc. is located at 1210 Potomac St NW, Washington, D.C.