GERMANTOWN, Md. — The Montgomery County Police Department stated they won't be hanging a gifted wooden flag after County Executive Marc Elrich prohibited the flag from being posted following online backlash, causing Maryland Governor Larry Hogan to speak out.
In response to National First Responder's Day, Germantown resident James Shelton and his son Forrest gave custom wooden American flags to the Fifth District Police Station in Germantown on Oct. 28. They also delivered the wooden flag to Fire Station 21 in North Potomac, which featured a red line instead of blue.
On Oct.30, Montgomery County Police posted a photo on Facebook of Shelton and his son in front of the station with the donated flag and several officers.
The post quickly receieved negative feedback, with people commenting that the blue line was a symbol used by white supremacists during the riots in Charlottesville, Virginia. Others said the line represents the Blue Lives Matter movement -- which some consider a racist response to the Black Lives Matter movement.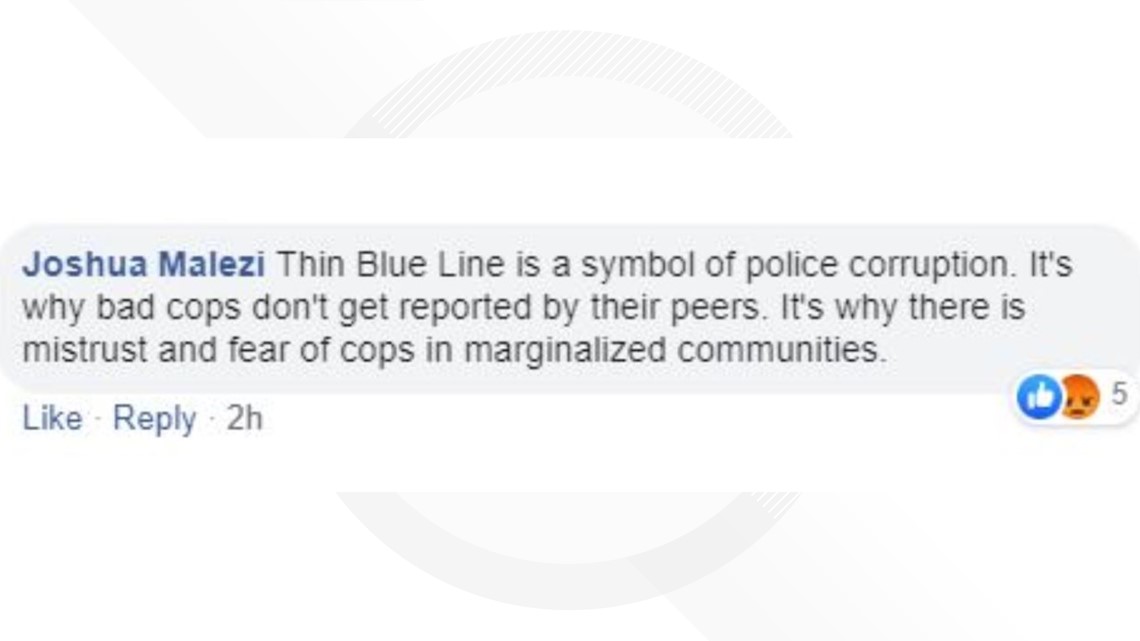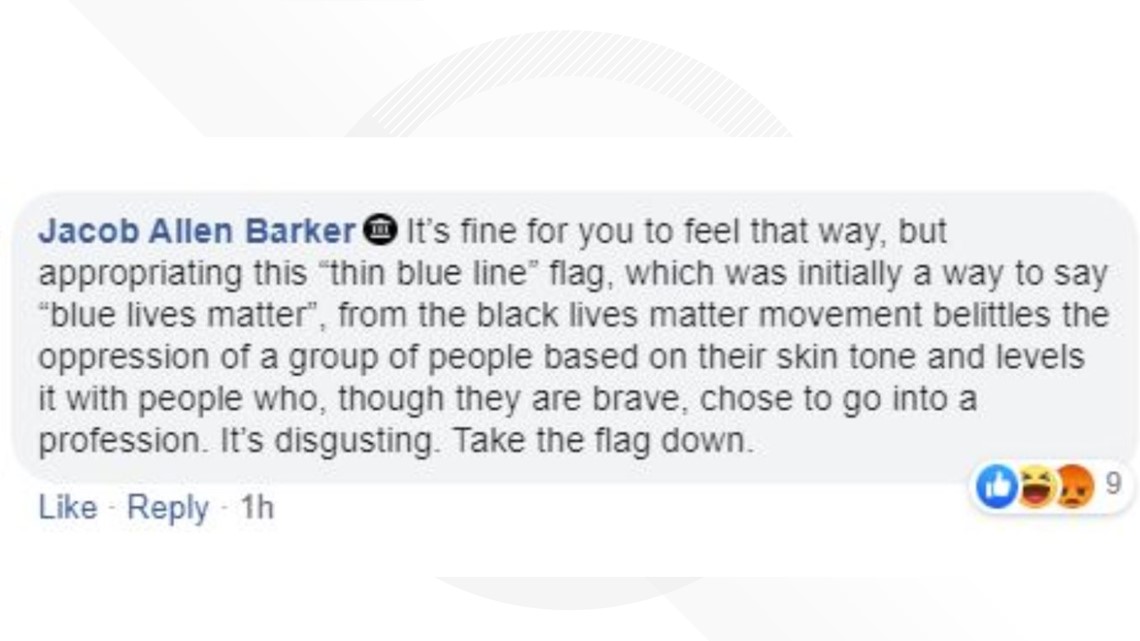 Some said they wished for the flag to be taken down, because it violated the flag code.
A spokesman for the Montgomery County Police Department said in a phone call Sunday that it's unfortunate that the Sheltons have gotten mixed up in the controversy.
"They're good people, and they were trying to do something very nice to honor our first responders," Captain Tom Jordan said ."Unfortunately, it's caught up into this vortex right now. We're very thankful for what the Sheltons did, and it's just unfortunate that it's spiraled in to this situation."
In response to the backlash, Montgomery County Executive Marc Elrich prohibited the station from hanging the flag. On Friday, Montgomery County Police tweeted a response from Elrich regarding the decision, stating that hanging the flag created too much division.
"The flag provides a symbol of support to some but it is a symbol of dismissiveness to others," the statement said. "Because it is divisive, the flag will not be posted at the 5th District nor in any public space within the Police Department."
Elrich said both he and Acting Police Chief Marcus Jones understand the concerns of the community.
"Under my administration, we are committed to improving police relations with the community and will immediately address any action that stands against our mission," the tweet quoting Elrich stated.
Captain Jordan said he understands both sides of the argument.
"Whereas I might see that flag as representing first responders and police officers as a profession, there are others who see the flag differently with a different connotation to it," Captain Jordan. said. "And in this day and age, divisiveness in the community is something that we're trying to avoid. So I think what's happening is a deeper conversation at this point."
Governor Hogan disagreed with the county executive's decision, saying the flag had a right to hang and represented the service and dedication of those in law enforcement.
"It is simply not appropriate or acceptable for the county executive to arbitrarily ban police officers from displaying a Thin Blue Line flag that was donated to them by a young boy in honor of National First Responders Day," Hogan stated in a Facebook post Sunday.
According to another post made by Hogan, there are currently Thin Blue Line flags on display in the Maryland Executive Protection Command Center. Hogan said he was proud to hang the flags to honor law enforcement officers.
"I have attended the funerals of fallen law enforcement officers across our state, and I take time to thank them every day for their dedicated service and sacrifice, Hogan stated in the Facebook post. "We proudly hang this very same American flag in Government House in Annapolis in their honor. To outlaw, these American flags from being hung in county buildings by law enforcement officers is outrageous and unconscionable."
Governor Hogan called on the county executive to reverse his decision and apologize to the police department.
WUSA 9 reached out to Shelton and the county executive Sunday for comment and are awaiting a response.
Let Jess Arnold know what you think about the debate on Twitter @JessArnoldTV.