WALDORF, Md. — Tucked away in a warehouse district, about 30 miles outside of the nation's capital, is a piece of history. Charles County is the home to Patuxent Brewing Company. The independent brewery opened its doors in Waldorf about a year and a half ago.
The owners, Davie Feaster, Gene Lott and Kevin Boseman are part of a very small group in the United States.
Craft beer is a booming, billion-dollar industry. Even during a tough year, small craft brewers contributed $62.1 billion to the U.S. economy in 2020, according to the Brewers Association.
There are nearly 9,000 craft breweries in the country, but less than one percent are black-owned.
"If people coming up in the business of brewing don't see it, then they're not going to be inspired to do it. So us being around, they're seeing it," said Gene Lott, co-owner and taproom manager at Patuxent Brewing Co.
PHOTOS: Patuxent Brewing Company | Bringing diversity to the beer industry
The crew has collaborated with other brewers, sharing everything they know about breaking into an industry that is lacking in diversity. Those brewers include Jasmine and Drew Dill, who just introduced their brand, Liquid Intrusion, in 2021.
"It's just me and my wife. We're a two-person operation in our garage and we're making it work," said Dill.
Davie Feaster and his team also support brands like Black Viking Brewing and Urban Garden Brewing by selling their products out of their taproom. The Patuxent team mentors others to pay it forward, because a big part of who they are now, is thanks to the help they got from some 2,700 miles away in Inglewood, California.
In 2020, they received a $25,000 grant from Crowns & Hops Brewing Company. Teo Hunter and Beny Ashburn are the owners of the California brewery that not only push minority brewers to break into the craft beer industry, but also give them the tools to do so.
"It [the money] got put to a lot of good use and from there it just blew up," said Lott.
That money came from Crowns & Hops '8 Trill Pils Grant.' The grant program awarded a total of $100,000 to five Black-owned craft beer businesses, to help them grow.
"Craft beer is an extremely capital intensive industry. It takes an exorbitant amount of cash, equipment and access to capital in order to get that business off of the ground. I think 2020 really allowed us to investigate why those disparities to capital existed in the black and brown community," said Teo Hunter, with Crowns & Hops.
Crowns & Hops has also launced an equity crowdfunding initiative. That initiative esentially allows the community to have a piece of ownership in the company. To date, they have more than 1,000 investors and have raised nearly $750,000.
Here on the east coast, Patuxent Brewing Co. is the only Black-owned brick-and-mortar brewery in our area. It's also where in late December, the DMV's black beer brands got together, some meeting for the first time. They had a roundtable discussion about the lack of diversity in the brewing industry, and how to change it.
Marcella Robertson: Why did you want to break into the craft beer industry?
Eamoni Collier-Urban Garden Brewing: "The entire market has left black people out, from the brewers to the beer drinkers and we're all just trying to change that."
Kofi Meroe-Sankofa Beer Company: "My co-founder and I spent 8 years homebrewing and perfecting our craft. We are also extremely active consumers in the market and wanted to be fully invested in the craft beer culture and movement."
Gene Lott-Patuxent Brewing Company: "We realized there wasn't a space for us. There are a lot of different breweries around and sometimes we as a culture may not feel comfortable going to certain spaces."
Jasmine Dill-Liquid Intrusion: "With this brand we're trying to put out there, we want to show that black women do drink craft beer and it's good it's great quality, it's great product."
Marcella Robertson: Why do you believe the number of black-owned breweries in the U.S. is so low?
Shaun Taylor-Black Viking Brewing: "It's really about education and access. Education along with access and visibility. Those things will really start to open up doors for beer makers and black beer consumers as well."
Alfred Rotimi-Joyhound Beer Company: "The biggest reasons are lack of capital, lower traditional connections to the leadership positions in brewing, and less exposure to craft beer."
Marcella Robertson: As far as diversity, where do you want to see this industry in the next few years?
Charles Rominiyi-Black Brew Movement: "At the end of the day, we're just trying to add value to the craft beer industry and we don't want to be treated differently."
Drew Dill-Liquid Intrusion: "We don't want to overthrow the bearded flannel shirt folks, we just want a seat at the table. That's all we want."
Many of these brands have become a staple in the community as they work to marry craft beer and the culture. The taproom at Patuxent Brewing Co. has also become a special gathering place for people in Southern Maryland.
"This is almost like a getaway from the real world. You can see people in here from different backgrounds, but none of the drama from the real world is in here," said Chester Waters, a regular customer.
The nano-brewery is a couple of steps up from home brewing. They have a three-barrel system that can produce about 90 gallons of beer at a time. That process can take anywhere from 12 to 14 hours, followed by a week of fermentation.
"Our production facility is small, but it's ours and we love what we do here," said Feaster.
As they work to nurture the space they have created for their community, the Patuxent Brewing team says they will always continue their work to increase diversity in the craft beer industry through mentorship and education.
"Those who come in and say I don't like beer, I want to educate them and say it's more than what we grew up with. The malt liquor and bottom of the barrel stuff. There's more to beer," said Lott.
Here are the black-owned beer brands to check out in the DMV: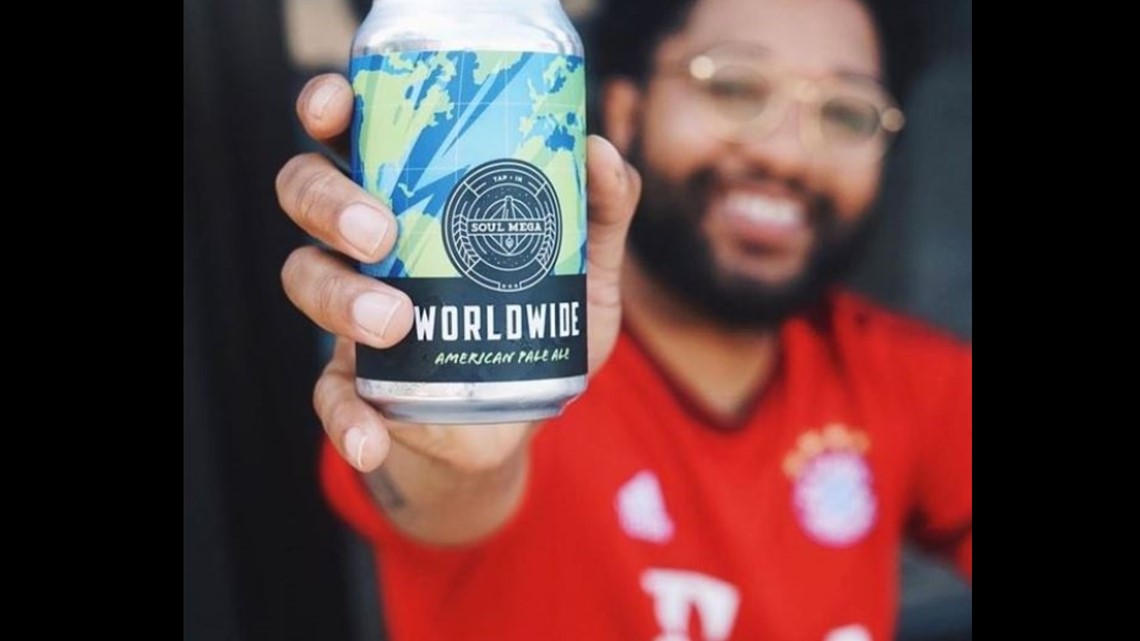 Behind the scenes look inside Patuxent Brewing Company: