Steve Beggs is an Alexandria, Va. husband, father of two and real estate entrepreneur who is active in his community and gives back by raising awareness about men's health through The Movember Foundation.
He also volunteers as a substitute teacher at a local juvenile detention center. "Most people just drive up to the facility and turn back around," says Beggs.
On the surface, no one would ever guess that he's battled health issues his entire life—the first at just 21 years old.
"I was young. I was in college and I was shocked," he recalls.
Beggs was diagnosed with Desmoid tumors, an abnormal growth in his pelvic region. He had surgery to have them removed, but the tumors—which he later found out were cancerous—came back three more times over the past 20 years.
The third time the tumors grew back, doctors had to remove his prostate and bladder.
"And I thought if I can survive that, then I can survive anything," says Beggs, who is now 43 years old.
The past year, he says, has been the toughest. He was working to get a new business he started, Tartan Properties, off the ground while he and his wife, Martha, were expecting their second daughter.
"It had initially started with what I thought was a sports hernia because I had that surgery, too," says Beggs. "Even with my history I didn't think about it and then the pain woke me up at night, so I got the diagnosis," he says.
The tumors had returned for a fourth time and instead of planning for his new baby, Beggs spent the next year in treatment.
"After the surgery I had another [three] months before the baby was going to come," he explains. "And the doctor said, 'You can't pick up anything heavy, like more than like five pounds for three months.' They had to move a muscle internally in order to do the surgery, so I was on a walker for a while. It was almost like I had a C-Section and you can't stretch out . . . and I thought, 'That's going to be hard . . ."
But it was his wife, Martha, who convinced the active dad to take it easy.
"She was like, 'Hey listen this baby is coming and you need to be able to pick the baby up."
The baby is now 14 months old and Beggs' eldest daughter is 5 years old.
Now fully back on his feet, Beggs says his new priority is to spend as much time with his family as possible and to do more of the things he loves.
"I love to sing and I always thought I need to make more time to do it and thankfully I've been able to afford myself the time to sing and be able to do it with folks and that's an important expression for me."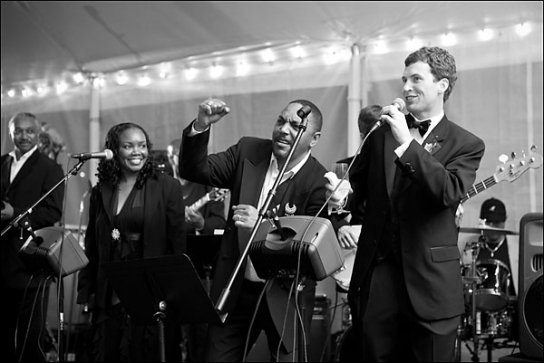 Beggs also has made it his mission to spread kindness, a message that he even has posted in his front yard.
"What that sign says to me is, number one: why not? You should be kind to people. But number two, the overall idea is that no one knows what's happening in people's lives," says Beggs. "You don't know and you could judge people based on a situation where they cut you off or they were grumpy they didn't look at you, but you really honestly don't know what's happening, so be kind to people because they could be in a tough situation—and they deserve it."