WASHINGTON —
Friday looks to be our next Weather Watch Alert Day due to rain and the chance for snow or a wintry mix north and west of D.C.
According to the European model, our suburbs have a decent chance of seeing some wet snow Friday night. In the GFS model the potential for wintry weather is low, not quite zero. Here's how the two models agree and disagree on Friday's Weather. Just to make the situation more complicated yet another U.S. model keeps us dry but cold.
European
The Euro is mainly dry through the early afternoon with most of the rain or mix Friday night. As far as wintry weather goes, the Euro is predicting some wet snow as far south as Rockville. The Euro brings in colder air Friday night and Saturday morning. In summary, the Euro is slower moving the rain into the DMV Friday and colder with some snow or a mix north of D.C.
GFS
The GFS model shows widespread rain all day Friday.
From your commute to work to your drive home skies will be soggy. This model does not show any potential for snow on Friday, just cold rain. By Saturday morning, a few areas near Hagerstown and Frederick could see a wintry mix.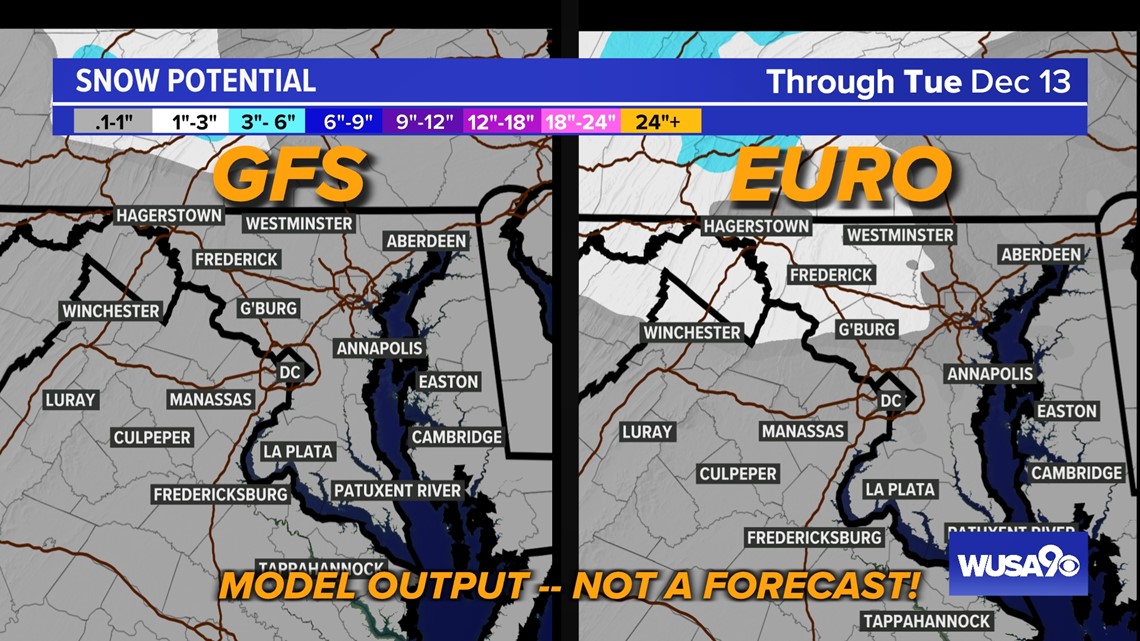 As of now, our models don't fully agree on the exact timing and intensity of the rain we are expecting on Friday or how far the south cold penetrates. However, they do agree that the potential for wintry weather is low.
They also agree that if there is any snow there will be little to no accumulation and impact. This is a dynamic situation. Please check back frequently.