Get ready for a soggy weekend. Rain becomes increasingly likely late on Saturday through early Sunday. Saturday night looks miserably wet, so make plans for Friday night instead.
But even though this rain falls on the weekend, we should be thankful for it - because we are in need of a soaking rain!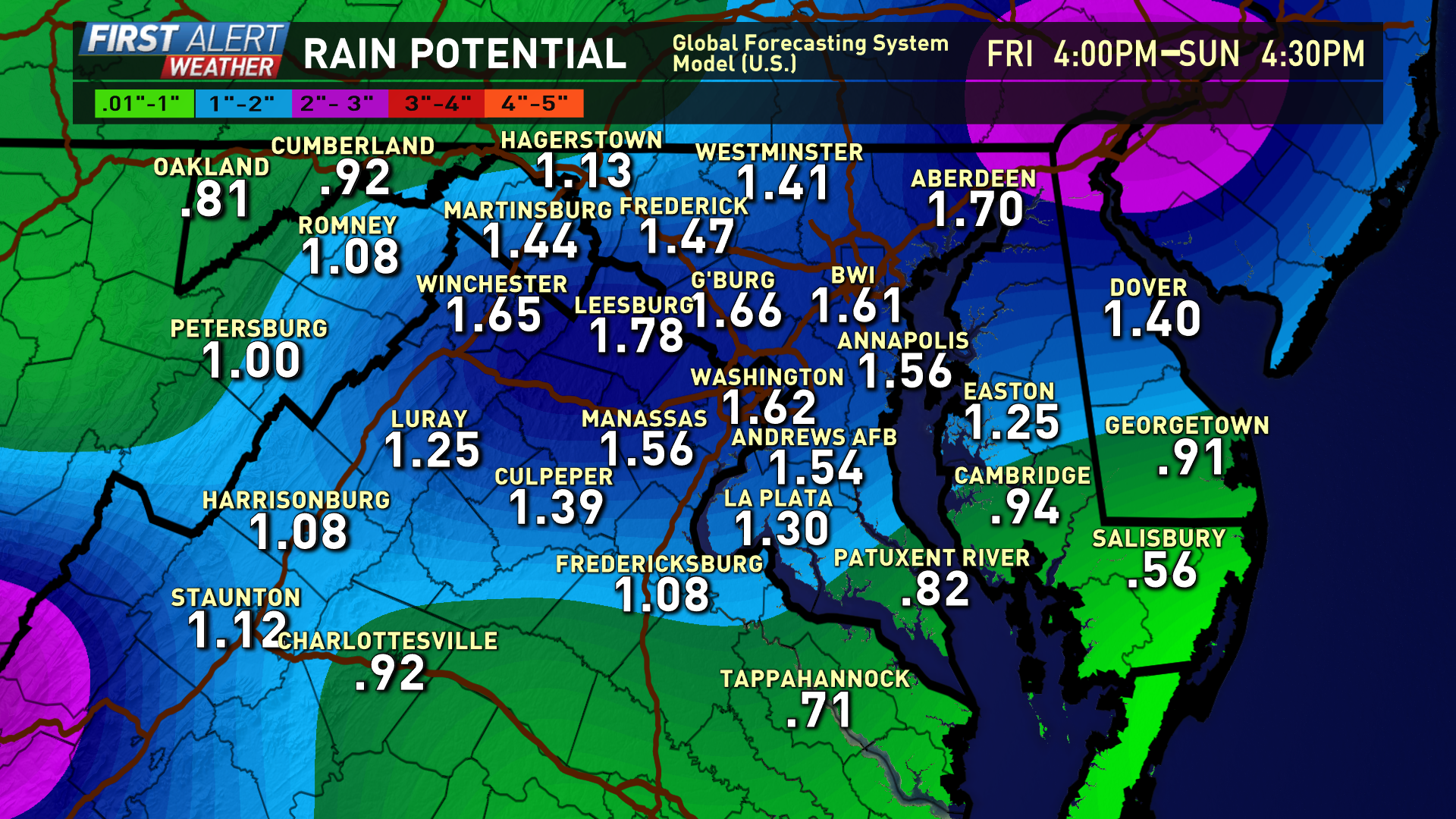 Below is the latest Drought Monitor, updated on a weekly basis. This winter, our drought conditions have gradually worsened with a significantly dry December and January. These drought conditions are in the D2 "severe" category right over the I-95 corridor of the DC metro. Both Virginia and Maryland have issued "Drought Watches" for the potential implications as we head into the spring and growing season if conditions do not improve.
What are the impacts of this drought? While impacts this time of year outside the growing season are not felt by most of us city folks, The National Weather Service in Sterling, Virginia reports that there have been significant agricultural impacts to winter wheat, and that wells and ponds could go dry if the conditions worsen. Soil moisture levels remain low, but with our recent uptick in rainfall, groundwater levels are no longer dropping as they were at the turn of the calendar year.
We need rain. We need a good soaking rain. We need several soaking rains. Will this weekend's be enough to put a dent in our drought?
No. But it will begin to slow down the rate of our drought development. Check out the stats below. The first week of February was wetter than all of December and January combined. This weekend we could add another 1-2" to the rain gauge.
November 1st through February 7th, we have developed a rainfall deficit of nearly 5" in DC, and 3"-5" across the entire metro DC area. So although this weekend's 1"-2" will help, it's not enough to stop the drought. We would need 5" of rain on top of our normal February climatological monthly rainfall total of 2.62".
If we don't catch up on rainfall and our deficit, there could be more significant agricultural impacts or local water restrictions in the summer if the drought worsens to extreme or exceptional levels for a prolonged time. The most recent really bad drought in the DC area was Fall of 2001 and through the fall of 2002. Summer 2002 there were water restrictions across the area and they almost had to begin water releases from a nearby reservoir. There was another less extreme drought the summer of 2007.
Download the WUSA 9 App for Weather Alerts.