WASHINGTON — Dorian is now 'post-tropical', meaning it's no longer a fully warm core system. It continues to race on into Nova Scotia and other parts of southeastern Canada Saturday night with still hurricane-force winds and huge waves. From there it will head into the northern Atlantic.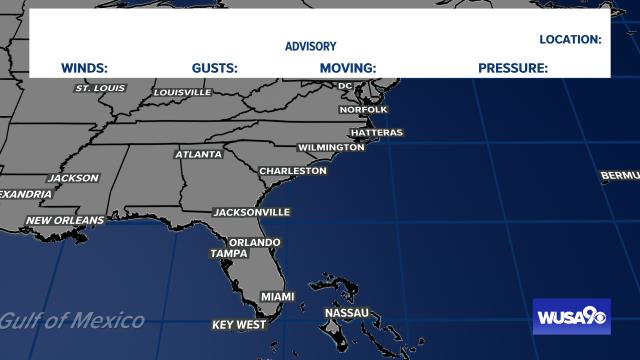 RELATED: DC Local Weather Forecast
RELATED: How to prepare for a hurricane before it arrives
National Weather Service: Hurricane Safety Tips and Resources

The Atlantic Hurricane Season is Picking Up
In addition to tracking Dorian, we now are tracking Gabrielle way out in the Atlantic. There is also another tropical wave in the eastern Atlantic with a 50% chance of development in the next 5 days.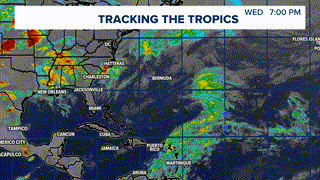 Climatologically, the bulk of tropical storms and hurricanes develop after Aug. 20. That's because we have the warmest waters of the year at this time which serve as fuel for intensifying tropical systems and hurricanes. September is the busiest month of the Atlantic hurricane season, when atmospheric and environmental conditions are typically the most favorable.
RELATED: Local Weather Forecast in DC, MD, VA

The season lasts until Nov. 30. Through September fourth Aug. 28. We've have had seven named storms, including two hurricanes.
RELATED: Hurricane Dorian hits U.S Virgin Islands as Category 1 storm
WUSA Weather
RELATED: Airlines offer travel waivers as Dorian reaches hurricane strength
The next name on the list of Atlantic hurricane names is Gabrielle. The World Meteorological Organization maintains the list of names. There are six lists that are reused every sixth year. However, the WMO retires names of tropical storms and hurricanes that have been especially damaging or deadly. For example, there will never been another Katrina, Andrew or Michael.
There are also different lists for different parts of the world using names in the languages that are indigenous in that region.
RELATED: NOAA increases likelihood of an above-normal Atlantic hurricane season
WUSA
RELATED: How to customize the stories and alerts you get from WUSA9
Download the brand new WUSA9 app here.
Sign up for the Get Up DC newsletter: Your forecast. Your commute. Your news.