WASHINGTON — Dorian DMV impact key points:
A Tropical Storm Watch is in effect from north of Chincoteague, Virginia, to Fenwick Island, Delaware, for the Chesapeake Bay from Smith Point to Drum Point, and for the Tidal Potomac River south of Cobb Island. This includes St. Mary's county in southern Maryland, Westmoreland county in the northern neck, and from Cambridge to Ocean City southward in Delmarva.
A Tropical Storm Warning has been issued from the North Carolina/Virginia border to Chincoteague, Virginia, and for the Chesapeake Bay from Smith Point southward.
Critical timing: Friday morning, afternoon and evening
What's left of Dorian may bring showers and windy conditions (20-35 mph) to parts of the D.C. area Friday
Stronger winds will be likely along the Delmarva coast and southeast Virginia along the coast. Gusts could reach up to 60 mph along with high waves (6'-10'+), beach erosion and heavier rain
Stronger part of storm stays south and east of the area
This extended outlook is subject to change. Please keep checking for updates.
The center of Dorian passes southeast of the DMV and will bring some impacts to our local beaches on Delmarva. With the current cone of uncertainty being several hundred miles away from D.C., the storm will have a low impact in the metro. Moderate impacts can be expected along the coast. A Tropical Storm Watches are in effect in pink below, where tropical storm conditions are possible within 48 hours.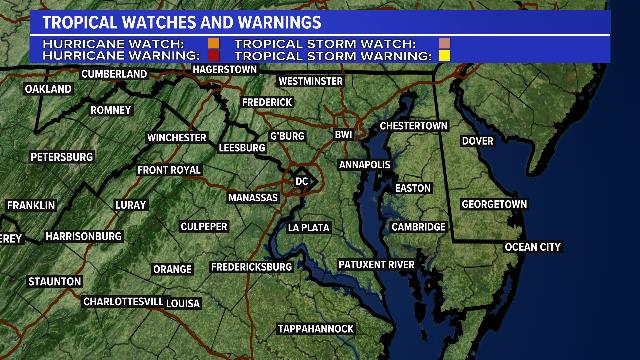 Here's What To Expect By Zone By Zone:
Dorian In The DMV: Impacts to Expect

Northwest of DC & I-95

Cloudy
Breezy
Isolated Showers

East of I-95 and Southern Maryland

Cloudy
Showers Likely, Some periods of steady rain in southern Maryland
Breezy to Windy - Gusts 20 to 35 mph
Tidal Flooding possible - Both Friday & Saturday

Lower Chesapeake Bay & Southern Delmarva

Rain Likely, Some Heavy
Windy - Gusts 35 to 60 mph
Atlantic - Waves 6 to 10 feet+
Rip Currents
Beach Erosion Likely
Coastal Flooding Friday, Bay Flooding Friday & Saturday

Wind Gusts - Model Forecast
The highest winds will be along the coast, where winds could gust 35 to 60 mph Friday afternoon and evening. This is the NAM model below, which is one of our most aggressive weather models for this event (worst case scenario for winds). This shows gusts along some of the Delmarva Beaches over 50 mph. Gusts in lower southern Maryland up to 40 mph, and just a breezy day in DC.

Being that the center of Dorian stays several hundreds of miles away from the inner metro, steady rain is not in the cards. A few showers are possible. In our 'moderate impact zone' across the lower Bay and southern Delmarva steady rain can be expected which will be heavy at times. Rain totals there could exceed 1 - 3 inches.

As Dorian approaches and passes by to the southeast, large swells and rough surf can be expected. For Delmarva beaches, 6 to 10 foot waves are possible. For Virginia Beach, waves could reach 8 to 12 feet, and for the Outer Banks where the center of Dorian will pass, waves will be higher.
Beach erosion is likely and all this week ahead of the storm there is a high risk of rip currents.