WASHINGTON — Every February 2nd, a group of bearded men reach inside a cage and pull out a groundhog.
The two most famous are "Punxsutawney Phil" in Pennsylvania and "Beauregard Lee" in Georgia. The lore is that if he sees his shadow he gets scared and runs back into his lair preparing for six more weeks of winter.
If he doesn't see his shadow, then he remains out and declares an early end to winter.
This February marks the 134th year of this rather unique tradition. And Phil has quite the track record of seeing his shadow more often than not. But this year, he decided spring has sprung!
The groundhog has declared spring only 19 times. He has not seen his shadow only 14% of the time.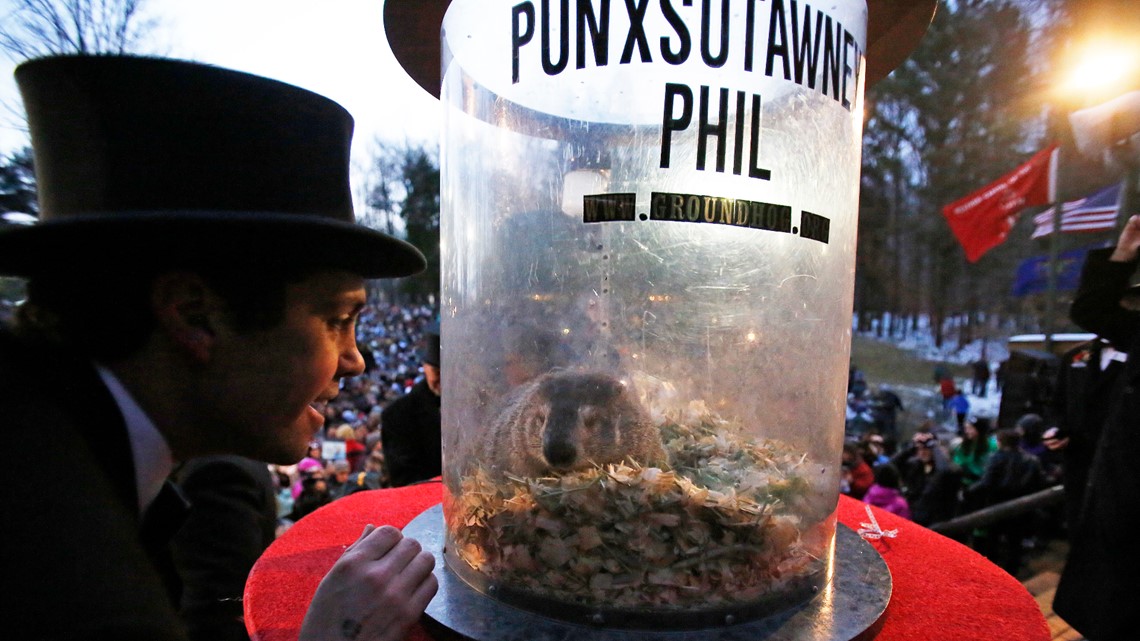 We've looked back at the data and Phil is only "accurate" about 40% of the time. Certainly nowhere near as accurate as D.C.'s most accurate, the WUSA 9 Weather Team.
Here were the WUSA9's predictions before Phil didn't see his shadow:
Topper's Prediction for 2020
I think "Phil" will see his shadow this year. He usually does with the TV lights regardless of the cloud cover!
Whether Phil sees or does not see his shadow, NOAA is calling for near average to slightly cooler than average temperatures for the D.C. Metro Area during the month of February.
Did You Know? Some Groundhog Day History
The Romans celebrated a similar day also in early February. There are a lot of pagan ties to this day and tradition. February's Latin derivatives imply February to be a month for purification.
In England this day was called "Candlemas Day" and was celebrated by a parade of candles. This day marked the midpoint between the Winter Solstice and the Spring Equinox. Much like Phil's idea of forecasting if the weather were nice on that day then more winter was ahead but if the weather were bad then here comes spring.
Later the tradition in England involved hedgehogs. Hedgehogs were chosen because they are insectivores. If the insects were out then the hedgehogs were out and winter was over. Since we have no hedgehogs we use groundhogs (ground squirrel).
So let's get this straight...we use the wrong animal for the wrong thing for a pagan holiday. In fact, the groundhog hibernates and would not be out and about anyway.
Sometimes Phil bites his handler. This last happened in 2015. Can you blame him?