WASHINGTON — Drought conditions across the D.C. area continue to worsen as rainfall has been severely lacking this fall. The most recent U.S. drought monitor, issued Thursday, October 17, shows the moderate drought in tan/light brown with areas of severe drought in darker brown.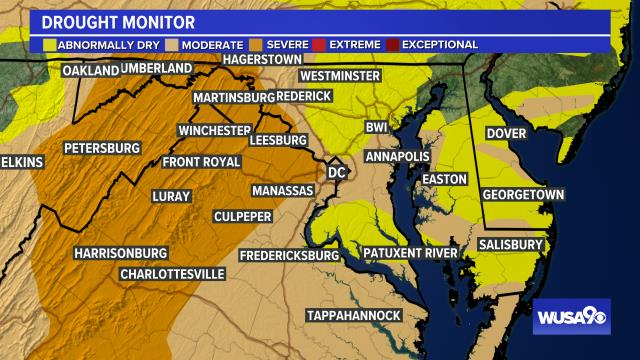 This year's drought is known as a 'flash drought', in which a short-term dryness and the heat in September was able to overcome the previous wet months earlier in the summer and spring.
RELATED: Thanks to a flash drought, you can now cross from Virginia to Maryland without a boat or a bridge
As of Wednesday, October 16, we have picked up and inch of rain across the entire Metro Area.Since August 1, we have a rain deficit of over 5 1/2 inches. This encompasses D.C.'s 4th driest September on record and a very dry start to October.
But as you look at the longer term picture over the entire year, thanks to our rain surplus earlier -- we're still running a bit above average for precipitation for the year of 2019.
wusa9 weather
RELATED: Drought conditions continue to expand across the DMV
There IS rain coming!
Good News: Moderate to heavy rain fell across the entire D.C. area Wednesday. Futurecast shows both an incoming cold front and a secondary wave of low pressure developing near the coastline. This is a winning situation for us. The coastal system will help to draw moisture into our area. If it were just a cold front coming in from the west, it could have ended up 'moisture starved' with under-performing shower chances like other cold fronts this fall. This storm will become one of, if not the storm with the lowest pressure in New England.
App users click here to view futurecast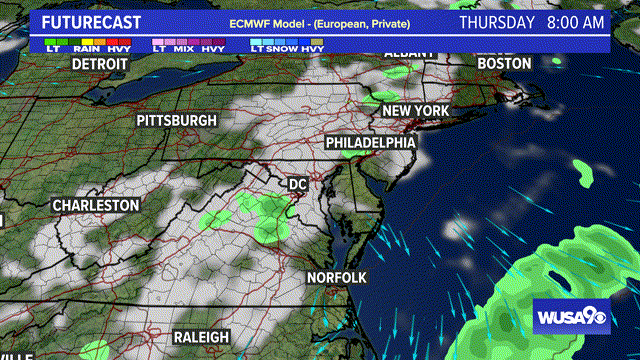 Overall, this Wednesday looks to bring a solid 1/2" to 1" of rain to the area. There could be areas that end up with more.
This will put a dent in our rainfall deficit, but it's not enough to end this flash drought.
Recent Memorable D.C. Area Droughts
The D.C. area is no stranger to years with droughts, even considering how last year in 2018 was the city's wettest year on record.
But just a year before that, 2017 started with a 'severe' drought in parts of the D.C. metro area. This came on the heels of a dry finish to 2016 and a huge lack of snowfall and precipitation in winter 2016 - 2017.
WUSA
RELATED: In Virginia's wine country, the hot, dry weather is a welcome guest
For those who have lived in the D.C. area for many years, you'll remember the most recent extreme drought began late in 2001 and progressively worsened from the late summer to early fall of 2002.
The map below shows the drought monitor from the end of that August. The dark burgundy color across southern Maryland, the northern neck and part of Delmarva is the highest drought category, 'exceptional drought'. During 2002, it was so dry that there were water restrictions across the area and they almost had to begin water releases from nearby reservoirs.
WUSA