WASHINGTON — A white Christmas with snow-covered grass, trees and roofs -- it's a magical wish boys, girls and some adults have every year. In DC, the odds are NOT in our favor, but it doesn't mean it can't happen.
What Are The Odds?
On average, only about 10% of Christmases in DC have 1" or more of snow on the ground. The last year with snow on the ground in DC was 9 years ago in 2009. Even more rare in recent years, it hasn't snowed on Christmas Day in DC since 2002, 16 years ago.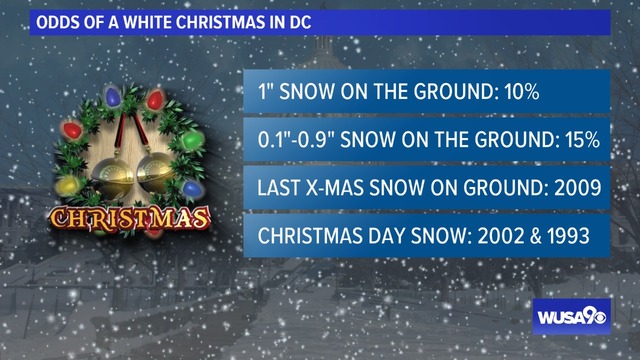 Early Outlook: Christmas 2018
For it to be a white Christmas -- it doesn't have to snow on Christmas Day itself, it can snow a day or a few days beforehand as long as it's cold enough to limit the snow melting altogether. Unfortunately, the ingredients will not come together for us in DC this year.
Our Early Outlook has chilly temps but DRY weather. We do not have any snow in the days leading up to Christmas in DC either. If you are interested in some snow, head to the mountains.